"Is it worth it to fly from A to B during the Corona Crisis?" I'm sure many people have been asking and are asking themselves this question in this current Covid-19 pandemic. I did the same when I got a job offer in Ecuador, which meant that I had to fly from Peru into Ecuador.
I'm in a decent spot with good company and a job that's just about sustainable, so why would I travel by plane to Ecuador? First of all there was no guarantee that I would be able to keep my job in Peru for the next few months, while the job in Ecuador will be for 6 months. Second, I needed the change. I'm a traveler who likes nature and meeting new people. Due to the Corona Crisis I had been stuck for more than 10 months in a place with not much nature, limited social contact and way too much time behind my laptop. I wanted to go out more, go hiking and meet new people again.
Anyway, long story short I wanted to go to Ecuador. So when that decision was made the next step was to find out the best way to get into Ecuador. Land borders between Ecuador and Peru have been closed since march 16, 2020 and no-one knew when they would open again, so the only way out is by plane. I went online to check all the official requirements for being allowed to fly into Ecuador. These were actually not bad at all. Shortly said for flying into Ecuador in this Corona Crisis I needed:
– To be able to show a negative Covid-19 test result from and official RT-PCR test less than 10 days old.
– To wear a facial mask at all times.
– To fill in an health declaration in which I declare that by my own best knowledge I'm healthy. If you've ever flown into the USA you might remember that they ask you to sign a declaration in which you declare that you're not a criminal and have never committed any crime. This health declaration is similar, although they also want to know where you're going to stay in Ecuador and how they can contact you.
– Either a visa, or a flight out of the country. It is a requirement they always ask for when you want to travel into another country on a single flight. For this I bought myself a future 'flight reservation for visa ticket' on the following website.
So what to do first, buy a flight ticket, or do a Covid-19-test? Luckily the current policy of airline LATAM is that you can change your flight at least one time free of charge, even last minute. So in case my RT-PCR test is positive, I don't lose my flight. With that knowledge my friends in Ecuador bought me a ticket to fly in one day from Trujillo to Lima, Lima to Quito and Quito to Cuenca.
Next step, the RT-PCR Covid-19 test, where can I do this and how much do they charge? In many Western and Asian countries the governments encourage people to do these tests, even when you don't feel sick at all. They want to know how many people are infected in order to try to stay ahead of the spreading of the Corona virus. Therefore the tests are all free of charge. Not in Peru, or most of Latin-America. Here in Latin-America the governments don't have the money to pay for all these tests. So if you want to do a PCR test, this will cost you around 100 US$. Unless you're sick and admitted into a hospital, then they will test you for free. For those who wonder where the online number of Covid-19 infections comes from? Around 70% of these cases are related to the so called quick tests, which cost in between 8 to 22 US$, depending on the type of test. Yes, there are at least 3 types of tests in Peru and it isn't very clear to the general public which tests are all used to count the infection rate.
With help of a friend in Trujillo I found out where to do the official RT-PCR test, but it wasn't possible to make an appointment. The laboratory just said that if I arrive before 10:00 am, I would receive the results the same day before 22:00 h. They also recommended not to eat or drink anything before the test and not even brush my teeth. I planned to do my test early on Wednesday morning, the 27th of January. This was well within the 10 days maximum and would also give me the option to maybe move my flight to an earlier date, or maybe do another test on Friday if needed for whatever reason.
Tuesday the 26th in the evening the Peruvian government suddenly came with new Corona Restriction. Some restriction where supposed to start on the 29th of January and others on the 1st of February. These new Corona restrictions included flight restrictions, but it wasn't clear exactly what would be those new restrictions. So instead of getting my Covid test I decided to first go to the airport and talk with someone from LATAM.
After they secured me that my flight on Monday wouldn't be affected by these new regulations, I decided to still try to get my PCR test.
The doctor who took the test was very thoroughly. He first took a sample from deep out of my throat, where he touched my vocal cord and then he took a deep sample from both of my nostrils. Both of these 'deep searches' were not very plesant. Although I got tested at 10:50 am, they told me that I will still get the results before 22:00 h. They would send the results to my email address and also had my Whatsapp number to contact me in any case of emergency.
When I still hadn't received any news by 9:30 am on Thursday, I asked my friend if she could call the lab, since they only had a landline and I didn't have access to a Peruvian phone. Not much later my friend called me on my Whatsapp and told me that the test results were inconclusive. Inconclusive, what does that mean? Either I have the virus, or I don't have the virus? The lab didn't want to give any other explanation, but they also said that they aren't allowed to provide an inconclusive test result. They said that they would amplify the sample they took from me and then run the test again. If that would still be inconclusive, I would have to do a new test.
When I finally received an approved negative test results at 18:00 h on Thursday I decided to try to move my flight to an earlier date, just in case the Peruvian Government will implement new travel restrictions on Monday the first. When I entered the website of LATAM I suddenly noticed that my flight from Trujillo to Lima had vanished? And even the additional reservation I had made for my luggage in the hold of the aircraft had gone??? I couldn't believe it, so I logged out and checked again, only to get the same result. I also wasn't allowed to make any changes in the flight reservation and the message that appeared online was that I should contact their helpdesk. I used Skype to call their helpdesk and after about half an hour it turned out that they couldn't do much for me. The early morning flight that I needed from Trujillo to Lima just didn't exist anymore and was replaced by a later one, which didn't work out with my other flight connections. The other problem was that my flight wasn't purchased directly through LATAM, but through a third part website. So the guy from the helpdesk recommended me to ask the third party website for a refund of the ticket in order to make a complete new reservation, or to ask at the counter of LATAM in the airport of Trujillo.
Before I went on Friday morning to the airport, a new general message from LATAM came out which said that starting from the first of February everyone on a domestic flight flying out of Lima will need to show a negative test result that is no more than 72 hours old! Damn, by Monday mine would be double that old! In theory the messages only talks about domestic flights departing from Lima, while I have an international flight that departs from Lima, but will there really be a difference? I decided to be early again at the airport. I wanted to be there before the employees of LATAM arrive and have time left to maybe do another PCR test if needed. So when the LATAM employees arrived with their Van at the airport I directly approached them and saw the same lady that helped me on Wednesday. I shortly explained to her why I was again at the airport and she allowed me to wait directly in front of the counter. Ten minutes later she sent a girl to help me with my reservation. This girl was a lot more useful than the guy from the helpdesk. Indeed it wasn't possible anymore to complete the whole sequence of flights on one day, but there were some other options. In the end we decided that the best option would be to take an afternoon flight on Sunday from Trujillo to Lima, stay the night in Lima and then fly on Monday at 13:15 h from Lima to Quito and Cuenca. The helpful girl from LATAM also confirmed the detail about the need for a negative PCR test of less than 72 h old. She said that this was indeed only required for domestic flights from LATAM departing from Lima, but for international flight, they would maintain the different regulations from each country. She double checked if those from the Ecuadorian government still required only a less than 10 day old negative RT-PCR test. Now I only needed to book a hostel in Lima for Sunday night and hope that there would be no new last minute panic changes caused by the Corona Crisis.
Flying from Trujillo to Lima on Sunday all went smooth. My temperature got checked twice, before entering the airport and also before entering the plane. To enter the airport I had to wear a face mask, but to be able to enter the airplane I also had to wear a plastic facial shield. I was required to wear both the face mask and shield at all times, until leaving the airport in Lima. When we arrived in Lima our temperature was checked again and outside the terminal my transfer was waiting. I'd arranged this transfer through El Tumi Aeropuerto Hostel, just a five minute ride from the airport. With the new lockdowns and Corona regulations in Lima, I wanted to stay as close as possible to the airport and this hostel provided good and friendly service for transfers, sleeping and food, so very convenient.
On Monday I arrived on the half empty airport of Lima around 9:15 am for my flight at 13:15 h. Although the lines at the in-check counters were short, some passengers needed a long time to get their flights sorted out. Some of them might have been like me a few days earlier with cancelled flights. It wasn't helpful that LATAM had/ has closed many of their offices in the cities and that their helpdesk is apparently less flexible than their employees at the in-check counters. My own check-in went smooth, although they did check again if the 'Corona Regulations' for Ecuador hadn't changed. Passengers who couldn't show a negative PCR test were asked to do one of those tests at tents outside on the parking lot of the airport. I don't know how quick they would be able to provide results, but without an actual laboratory on the parking lot, I suspect that you will have to wait at least several hours for the results. In my case I would have lost my flight.
The migration service of Peru didn't make any problem about the fact that I had already been over 10 months in Peru. Their official statement is that as long as Peru is in a state of emergency and their land borders are closed, foreigners who overstay their visa don't have to pay any fine. After my temperature was checked again, I was allowed to enter the plane. Like yesterday the middle seat next to me was empty. I'm not sure if they do this on purpose, but I did see other single travelers with empty seats between them. We were asked again to try to avoid using the bathroom unless you really needed, to remain seated during the flight and not to remove our face mask and facial shield.
You can imagine my surprise when we were about 45 minutes into our flight and the flight attendants started to serve drinks and snacks… These 10 minutes of 'thee-time' kind of nullify the whole purpose of having to wear a face mask and facial shield. But it didn't worry me. It's just one more proof that some 'Corona Regulations' are more political than actually useful. The air filter systems in airplanes are capable to refresh the air in the cabin every 3 minutes, which makes flying in airplanes about the safest form of transport during the 'Corona Crisis'. For those who don't believe me, I dare you to look for any example where a considerable about of passengers on the same flight got infected with Covid-19. I haven't been able to find any example, while there are plenty of examples to find of so called 'super spreaders' of Covid-19 in churches, care centers, bars, meat factories, etc.
Upon arrival in Ecuador our temperature was checked again and I got alcohol sprayed on my hand luggage. Then we were lead to a separate waiting area where we had to answer a few questions, show our negative PCR test results and hand off our self-written health declaration. According to official regulations at this point governmental healthcare workers would randomly pick out a few passengers to do a quick Covid-19-test. In case of suspicion they could obligate you to do a new PCR test at your cost and obligate you to quarantine until the result showed negative. In case of a positive test result you will be send for minimum 10 days to a quarantine hotel selected by the government at a cost of 100 US$ a day. Not a type of welcome to look forward to.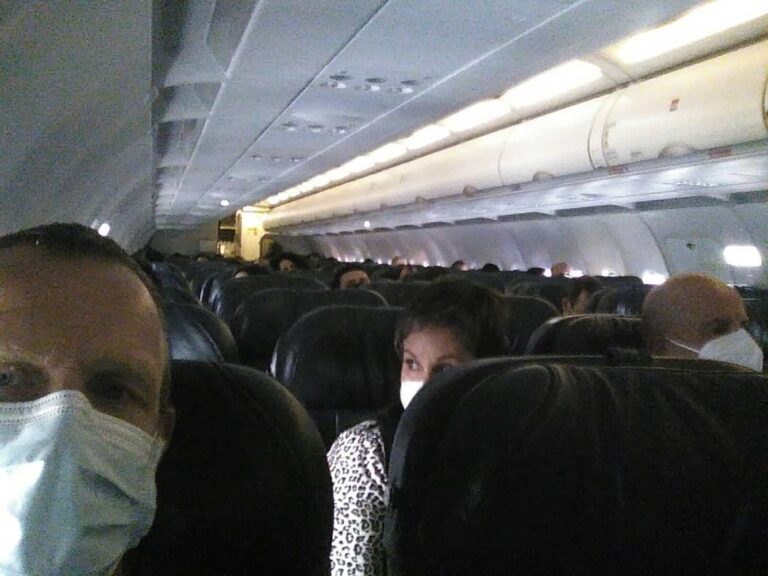 Luckily it was assumed that I'm healthy and I was allowed to proceed to the area for domestic flights to continue my flight from Quito to Cuenca. And interesting difference was that although I would fly again with LATAM, this time I wasn't obligated anymore to also wear the plastic facial shield. Not on the airport and not on the plane either. The flight to Cuenca was maybe 70% full, but again I had an empty seat next to me.
One more temperature check and I could pick up my luggage. I'd made it to travel from Trujillo into Cuenca. So now to get back to my first question: "Was it worth to go flying in the current Corona Crisis? Was it worth it to go through all these uncertainties and additional 'Corona Regulations' to travel from Trujillo to Cuenca?" To me it was, because I could look forward to half a year of work in a place I like. But if people ask me if it is worth it to go through all of this just for a two weeks holiday, I'm honestly not sure. My personal opinion is that I'm not worried that I get infected and sick from Covid-19 because of this trip. As I mentioned earlier, flying belongs to one of the safest forms of transport during this Covid-19 pandemic. So far there have been very little Covid-19 infections that occurred during a flight and even those that occurred are not 100% sure to have happened on the plane. They possibly did, but might have also happened at the airport. Research from the JAMA Health Forum shows that the risk to catch Covid-19 is higher in your local store than during a flight of a few hours.
I'm also not really concerned that I might help spreading the virus. Airlines and governments have taken so many precautions that by far most people who travel by plane are free of Covid-19. Besides that, the first known patient to be treated for Covid-19 in Europe already dates back to the 27th of December 2019. It was a Frenchman who's wife worked at an airport store. Supposedly he infected his two children, but his wife never got sick. Everyone recovered normally and no-one even knew they had Covid-19. A few months later when Covid-19 became a pandemic, the doctor recognized the symptoms and did additional research on the samples he took from his early patients. He then discovered that treated one of the earliest Covid-19 patients. I keep wondering, how this man got Covid-19 and what happened with this virus between December 27 and March 2020??? I have a theory, but I'm not a scientist, so I will keep it to myself. It's enough to mention that I believe that Covid-19 was already widely spread around the world before it was declared to be a pandemic.
If I would travel to a place without Covid-19, then yes I would be concerned about spreading it. Like for traveling to the Galapagos Islands you will need a more recent PCR test. Although that might be sucks for those who want to go there I also understand that it is best if they can keep these islands free of Covid-19.
Personally I liked the extra precaution of having an empty seat between people from different reservations. We all know that the seats in an airplane are not very wide and it is almost impossible not to touch your neighbor, so I think it's a useful precaution. If wearing a face mask is really effective isn't clear, but I can imagine it offers at least some protecting and it isn't much of a bother to wear them on short flights. The plastic facial shield is most likely useless.
After my experiences from the past week there are four recommendations I would like to make to everyone who wants to fly during the current Corona crisis:
– Book your flight directly with the airline and make sure that you can change the date free of charge if your PCR test turns out to be positive.
– Inform yourself very well on all the Corona regulations from the airline and your destination and keep yourself up to date until the last moment, as changes happen frequently.
– Be responsible and don't travel when you're sick.
– Aim for the best, but plan for the worst. In other words, be prepared that even although you feel 100% healthy, your PCR test might still show that you're infected and they might obligate you to go into quarantine. Make sure to know what could happen before you enter the plane and once you arrive on your destination.
– Use common sense, maintain high personal hygiene, be careful, stay friendly and follow all Corona regulations, even those that seem or are close to useless. Things go smoother for everyone during the trip when you just follow the regulations.