Original Yoga tours in Ecuador!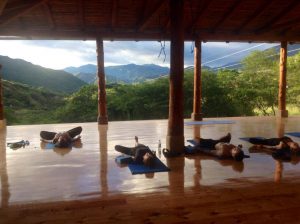 Travel with us to visit one of the dearest children of Pacha Mama – Ecuador.
Together with several Yoga resorts and lodges in Ecuador we have developed new Yoga and Wellness tours. Our original tours are specially designed for people who love nature and Yoga and bring peace back to body and mind
During these tours we will take you on a journey through the Andes Mountain Range, the Amazon Rainforest, and along the Pacific Coast, discovering more about your own body and mind as well as experiencing the breathtaking magnificence of those varied landscapes.
You will be able to practice Yoga surrounded by sacred mountains, mystical rainforest and with the sound of the endless Pacific waves in the background!
Our longer Yoga and Wellness tours are best suited to groups of people who have about the same level of experience in practicing Yoga. Therefore we would like to invite Yoga teachers from all over the world to have a look at these new options for organizing Yoga Tours in Ecuador. Please let us know your thoughts and recommendations: Contact.