Madidi, Chalalan Amazon Tour
Travel deep into the Bolivian Amazon Rainforest, 5.5 hours upstream, to the well known Chalalan Lodge, located in the Madidi National Amazon Reserve!
Short itinerary of this Madidi Amazon Tour:
Day 1: La Paz – Rurrenabaque
Day 2:Rurrenabaque – Beni River – Madidi National Park – Chalalán Ecolodge
Day 3: Chalalán Ecolodge – Madidi National Park
Day 4: Chalalán Ecolodge – Rurrenabaque – La Paz
Madidi, Chalalan Tour, long itinerary:
Explore the famous Madidi Amazon Rainforest from the Calalan Ecolodge!
Day 1: La Paz - Rurrenabaque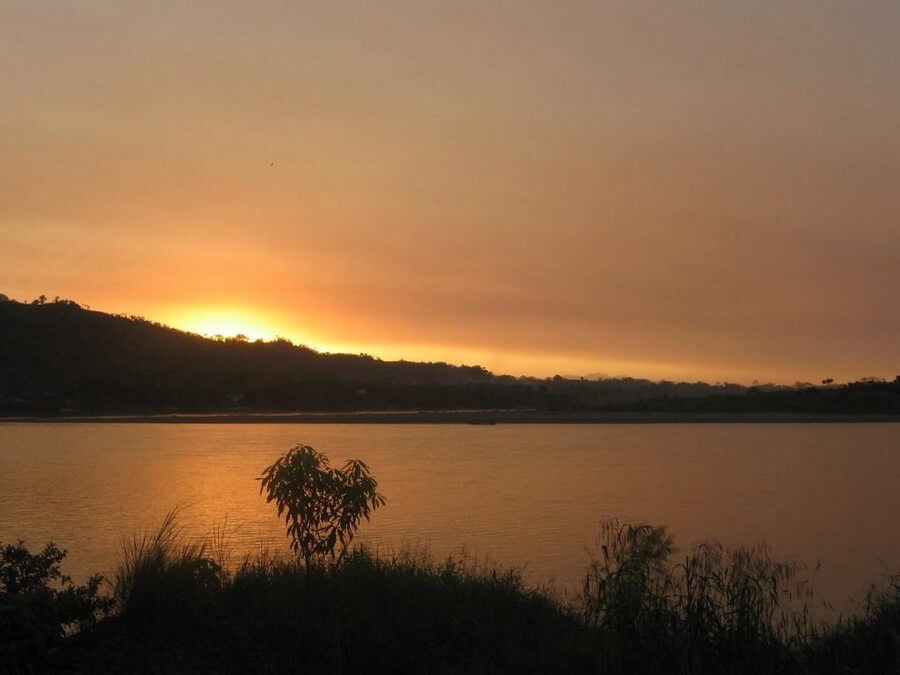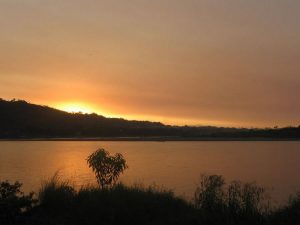 Flight La Paz (El Alto International Airport) – Rurrenabaque (50 mins.). Flight is Not Included in the program, but this flight is a fabulous opportunity to see the Andes Mountain Range and have a panoramic view of the Amazon rivers and forests.
Our staff will be waiting to transfer you and the other group members from Rurrenabaque airport to the Chalalán office by bus where you will fill in the forms to enter Madidi National Park and receive information about your trip to the Ecolodge. Accommodation in a tourist class hotel (e.g. Hotel Oriental).
Afternoon free in Rurrenabaque. Food in Rurrenabaque for the first day is not included.
Day 2: Rurrenabaque - Beni River - Madidi National Park -Chalalán Ecolodge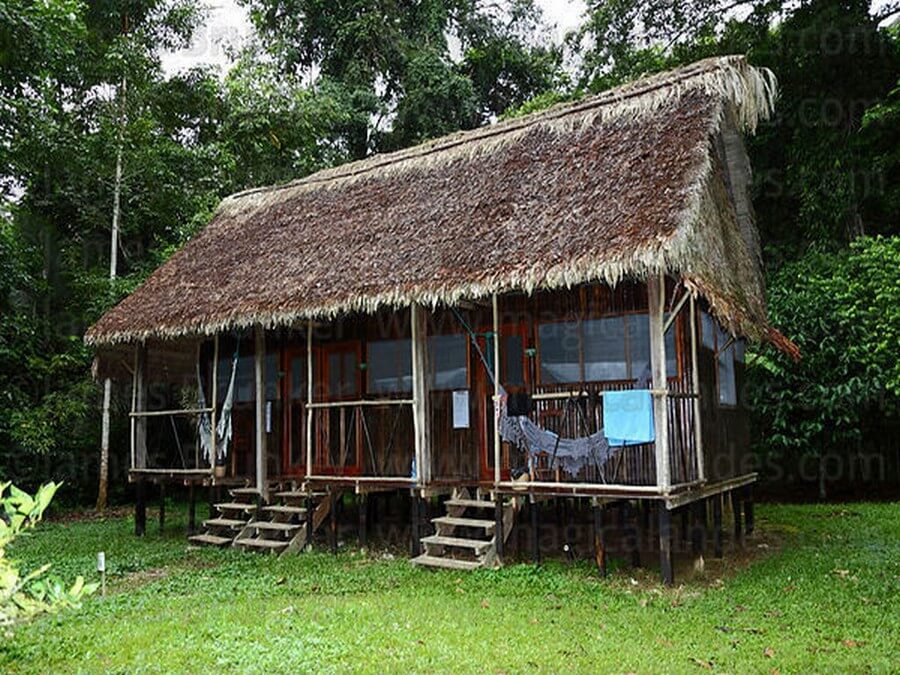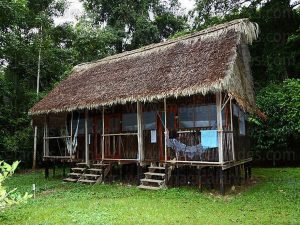 Continental breakfast at hotel
A guide will pick you up at the hotel to take you to the River Beni where you will get on the boat to Chalalán. Our boats are equipped with: roof, comfy seats, life jackets, raincoats and a first-aid kit.
Maximum seating room on the boat is for 10 people.
Travel by motor boat to the Chalalán Ecolodge.
The trip is a great way of seeing the Bala Canyon on the River Beni and getting to the Madidi by going up the River Tuichi. On your way you'll see different animals and get a feel for the spectacular landscape of the Bolivian Amazon. We recommend you take binoculars.
The trip takes around 5½ hours during the rainy season and 6 hours in the dry season, mainly in July, August and September. Packed lunch mid-way. Arrival at the port of Chalalán.
25 minute walk to the Ecolodge along a wide, easy jaguar path.
Welcome snack on the shores of Lake Chalalán. Our logistics staff will help you with your luggage.
Settle in at your cabin or room. Welcome lunch in Ecolodge.
After lunch relax in a hammock or swim in Lake Chalalán.
Short walk along the Paraba path to the viewing point where you can see the beautiful landscape across Lake Chalalán, mountains and Madidi rainforest.
Your guide will explain more about the park, our Eco Lodge, our community, the plants used for building, hardwoods, palms and the traditional and sustainable use of natural resources.
Return to the lake to go on a canoe ride along the shores of Lake Chalalán where you will be able to enjoy the sunset and see monkeys, birds, insects, bats, etc. Return to the Ecolodge for a snack.
Dinner in the Ecolodge dining room. Short night-time activity (1 to 2 hours).
Night trip by canoe to see amphibians, nocturnal birds, fish-eating bats and caimans easily spotted because of their glowing eyes.
Day 3: Chalalán Ecolodge - Madidi National Park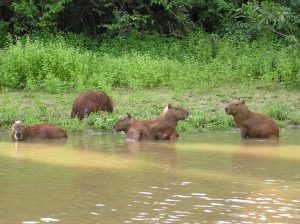 Buffet breakfast in Ecolodge dining room.
You may talk to your guide about changing the time depending on your interests. (e.g. Breakfast at 5:30 am for birdwatchers.) Morning walk along the Tapacare path or another of similar length where you can see and learn about the forest and the wildlife surrounding you.
Optional themes:
Natural interpretation of the forest, natural history, ecological processes, medicinal plants and hardwood trees, animal behavior and bird and mammal watching. Return to the lodge, have a snack. Lunch in the Ecolodge dining room. After lunch relax in a hammock or swim in Lake Chalalán before we go on a short walk along one of the theme paths to learn about medicinal plants. Return to the Ecolodge and choose from the following optional activities: Handicrafts, canoe trip, videos about the community and the Madidi National Park. Traditional "dunucuabi" dinner of catfish wrapped in leaves or fish á la "tacuara" inside bamboo from the Bolivian Amazon.
* This traditional dinner depends on the availability of the fish and may be offered any night during your stay.
Short night walk along the Paraba or Silbador path to see amphibians, reptiles, insects, tarantulas, rodents, birds and nocturnal monkeys. This is a great chance to hear the sounds of the jungle. Upon your return to the Ecolodge you can take part in a traditional Quechua – Tacana night with music and dances from the San José de Uchupiamonas community.
Your guide will explain the traditions of the Uchupiamonas people.
* This activity will depend on the number of guests staying at the Ecolodge and may be offered any night during your stay.
Day 4: Chalalán Ecolodge - Rurrenabaque - La Paz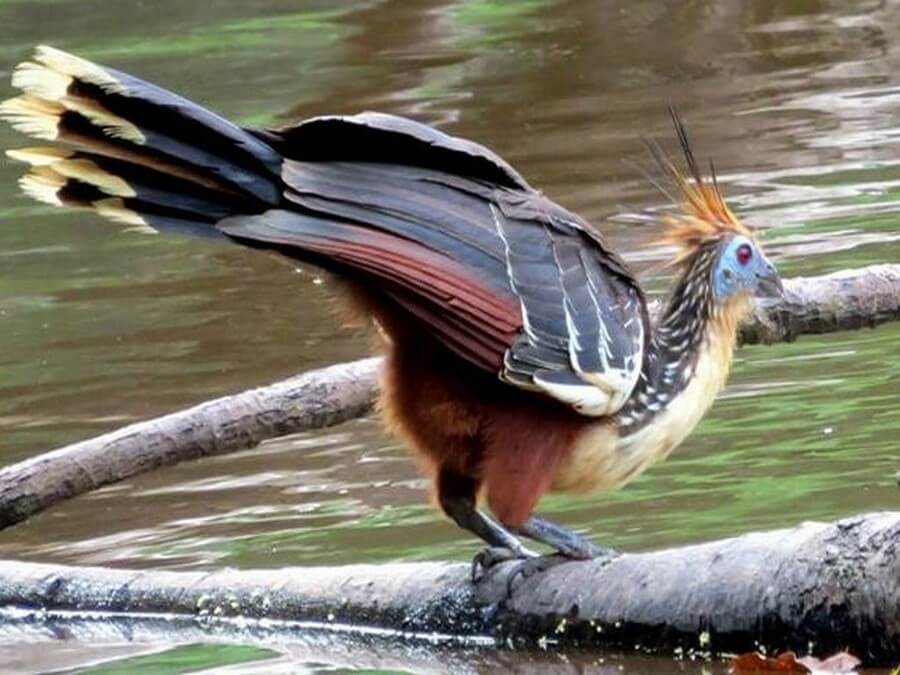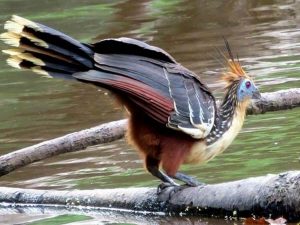 Buffet breakfast in Ecolodge dining room and then a short walk to the river Tuíchi to take the boat back to Rurrenabaque. The return walk along the Jaguar or Wichi path can be adjusted to take into account your interests. Please coordinate with your guide.
Return by boat to Rurrenabaque (only 3 hours).
When possible, departure time will be adjusted to flight times.
We recommend you to still stay alert during the boat trip so that you can see the animals along the way.
Arrive at Rurrenabaque. Transfer to airport and return to the city of La Paz.

Note: All of the walks described above are rated as easy. The activities and times may change depending on the weather, the interests of our guests or other factors.

* There are also options for 5 or 6 days Tours. Please contact us for more information! 
Included and recommended to bring into the Amazon:
Included in this tour: 
•    Transfer to and from the airport in Rurrenabaque
•    One night accommodation in tourist class hotel in Rurrenabaque incl. continental breakfast
•    Comfortable motor boats from Rurrenabaque to the Chalalán Ecolodge and back
•    Packed lunch during trip
•    All accommodation(private bathroom) and food at Ecolodge
•    Entrance fee to Madidi National Park. (Foreigners Bs. 160 approx)
•    Bilingual local guide service (Spanish – English)
•    Guided (group) hikes along the paths through the primary rainforest
•    Day and night trips by canoe on the Lagoon
•    Local, municipal and national taxes
Not Included:
•    Airline or bus tickets La Paz – Rurrenabaque – La Paz
•    Airport or bus station taxes
•    International banking fees
•    Soft drinks, not spirits – alcoholic
•    Food during its stay in Rurrenabaque
You need to bring:
•    General luggage
•    A small daypack
•    A bag that can be locked to leave unnecessary belongings
•    Clothes recommend that you wear long-sleeve shorts and trousers
•    2 – 3 pairs of cotton pants
•    2 – 3 long-sleeve cotton shirts
•    Sunhat or baseball cap
•    T-shirt
•    Pair of shorts
•    Light jacket
•    Swimwear
•    Cotton socks
•    Raincoat
•    Footwear
•    Hiking boots
•    Sandals
To take on a boat trip:
•    Sun block
•    Sun hat
•    Camera
•    Plastic bag to protect photographic equipment

Other: 
•    Sunglasses with neck cord
•    Torch with battery
•    Camera with waterproof cover
•    Sun block (factor 30 or 45 recommended)
•    Insect repellent (apply repellent frequently)
INSURANCE:
It is the responsibility of the tourist to take out travel and health insurance and to have these documents on hand.