Ecological Ecuador Tour
This ecological tour through Ecuador gives you a good impression of the two biggest natural highlights in Ecuador, the Galapagos Islands and the Amazon Rainforest! Plus that joining this tour will give you a small taste of the Andean nature and culture.
During this tour you can find out for yourself how evolution developed on the Galapagos Islands and how Charles Darwin used this information as a base for his famous 'Evolution Theory'. During this tour you will have plenty of time to meet with the friendly, tame and curious inhabitants of these islands, including many sea lions, blue footed boobies, bird species, tortoises, iguanas, penguins, sharks and many more, a great experience!
The Galapagos Islands now have a high visitors rate and have been explored by many scientist and tourists, which will make it difficult to discover something new. The Amazon Rainforest on the other side is much bigger, less accessible and therefore still frequently in the news about the discovering new species of plants and even animals. Maybe you can discover something new during this special Ecological tour…

Short travel itinerary:
Day 1 (Sunday's): Arrive in Quito
Day 2: Quito – Galapagos Island Hopping Tour
Day 3: Galapagos tour
Day 4: Galapagos tour
Day 5: Galapagos tour
Day 6: Galapagos tour -> Quito – Otavalo.
Day 7 (Saturday): Market in Otavalo Quito
Day 8: Quito – Overnight bus
Day 9: Overnight bus – Lago Agrio – Cuyabeno Amazon Tour
Day 10: Cuyabeno Amazon Tour
Day 11: Cuyabeno Amazon Tour
Day 12: Cuyabeno Amazon Tour
Day 13: Cuyabeno – Quito.
Day 14: Private transfer to the airport and end of this great ecological experience!
Ecological Ecuador Tour
Day 1: Quito (2850 m)
(Sunday's): After arriving in Quito our driver will wait for you at the airport to bring you to your hotel. In 2011 Quito was elected by UNESCO as the American Capital of Culture 2011. This new status encouraged the city to invest more money in restauration of its many beautiful churches and other colonial buildings.
Day 2: Quito - Galapagos - Santa Cruz Highlands - Puerto Ayora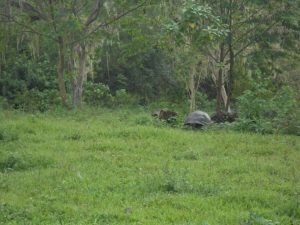 In the morning you will take a flight from Quito to the Airport of Santa Cruz Island. After paying the Galapagos entrance fee one of our guides will pick you up at the airport to start your Galapagos Island Hopping Tour. Our first visit will be to the Santa Cruz highlands. We will travel to Manzanillo Ranch, a place where the giant tortoises of Santa Cruz can be observed in the wild. We'll then visit a large lava tunnel, and have a chance to walk inside. Lunch at a farm in the highlands, then we will continue our trip to Garrapatero beach, a beautiful white sand beach surrounded by mangroves.
Optional
kayaking at Garrapatero (extra cost). Drop off at our hotel in Puerto Ayora.
Accommodation: Galapagos Suites or similar
Meals Included: – / L / – .
Day 3: Puerto Villamil - Tintoras
Early in the morning, we will take the public speedboat from Puerto Ayora to Puerto Villamil. Your tour operator will meet you at the dock of Puerto Villamil and bring you to your hotel, check in and drop off your luggage and have some time before lunch to explore Puerto Villamil. After lunch, we'll begin a tour of Tintoreras (shared tour). This is a quiet place surrounded by turquoise waters where you can see blue-footed boobies, penguins, sharks resting in lava crevasses and plenty of marine iguanas. This tour lasts approximately 3 hours, including a boat ride and a walk on the islet. We'll walk for about 50 minutes on the Tintoreras islet where we can observe plenty of wildlife and birds, and then we have a chance to snorkel for 1 hour to see a variety of marine species. Tour includes transportation, snorkel equipment, English speaking certified naturalist guide and snack. Free time after the tour to enjoy Puerto Villamil and its beaches.
Accommodation: Isabela Beach House, Casa de Marita or similar
Meals included: B / – / -.
Day 4: Sierra Negra volcano and Volcan Chico hike
Breakfast at your hotel, then you'll be picked up at about 7 AM for a hiking tour to the Sierra Negra volcano and Volcan Chico (group tour). We travel by vehicle for about 40 minutes to the trailhead, then begin hiking to the Sierra Negra volcano, one of the widest volcano craters in the world. We continue our walk to Volcan Chico and its moonlike landscape, observing different types of lava along the way. The hike is about 5 hours, and a total of about 8 km each way. Tour includes transportation, English speaking certified naturalist guide, box lunch. We return from the tour in the afternoon; free time to relax and/ or explore Puerto Villamil on your own (possible visits to the breeding center, or walk in 15 minutes to the tranquil lagoon of Concha y Perla, where you can spot marine iguanas, turtles, reef sharks, rays and other exotic fish).
Accommodation: Isabela Beach House, Casa de Marita or similar
Meals Included: B / L / – .
Day 5: Los Tuneles - Puerto Ayora
Today we will visit Los Tuneles, an exceptional snorkeling site (group tour). You'll be picked up at your hostel after breakfast to begin the tour, about 6 hours, beginning with a boat trip to the site. We will walk a bit where you can see giant stingrays and sea turtles from the surface. Visit Union Rock where you can see blue footed and masked, terns, pelicans, boobies and sea lions. We'll then snorkel for approximately 2 hours accompanied by the guide and captain in different places such as tunnels, are breathtaking natural aquariums where you can see sea turtles, sharks, stingrays, fish, penguins and with luck even seahorses. Tour includes snorkeling equipment, wetsuit, transportation, towels, showers, lunch and underwater photos. After the tour, you'll depart Isabela on the afternoon speedboat back to Puerto Ayora. Free evening and overnight in Puerto Ayora.
Accommodation: Galapagos Suites or similar
Meals Included: B / L / – .
Day 6: Galapagos (Charles Darwin Station - Baltra - Quito - Otavalo
Free time in the morning to explore Puerto Ayora; if time permits and you haven't already done so you can visit the Charles Darwin Station/Fausto Llerena Breeding Center (free entrance). We'll meet you at your hotel to bring you to the Baltra airport for your departing flight to Quito.
Meals included: B / – / –
A private transfer will bring you directly to your hotel in Otavalo (2560m) (2h).
Otavalo is one of the very few places in Latin America where its citizens are proud to be indigenous and with reason. Already forthousands of years the people of Otavalo are known for their special high quality weaving techniques and commercial skills. The Inca's supposedly used their weaving skills and now the Otavalenios have shops in several places over the world, even in New York City.
Day 7: Otavalo Saturday Market - Mitad del Mundo - Quito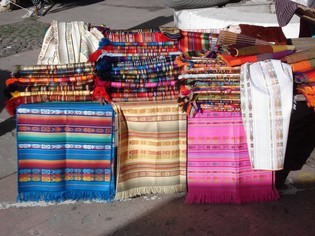 Today you can explore the small town of Otavalo and visit the famous Saturday Market, This market is both for locals and tourist and makes, a great place to take colorful pictures! In the afternaan you will travel with private transport back to Quito. Along the way you will also visit the Mitad del Mundo tourist complex and the local Inti Ñan museum. This museum is actually built on the real Equator and also shows a small exhibition about the indigenous people of Ecuador.
Day 8: Quito - overnight bus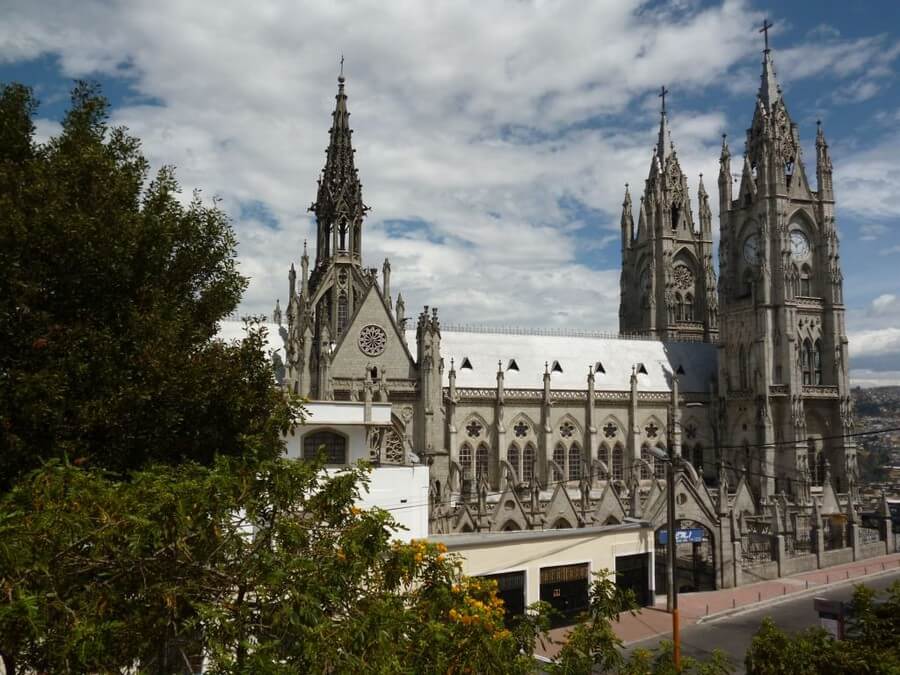 On your free day in Quito we recommend to go sightseeing in the colonial center of town. Places to visit include: Plaza de Armas and Plaza de San Francisco, but also the parks El Ejido and Alameda and tourist area of Plaza Foch. Check out
our short video
of a walking tour through Quito. The most impressive building in Quito is the almost Gothic looking Basilica. Its towers are open to the public and offer an amazing view over Quito and the Antisana, Cotopaxi y Cayambe Volcanoes. One of the towers even has a small restaurant where you can have a sandwich and coffee with view! For an even more impressive view, we can recommend to take a ride in the Teleférico (cable car).
Day 9, Monday: Overnight bus – Lago Agrio – Cuyabeno Amazon reserve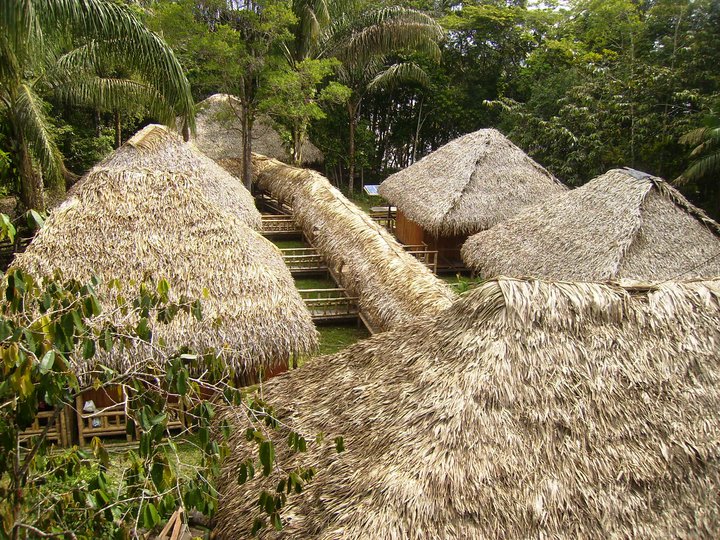 After a journey of about 9 hours, the bus arrives around 8:30 am at the so-called Cuyabeno Bridge. This is a bridge over the Cuyabeno River and the main entrance to the Cuyabeno Amazon Reserve. This national nature reserve is located in the northeast of the Ecuadorian Amazon Forest, between the San Miguel and Aguarico rivers and not far from the Colombian border. The reserve consists of 605,000 hectares of primary rainforest, rivers, lakes and an incredible variety of flora and fauna species.
At least five indigenous peoples live in the reserve, including the Siona, Secoya, Cofan, Kichwas and Shuar, all with their own language and customs.
During this tour you will stay in the
Siona Lodge
, or a similar accommodation, from where various day tours and activities are organized. The program below gives an example of the daily excursions.
After registering with the park rangers, we get into large motor canoes and the adventure begins! As we navigate down the Cuyabeno River to Laguna Grande we can enjoy the lush nature around us while our guide will explain more about the special flora and fauna in the Cuyabeno reserve. If you pay close attention, it is possible to see toucans, parrots, herons, anacondas and even monkeys along the way! Depending on the weather, we will have a picnic lunch on the river bank, in the canoe, or later at the lodge. The rustic, cozy Siona Lodge enjoys a picturesque location on the shores of Laguna Grande, making it a good base for excursions across the lake and into the Cuyabeno Amazon reserve. After arriving at the Siona Lodge, the manager will give a short briefing about the lodge and the area and there will be time to relax and explore the lodge at your leisure.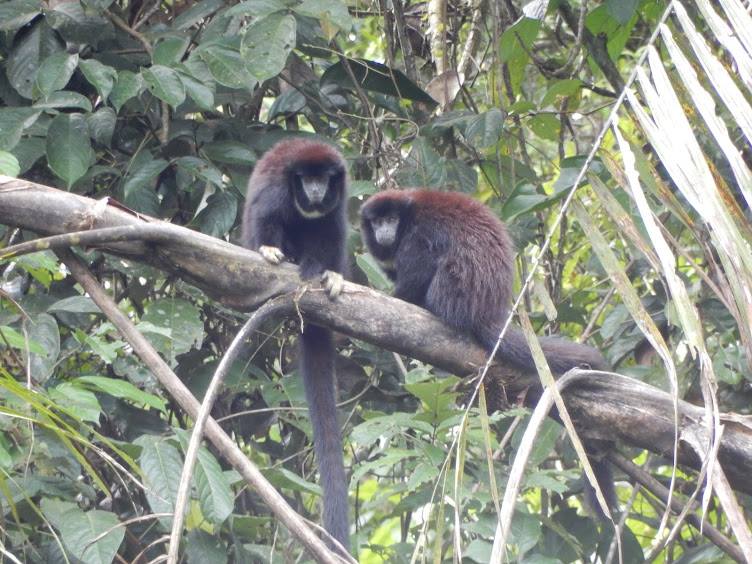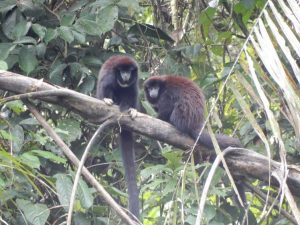 At the end of the afternoon, we make a short walk through primary rainforest, while our guide explains more about the flora and fauna around us and their function in the rainforest. Along the way we will also encounter many colorful insects and reptiles and you may even spot monkeys and parrots in the treetops. Returning to the Siona Lodge, we can enjoy a cocktail at sunset over Laguna Grande. Then it's time for dinner and a good night's rest.
Day 10: Visiting the Siona community, wildlife spotting and caiman spotting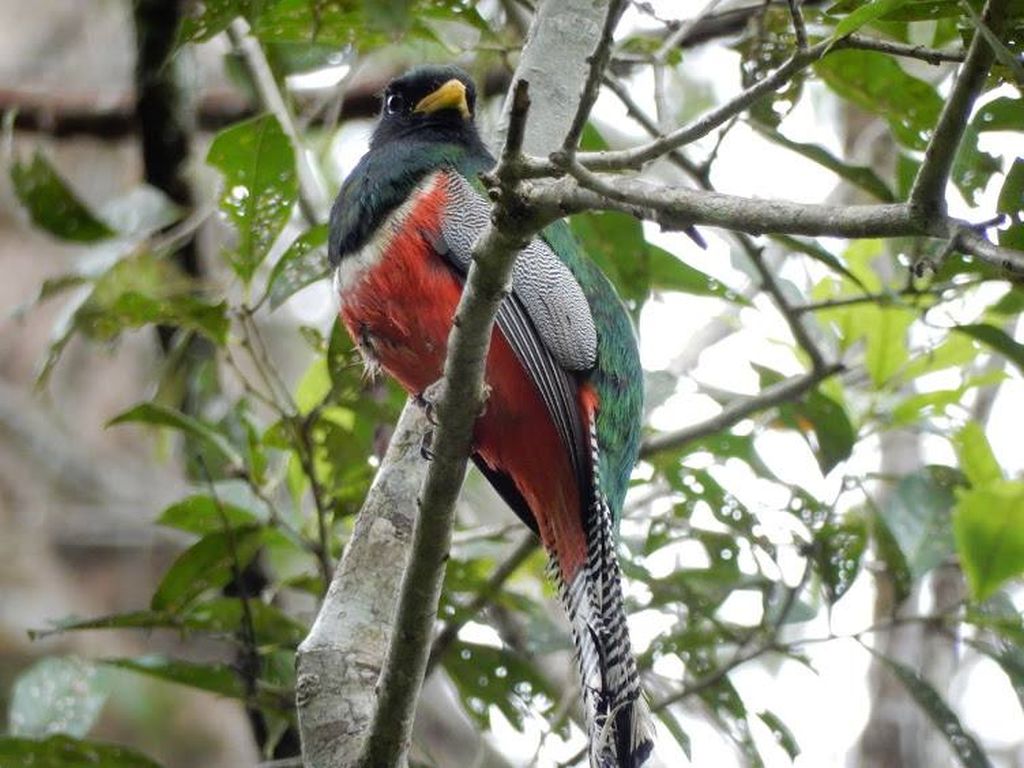 After breakfast we depart downriver towards Puerto Bolivar, the main village of the indigenous Siona Amazon community. Along the way you will encounter many different bird species and there is a good chance of spotting monkeys, snakes, turtles and maybe even pink freshwater dolphins!
In Puerto Bolivar, its inhabitants will explain to us more about their daily life, habits and traditions. We can also help make chichi (Amazon beer) and Casabe. Casabe is made from Yucca and is the main source of nutrition for the Siona people. We bring our own picnic to eat in the village hall.
In the afternoon, if the shaman of the village has time, he will explain to us more about the medicinal properties of the different plants in the Amazon. He will also explain more about the traditional rituals and healing methods of the Siona people. Later on our guide will point out the different important plants in the jungle.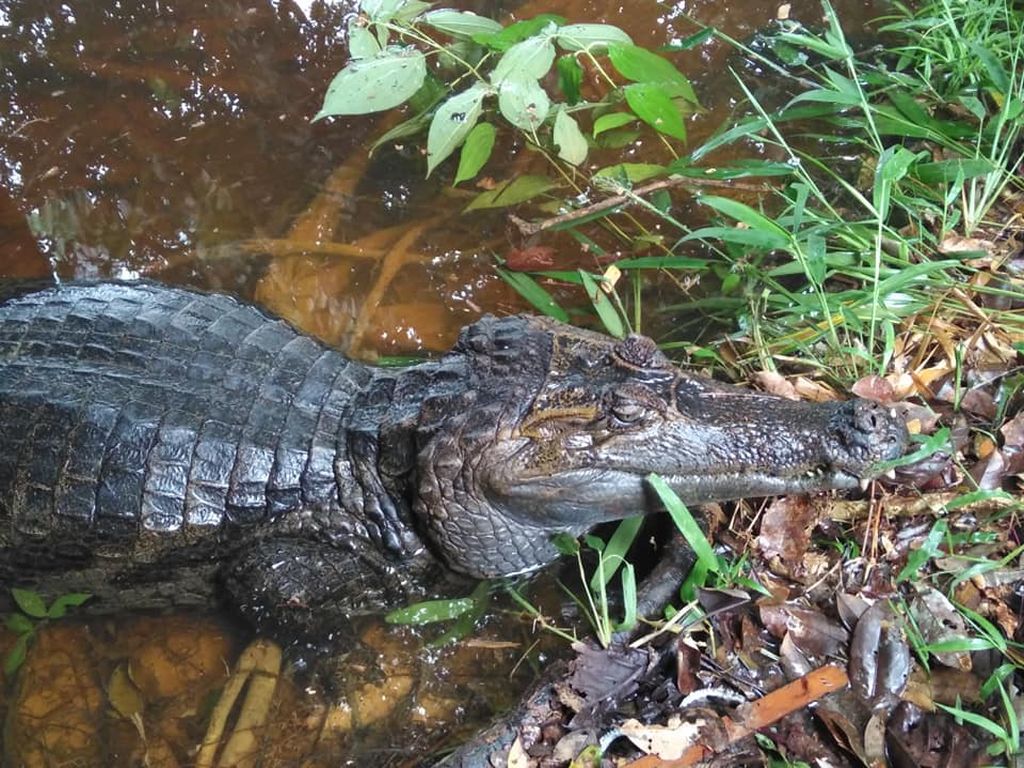 At the end of the afternoon, we arrive back at the Siona Lodge, where we can relax and take a dip in the lake before sunset and dinner.
After dinner we get into a large canoe and we look for caimans with strong flashlights. Although these animals have a dark color and lie still in the water while waiting for their prey, it is not impossible to spot them. It are their eyes that betray them. These eyes glow orange/ red like charcoal in the light of our flashlights.
Day 11: Hiking through the Amazon rainforest and navigating Laguna Grande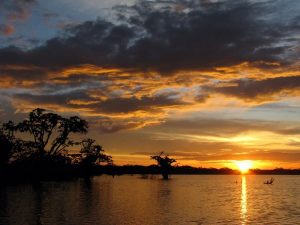 After breakfast we go for another interesting walk of 3 to 5 hours (depending on the weather and the group) through primary rainforest. Along the way, our guide will explain more about the ingenious tropical ecosystems in the Amazon and in particular the Cuyabeno Reserve. Try to keep your eyes and ears open while hiking, because behind every rustling leaf a shy jungle inhabitant can be hiding… After a late lunch at the Siona Lodge we take a boat trip along the shores of Laguna Grande in search of waterfowl, reptiles and mammals that come to drink water. We stay on the water until sunset and whoever wants can also take a dip in the large lake. Dinner and overnight at the lodge.
Day 12: Paddeling over Laguna Canangueno - rainforest hike
After breakfast we will bring a visit to Canangueno Lagoon. In this lake it is not allowed to navigate mith motorized boats, which will highly improve our chances to spot exotic birds and shy mammals! We will travel over the water by paddling slowly in local canoes.
In the afternoon we will enjoy another interesting hike through the magical Amazon Rainforest.
Dinner at the Siona Lodge..
Day 13: Siona Lodge - Cuyabeno Bridge - Quito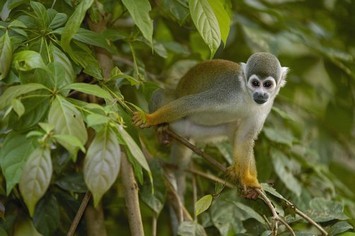 Early in the morning before breakfast, you can decide to join a bird watching excursion. After your last breakfast in the Amazon Rainforest it is  time to travel by motorized canoe up the Cuyabeno river back to the Cuyabeno Bridge. This is our last time to spot curious wildlife looking down on us from the canompy of trees. Around 12pm (noon) the Treasure tourist bus will depart back to Quito. Arrival around 21:30h and transfer to your hotel.
Day 14: Quito -> back home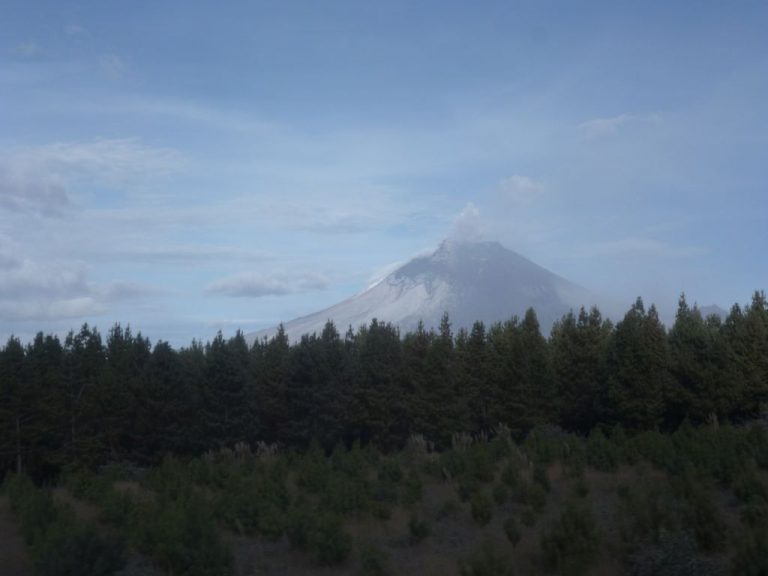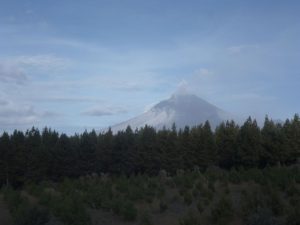 About 3h30 min. before your international flight departures, you will be transfered from your hotel to the airport of Quito. End of this tour.
Optional: to continue this tour along the Andean Highway.
NOTES: The itinerary above might be subject to changes due to weather conditions and the water level in the Cuyabeno Reserve. The Cuyabeno Tour starts in general on Monday's (group size 4 – 10 persons). The Galapagos tours can start each day with a min. of 2 persons.
Inclusive and recommended to bring on this ecological tour:
Included in this Galapagos/ Amazon tour:
– 13 nights with breakfast based on double room ocupation.
– Private transfer from Quito airport to hotel in Otavalo
– Private transport Otavalo – Mitad del Mundo – Quito
– Treasure tourist bus Quito – Cuyabeno Bridge – Quito
The Galapagos tour comes with:
– A return flight Quito – Galapagos – Quito
– Excursion with English speaking naturalist guides
– Transfers on the Galapagos by public bus and public speedboat
– Accommodation in budget class hotels (double room with private bath and hot water)
– Meals as described in the itinerary
– Excursions as detailed in the itinerary
– Snorkeling equipment on Isabela
The Cuyabeno tour comes with:
– Daily excusions with and experienced English speaking naturalist guide
– Transportation from / to Cuyabeno Bridge
– Accommodation in the Siona Lodge (double and quadruple cabins with private bath)
– Meals (4x lunch, 4x dinner, 4x breakfast) and purified drinking water
– Jungle equipment (rubber boots, rain poncho and life jackets for on the boats)

Not included:
– The INGALA tourist tax (20 US$ p.p.)
– The Galapagos Nature Reserve entrance fee (100 US$ p.p.)
– Local harbor tax on Isabela Island (10 US$ p.p.)
– Drinks and meals that aren't clearly described in the itinerary above
– International flights and airport taxes
– Optional excursions
– Drinks and meals and personal expenses not mentioned in the itinerary above
– Travel insurance
– Additional price for a single room supplement (ask for the options)
– Tips, when the service you received was good
For this tour we recommend you to bring at least with:
–    Valid identification and travel documents and when needed a valid visa
–    The information of your travel insurance
–    Valid vaccinations, ask you countries health center for more information
–    A good big backpack or sport bag
–    A small day (back)pack
–    Good shoes
–    Sandals/ flip-flops/ boat shoes
–    A warm jacket/ fleece
–    A rain jacket/ poncho
–    A warm sweater
–    Three light trousers
–    Two pair of shorts
–    4 T-shirts
–    Swimming wear
–    A headlight/ flashlight
–    A water proof bag to protect your electronics against the humidity of the rainforest
–    Something to be able to back-up your pictures from your camera
–    Protection against the sun and mosquito's (you can also buy in Ecuador, but is more expensive).