Adventure Tour in Bolivia
Bolivia is a fascinating country with many tour and travel options, that even satisfy the most experienced traveler. Highlights include, tours into the Amazon jungle and Salar de Uyuni.
We made this tour through Bolivia for adventures people who don't have much time to travel, but still want to get a good impression of Bolivia. We offer a balanced combination of private services and public transport to give you a great impression of this interesting country in only 16 days.
Short itinerary of this adventures tour in Bolivia:
Day 1, Friday: La Paz
Day 2: La Paz – Rurrenabaque – Jungle Tour
Day 3: Amazon Jungle Tour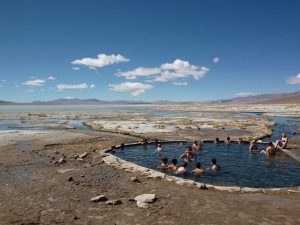 Day 4: Amazon Jungle Tour
Day 5: Amazon Jungle Tour
Day 6: Amazon Jungle Tour
Day 7: Amazon – Rurrenabaque – La Paz
Day 8, Friday: La Paz (public bus) – Oruro (train to) – Uyuni
Day 9: Uyuni – Salar Tour
Day 10: Salar tour
Day 11: Salar – Uyuni (long day)
Day 12: Uyuni (public bus) – Potosi
Day 13: Potosi – (in afternoon with private taxi service to) Sucre
Day 14: Sucre (optional hiking)
Day 15: Flight to La Paz, private transfer to Hotel
Day 16: End of this tour.
Optional: to continue traveling to Peru.
Long itinerary Adventure Tour Bolivia
Day 1: El Alto - La Paz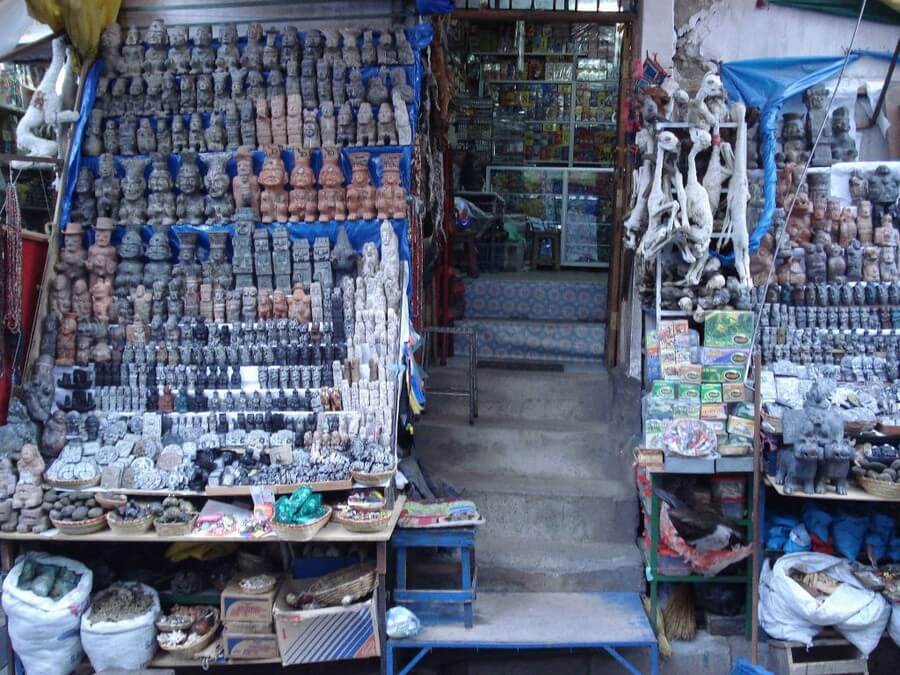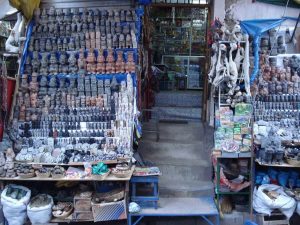 After arriving at the airport of El Alto, the sub-city of La Paz at an altitude of 4040 m above sea level, you will be brought to your hotel in the commercial district of La Paz.
'La Paz' translates as 'The Peace', but 'The Market' would have been a better name for this busy never sleeping city. This is one of the best places to shop for souvenirs, or maybe even buy an amulet on the mysterious witches market.
Day 2: La Paz - Rurrenabague - Beni - Jungle Tour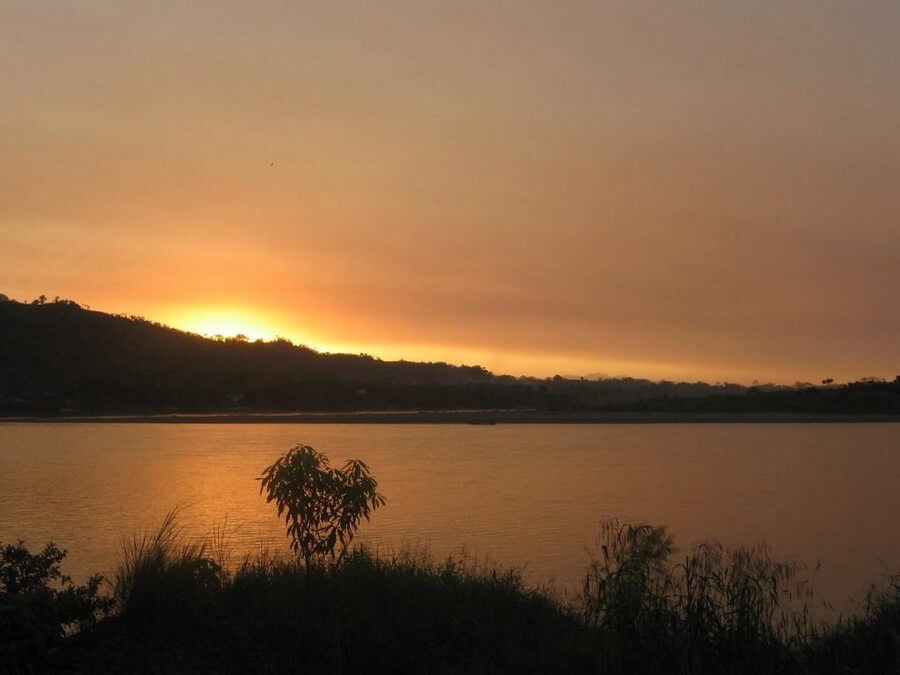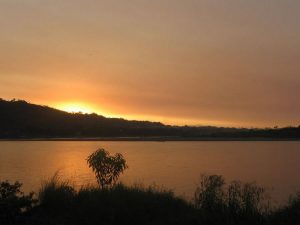 Private transfer to the airport and an early flight will bring you from La Paz  to Rurrenabaque. This is the
 start of the Jungle Tour of 6d/ 5n. 
Level of difficulty: medium – high.
This jungle trip is for those who want to see the largest possible number of wildlife and do not fear for the mysteries of the jungle. Instead this trip is for people who want to challenge the Jungle and themselves. We will walk deep into the jungle, between centuries-old trees. At night you stay in small hats or mosquiteros.  During the walks you can learn from our technical guides about survival in the jungle and much more…
We start the tour through the jungle with a boat trip over the Beni river. Our first visit is to a community dedicated to the development of honey from sugar cane. You can taste the delicious juice of cane and learn a little about the life of the community. During the boat trip on the rivers Beni and Tuichi you will enjoy incomparable landscapes such as the Canyon of the bullet. As soon as we reach the "Mashaquipe" hostel you will receive a refreshing welcome juice and lunch will be served.
In the afternoon you can join an easy walk along trails that are specially designed to teach you more about the jungle, see animals like monkeys, wild pigs and feel the nature. Our native guides will teach your how to recognize toxic plants, plants that cause allergic reactions and about plants that have an anesthetic or healing working. Dinner and rest

Day 3: Amazon jungle and Tacana culture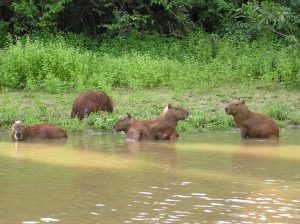 We will wake up very early (05: 00) to go out for a walk in the surrounding of the hostel. You will enjoy the noisy concert of howler monkeys, and a variety of birds that welcome the new day.
After breakfast, you can join an activity during which you will learn more about the 'Tacana culture'. After some explanations from the guide you can try for yourself to manufacture crafts, or practicing marksmanship with the bow and traditional arrows.
In the afternoon, after lunch, we will leave to visit an indigenous family who lives in the jungle. They will explain us more about their culture and how they practice their agriculture. You can also participate with them in their daily activities, for example by helping peeling rice with a mortero (tacu).
On our way back it is possible to see herons, martínez fishermen or even some Capybaras walking on the banks of the Tuichi River.
After dinner if you still have energy you can join a short night walk to observe eyes of caimans, lizards, frogs, snakes and others animals with the light of a lantern/ flashlight.
Day 4: Hiking and camping in the Amazon
After a good breakfast we take camping equipment with us and start hiking into the depths of the forest.
Tonight we will spend the night in a tent or just under a mosquito net. This activity is very interesting because you will have a more intimate contact with nature and can observe animals like: spider monkeys, howler monkeys, a variety of birds, etc. Before we go to sleep, you can make short walk with great potential for spotting giant armadillos, snakes and tapirs. While you lie in your tent it is not uncommon to hear the Growl from a jaguar or puma, coming from the depths of the mysterious Amazon Jungle!
Day 5: Hiking throught the Madidi Reserve and sleeping in a jungle shelter
A nutritious breakfast will give us the energy to hike deeper into the forest, where agile monkeys live in complete harmony with nature. On our walk it is likely to cross our path with large groups of wild pigs and for sure we will see a variety of birds such as toucans and oropendulas.
After lunch we pick up our backpacks again to continue walking towards our shelter for the night "the arenalito". We will arrive here late afternoon.
During the night, depending on the weather, it is very likely to be able to observe mammals such as deers, armadillos, tapirs and the eyes of many reptiles.
Day 6: Hiking throught the Madidi Reserve and sleeping in a jungle shelter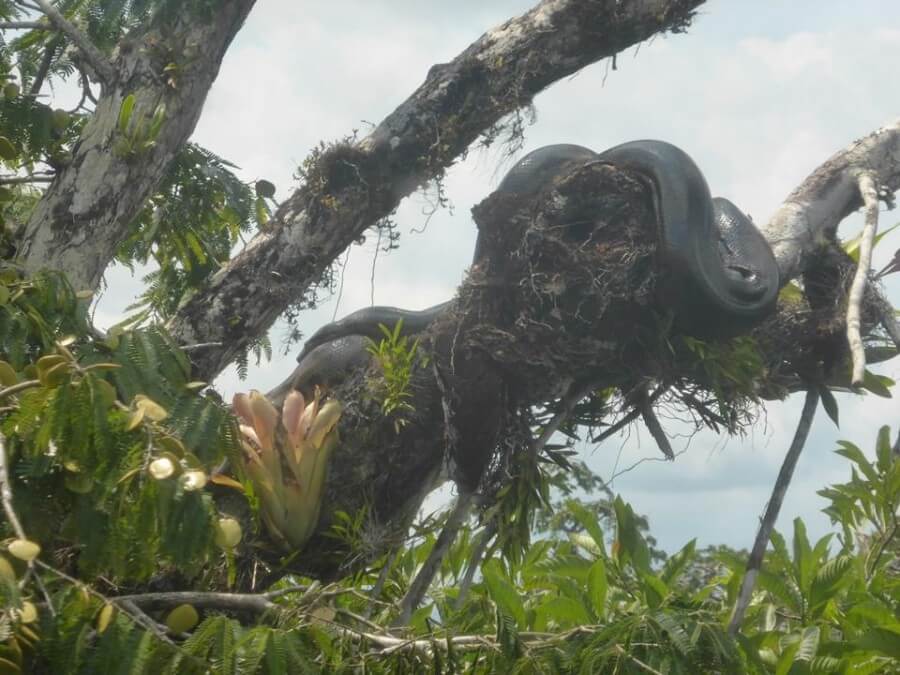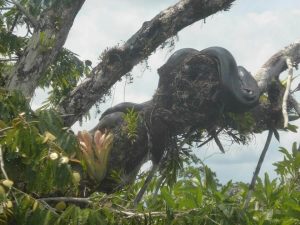 After breakfast, we will continue our journey through the depths of the jungle of Madidi accompanied by the 'music of the jungle'. This music consists ofdifferent melodies from screaming monkeys, singing birds, calling frogs and insects as the bustling cicada. On our way we have breaks to appreciate this biodiversity and learn about the jungle, its inhabitants and the many sounds.
At the end of the afternoon we will arrive at our shelter for the night, where we have dinner will rest
Day 7: Parabas Cliff - Rurrenabaque - La Paz
After breakfast we will walk toward the "Cliff of the parabas," place of nesting and feeding of parabas, parrots and parakeets. This is one of the best places to observe these colorful and bustling birds. You can also enjoy the beautiful landscape of the Amazon rainforest.
While finishing the trip we can choose to build a "callapo". This type of raft is the river transport for the indigenous peoples of the Amazon and you can use it to return to the hostel. After lunch we should start our journey back to Rurrenabaque. For who doesn't want to use the raft it is of course possible to use our comfortable canoe/ boat.
We arrive in Rurrenabaque around 16: 00h. And take a late flight to La Paz.
Day 8 - Friday: La Paz - Oruro - train
In the morning you can stroll through the historical centre of La Paz and or visit a museum. In the afternoon you go by public bus to Oruro, from where the train leaves to Uyuni. You arrive in Uyuni late in the evening.

Day 9: Train - Uyuni - start Salar de Uyuni Tour
After a good breakfast starts your basic and adventures tour (in shared service) over the seemingly endless salt flats of Uyuni. You can use this unique white landscape to make many funny and unrealistic pictures… During todays tour you will also visit a small hotel build out of salt blocks and have lunch on a coral island with huge cactuses in the middle of the salt flat. For sure a surrealistic experience!
Tonight you will sleep in a very basic hostel with dorm rooms.
Day 10: Salar Tour - Laguna Colorada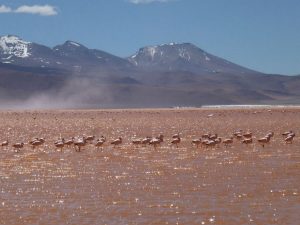 If you thought that the salt flats were the highlight of this tour, then wait until tonight and see if you still think the same… Today we drive south through the colorful sand and stone desert of Bolivia. It is very likely to see lama's, alpaca's, vicuñas and even viscachas (kind of rabbits) on the way, but the real highlight probably comes when we pass by several lakes, rich with minerals. These minerals cause the lakes to colour from white, blue, red till even green and also cause the flamingo's who live there to become deep pink a surrealistically scenery!
Tonight we sleep in the dorms from a basic hostel at the shores of Laguna Colorada.
Day 11: Laguna Colorada - Geyser - hot springs - Laguna Verde - Uyuni
The hostel doesn't have a shower, but if we wake up very early we can drive to a natural hot spring and see the sun rise above the magical landscape of this desert.
After breakfast at the hot spring, you drive to laguna verde and then it is a different route, but still long way back to Uyuni. You will arrive late in the afternoon, just on time to make a reservation in the best pizza restaurant of Bolivia, with a great ambiance to meet other travelers.
Day 12: Uyuni - Potosi
The beautiful ride (by public bus) to Potosì (5.5h) is almost an excursion on its own. Due to its silver mine Cerro Rico, Potosì ones belonged to one of the biggest and richest cities in the world. It was over this silver that the Dutch buccaneer Piet Hein gained its biggest victory over the Spanish fleet. Together with the fact that Casa de la Moneda produced the first coins of the American continent, it describes Potosì's important part in History. After arriving you have time to explore the colonial centerof this city above 4000m altitude.
Day 13: Potosi (optional mine tour) - Sucre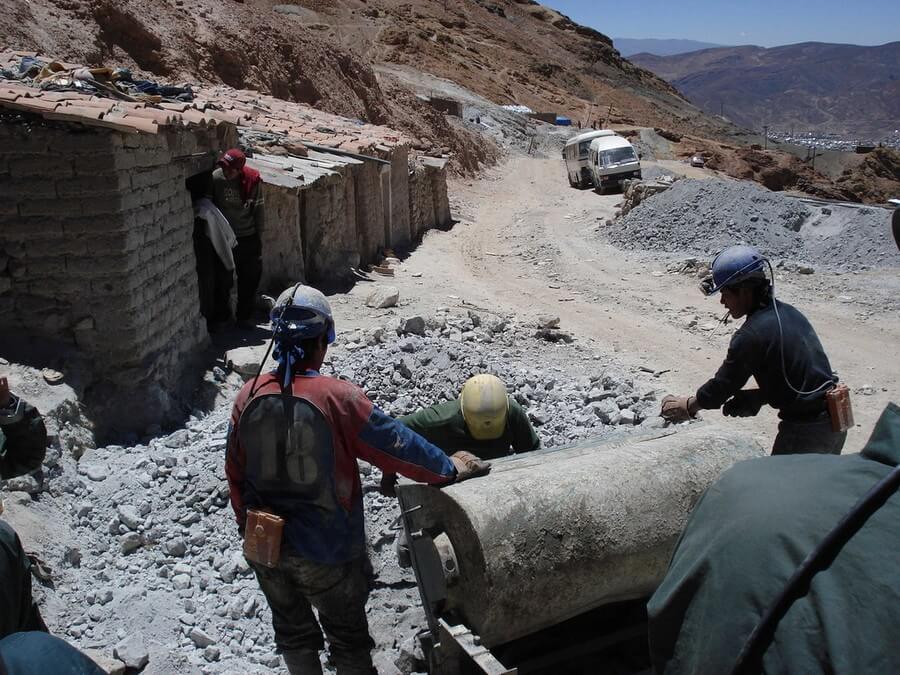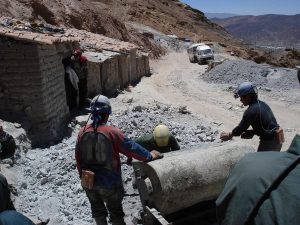 In the morning there is the option to bring a visit to thehistorical mines of Cero Rico. These mines brought wealth to Potosì and the western world, but also misery and death to about 8 million slaves. Nowadays they don't find much silver anymore, but the mine still contains many other minerals. The high metal prices and silent hope to find a new silver vein make that many men still daily enter the mines under old fashion and very basic conditions.
In the afternoon you drive in three hours with private transport to the official capital of Bolivia, Sucre. This city is named after the important General Antonio José de Sucre, who fought together with Simon Bolivar in the Independence War against Spain.
Day 14: Sucre (optional, long hike)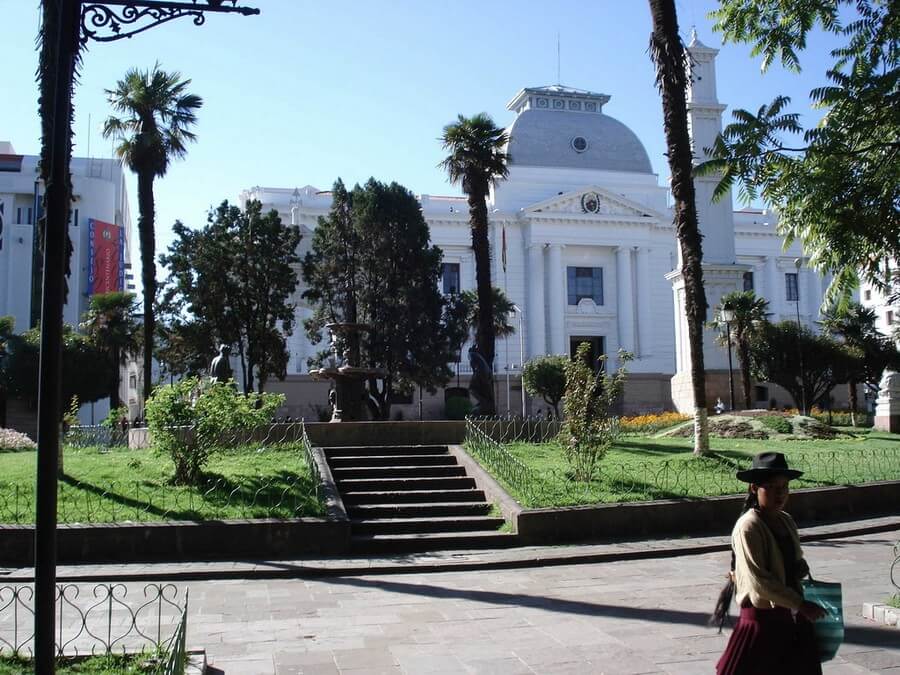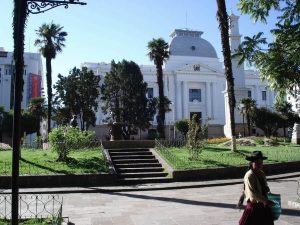 A free day in Sucre. You can decide to find out for yourself why Sucre is often called the most beautiful city of Bolivia. It's a prettie town to strol around, visit one of its museums, bring a visit to its impressive cemetery, or even have a look at the impressive fossil dinosaur footprints. Another recommendation is to join a 
spectacular hike
 in the surroundings of Sucre. This hike is called the Full Day Rockpaintings Hike. The hiking starts at about an hour from Sucre, passing the chapel of Chataquila at 3.665m. We follow the rim of theRockpaintings Hike in Sucre, Bolivia "Cordillera de los Frailes".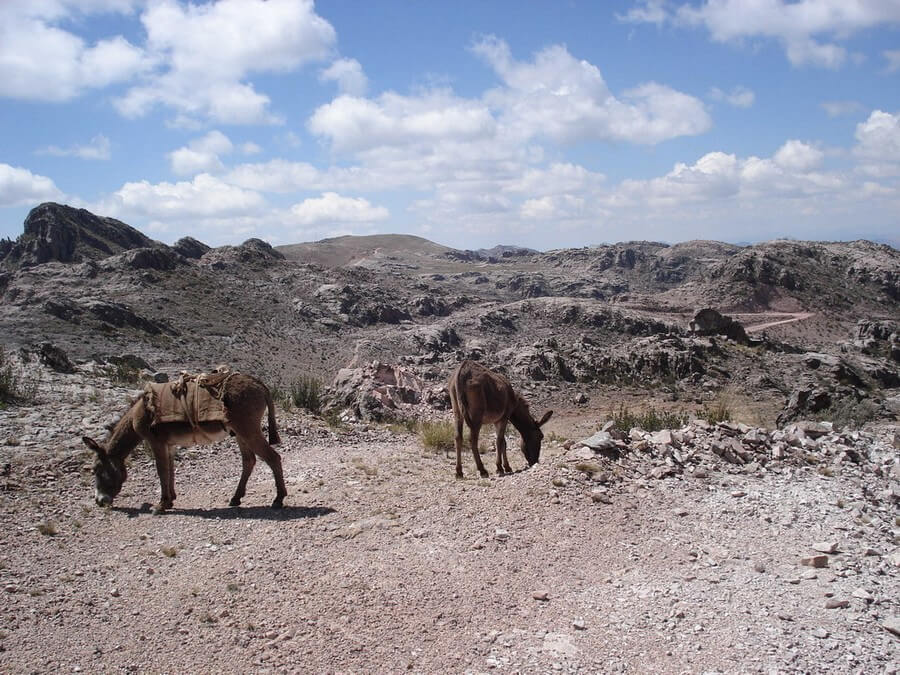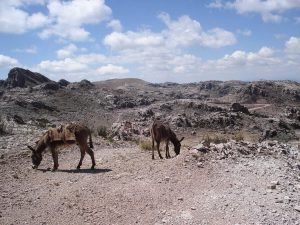 Halfway this hike you visit the rock paintings in the Caves of the Inca Machay and of the Puma. Walking down to the rock paintings will give you splendid views of the valley of the Rio Ravelo and the Crater of Maragua. After visiting the rock paintings you will walk down to a few rivers that we'll cross and from there you go down to the village of Tumpeka. from here we drive in 2 hours back to Sucre.
Day 15: Sucre - La Paz

Just before noon you fly in less than an hour from Sucre to La Paz. In the afternoon you have free time to stroll through the city and visit some of the museums.

Day 16: La Paz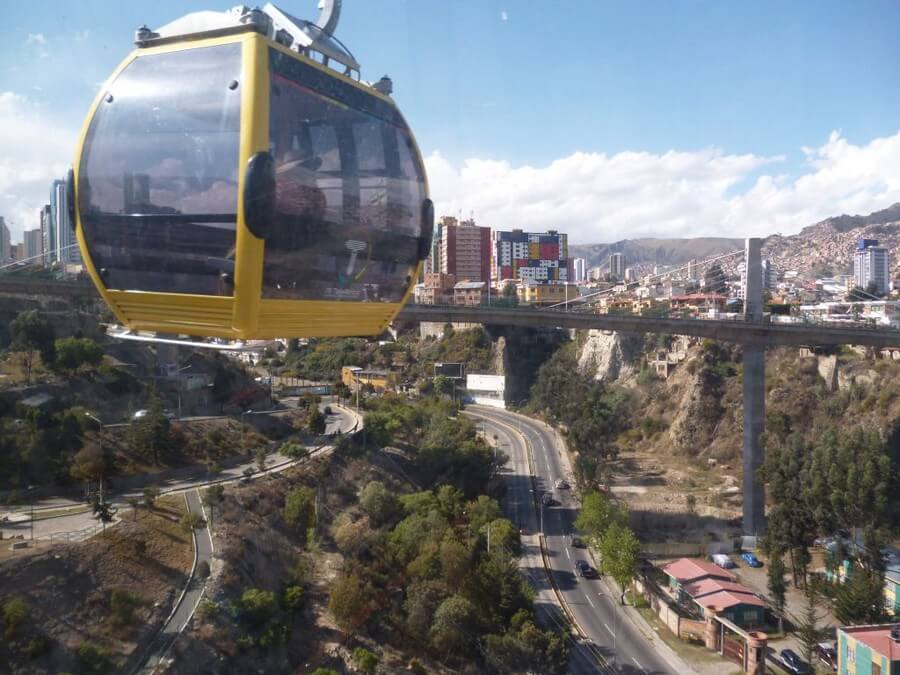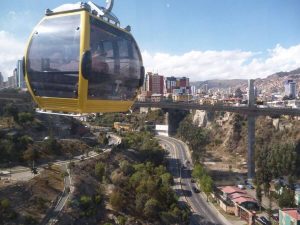 End of this tour, but optional to you can also choose to continue your journey to Peru.
For more info about the Bolivia Amazon Jungle you can  click here
Included and recommenden to bring on this special tour:
8 Nights in comfortable middle class hotels
5 Nights in and Eco hostel and on a jungle camping (incl. equipment)
2 Nights in dorms in basic hostels on the Salar Tour
A complete 6d/5n Madidi jungel tour incl.:

Private Transport 4WD jeep /Private car
Private Boat
Mineral water, juices and all meals during your at the lodge
Guided expeditions with native and bilingual guide

A return flight from La Paz to Rurrenabaque to La Paz
A flight from Sucre to La Paz
All private transfers in La Paz and Sucre
A public bus to Oruro and train to Uyuni
A complete 3d/2n tour through the Salar de Uyuni (in pool) including entree, transport, meals, coffee and tea (no guide).
Private transport from Potosi to Sucre
Not Included
International flights and airport taxes
Entrance fee to the protected areas of Madidi (160 Bs. per person)
Alcoholic beverages, soft drinks and meals not mentioned in the tour
Due to logistics: Public bus from Uyuni to Potisi and taxi in Potosi (about 13 US$ p.p.)
Optional excursions
Things not mentioned in the tour above
Tips
An obligated travel insurance
Bolivia Amazon bird
What to bring with you:
Big comfortable backpack.
Sleeping bag (on request also for rent)
Sleeping mat (on request also for rent)
Comfortable Clothes of cotton, long sleeved shirts of clear colors
Good socks
Bathing suit
Hat or cap
Closed and comfortable shoes to walk
Sun block/ cream
Insect repellent
A flashlight (or better headlight) p.p.
Yellow fever vaccination certificate
Personal hygiene outfits
Something to protect you camera equipment from the humidity and rain.
Something to be able to make a back-up of your photos.
INSURANCE:
It is the responsibility of the tourist to take out travel and health insurance and to have these documents on hand.