Guide to Huanchaco, Peru
What makes Huanchaco a popular tourist attraction?
Huanchaco is just a small fishermen and surfers town north/west of Trujillo, in the north of Peru, but in this article I would like to explain what's so special about this coastal town.
To be realistic, Huanchaco isn't a pretty town. There is hardly any maintenance on the streets and older buildings from Colonial times are falling apart. The beach is not very clean and gets smaller every year. A few years ago high water even destroyed part of the boulevard, which is still (early 2108) not fixed, despite many promises…
No, the attraction of Huanchaco is not really visual. But still, its location, history, culture, peacefulness, fresh seafood and some of the most consistent waves for surfing, make this town one of the best stops for travelers in the north of Peru!
History:
Huanchaco was the first harbor of this region when the Chimú ruled Chan Chan and the town kept this important position until halfway during colonial times.
When in 1870 the bigger harbor of Salaverry started operating, much of business went to Trujillo.
A few years later Huanchaco received a new and bigger pier to be able to transport sugar from the sugarcane plantations in the nearby Chicama Valley.
When the demand of sugar transport declined and Huanchaco couldn't keep up with the modernization of the fishing business, its harbor lost importance.
Around 1980 Huanchaco turned into a sleepy fishermen's town and important beach attraction for the citizens of Trujillo. With more time and less industry, surfing started to become a popular sport.
Surfing: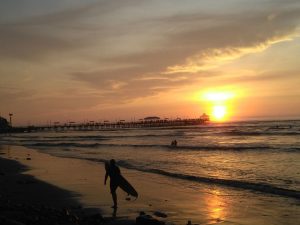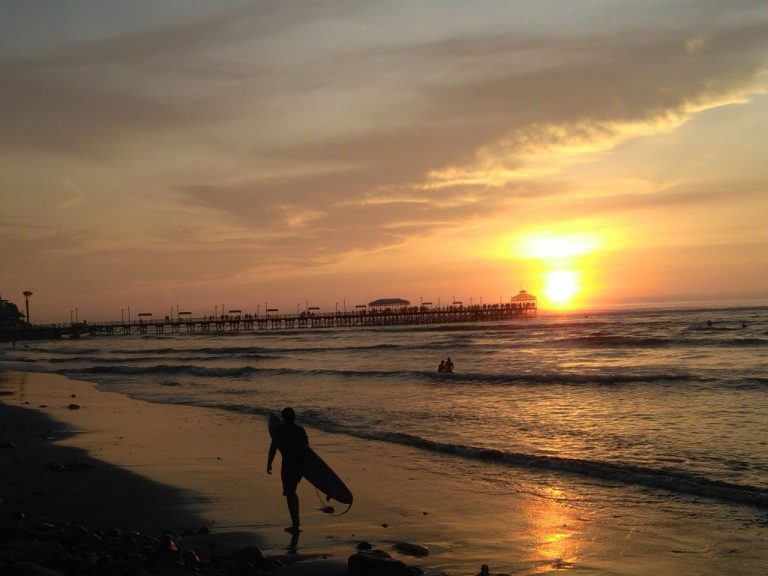 However, even nowadays each morning the elderly local fisherman of Huanchaco still step on their little man-made reed boats and navigate through the swells of the surf to go fishing in calmer waters.
Because of the way how these small boats ride the waves, they received the name "Caballitos de Totora", which means "Little Reed Horses". Images of a Caballito de Totora have been found on more than 3000 year old ceramics from the Virú, Chimu and Moche cultures.
Although most of the current Caballitos de Totora contain big pieces of Styrofoam to make them last longer, their design and use hasn't changed much. It is quite unique that a local tradition survives thousands of years and is still practiced the same way to make a living and not just for tourists.
Some historians also state that the first fisherman riding the surf, might be considered to be the first surfers in the world. If that's true depends on point of view, but fact is that in 2013 Huanchaco was named the first Latin American World Surf Reserve by the international Save The Waves Coalition.
The coast of Huanchaco offers year round several locations with different types of waves for beginner and advanced surfers and since 2010 they organize once a year the World Longboard Surf Contest. More information about this Longboard Surf Contest and 2 times world champion Piccolo Clemente from Huanchaco, you can find on: WSL Longboard 2017.
If you like surfing, or a looking for a challenge, I can recommend taking a few surf classes while visiting Huanchaco.
However the water isn't very clean or warm, the waves are much better than in Mancora and Huanchaco offers year round surf opportunities for the beginner and experienced surfers. In summer (December until March), sunset-surfing is a popular activity among locals, tourists and spectators.
There are many surf schools in Huanchaco and the quality varies from very good to very bad. Nine of these surf schools have set up a union in order to try to offer equal prices and services to their clients and set a higher standard. Unfortunately this isn't really working. The only thing that seems to have been established is that renting a surf board and wetsuit for the day will cost you 30 Soles (S/. the local currency and there go about 3.2 Soles in a US$) to S/.35 and a surf lesson of around 2 hours cost S/.70.
The most established surf school is Muchik Surf. This is especially the best equipped school for beginners, not only because of the experience from Chicho and Omar, but also because of their new practice room.
Surfers for Surfers and Onechako are also good surf schools with good equipment.
The Wave surf school, which belongs to Los Esteros is best to avoid. Their teachers often show up late, or not at all. Some teachers are un-experienced and many things, including Smartphones and cameras have disappeared from their dress room…
Huanchaco Surfing: Sunset surf video
Best Longboard surfer from Huanchaco: Piccolo Clemente
Other things to do in Huanchaco, besides surfing:
Visit the archeological site of Chan Chan, ones the biggest adobe city in South America. To get there take any bus H for S/.1.50;
Visit the very impressive tombs of Huacas del Sol y la Luna, where you can admire ancient old murals in its original color! Take bus H for S/.1.50 + switching busses at the Plaza Grau roundabout (ask driver), or take a taxi for around S/.8 from the roundabout.
Visit the impressive tomb of Huaca del Brujo and the museum of Señora de Cao, where you can see an ancient old mummy of a female warrior. Best to reach with a half day tour from Trujillo for around S/.60, because it is located an hour away from Huanchaco and you would have to take at least 3 different busses + taxi to get there…
Another important highlight of Huanchaco is to be able to eat fresh seafood with view on the waves and the fresh wind going through your hair. There are many restaurants and the quality of the food depends a bit on price and timing. If you want to eat a good ceviche (raw fish with lime and chili), the fish has to be fresh, so caught in the morning and eaten with lunch. Especially for the smaller restaurants it isn't easy to predict how many clients they will receive that day, so they often end up storing fish in the freezer for next day.
The best way to try a good ceviche will be to ask someone the evening before, or early morning if they can prepare you a lunch.
Good restaurants that usually have fresh ceviche for lunch include: Big Ben, Huanchaco Beach, Mochica, El Sobrero and La Esquina.
An often underestimated value of Huanchaco is that this laid back town with cheap prices for food and lodging, is a good place to relax and recharge your batteries from a busy working schedule, or even a busy travel itinerary.
We invite you to go for a stroll on the beach, enjoy a great sunset, visit the local market, read a good book in a hammock, or practice Yoga and meditation at sunset!
Since 2017 Huanchaco has now its first official Yoga studio on the top floor of the Atma Yoga Hostel. Also travelers who don't stay at the hostel can participate in the daily Yoga and meditation classes. For the latest schedule and prices it is best to check their Facebook page.
Because of the relaxed atmosphere and low costs, Huanchaco is also a good place to stay a bit longer to improve your Spanish before you continue your travels through South America. A good personal teacher is Sam Owen, whom you can contact by: [email protected] or at: Simple Spanish.
Several tourists come to Huanchaco to join a volunteer project in or around town. There are many of those project ranching from badly organized to good organized. Two of the better projects are SKIP in Trujillo and Esperanza Canina in Huanchaquito.
With any volunteer project you want to join, always make sure that you know exactly what they expect from you and where your money goes, before you sign up.
Lodging in Huanchaco, more or less in order of price:
Hotel Bracamonte, comfortable, good services, with a big garden and restaurant. Good for families. In a quiet area, but a bit far out of town.
Hotel El Sobrero, modern comfortable hotel. Many of their rooms have sea view, but are above their own popular restaurant and not in a quiet neighborhood.
Hotel Qhamar, quite location, with small swimming pool and with small modern rooms with sea view. Good for couples. When they open their little bar it might be less quiet.
Hotel las Palmeras, good middle class hotel with garden and swimming pool at the quiet end of Huanchaco. Good for families.
Hostel Nylamp, great garden, good location, good Italian restaurant and good price/ quality deal.
Atma Yoga Hostel, modern clean hostel at quiet location and good place for people who want to practice Yoga, meditation and/ or surf.
Hostel Frogs, big, well organized and popular party hostel. The place to meet others, backpackers and party locals.
My Friend, low budget hostel that has been around for many years.
Restaurants, more or less in order of price.
The first 3 are with around S/.45 for a main course a bit expensive, but only for Huanchaco:
Huanchaco Beach, According to some they have the best ceviche in town. Only open in the afternoon.
Big Ben, quiet location, popular and good food with good service and view. Only open in the afternoon.
Mochica, bit less expensive but also good food and service, stylish interior and opens sometimes in the evening.
El Sombrero, popular with tour agencies because of their price/ quality rate for their food, often, but not always open in the evening.
La Esquina, grew in 10 years from a small one story corner restaurant to a medium sized 3 story restaurant because of the quality of their BBQ seafood and ceviche. Opens each day from lunch until 22:00 h, or even midnight, depending on the season.
Lighthouse, this Argentinian restaurant has good BBQ food and service and is for those who don't like fish.
Casa Tere, this good Italian pizza restaurant has also some great pictures of old Huanchaco on the walls.
Otra Cosa Vegetarian Restaurant, has good breakfast, coffee, vegetarian menu's, original plates and some great Dutch apple pie.
Chocolate, has good breakfast, lunches and desserts, but closes at 18:00 h.
Umi Sushi House & Bar, offers a good variation of decent quality sushi at a reasonable price for sushi. Not easy to find in Las Orquideas 317.
Moksha and Corazon Verde, for vegan food.
Blue Mar, very good lunch menu's from 8 to 10 soles.
Many cheap restaurants, including My Friend and Menu Land can also be found in Av. Los Pinos.
The most established places to go out are:
Jungle Bar Bily, which frequently has live music
Sabes Bar, which has a lounge area and pool table
Thursday night, Salsa night at Jan Pix
Karaoke nights at Frogs and Moksha
Wheather:
Most of the year the sky of Huanchaco will be dominated by clouds and April is even known for its foggy days. But besides the clouds, Huanchaco has on average a friendly climate as in not being too hot, or too cold and with a relative high humidity of 80%.
In winter the temperature during the day can get down to 16 degrees Celsius, but in the summer months from December until March the temperature can reach above the 30 degrees! These are also the best months to watch spectacular sunsets.
Warning:
Although the presence of many cameras in Trujillo and Huanchao have strongly improved the safety, it is still not recommendable to walk as a woman alone on the empty beaches in the north of Huanchaco, past the last houses, or to the south, past by Parador Turístico Quibisich.
How to get there:
The best way to get from Trujillo to Huanchaco depends on where you arrive/ depart from in Trujillo. If you arrive with Cruz del Sur, Oltursa, Civa, Tepsa, or Emtrafesa Bus, then you can take for S/.1.50 Soles the Huanchaco mini bus/ combi B from Avenida España to Huanchaco. Note: watch your luggage, because these busses and combi's are often quite full. You can also take a taxi for S/.15 to max. S/.20, depending on what time it is.
If you arrive with Linea or Ittsa Bus you can take bus/ combi H for S/.1.50, or again a taxi for the same prices mentioned earlier.
If you arrive at the new Terrapuerto bus terminal South of Trujillo, then it is best to not be bothered by trying to go by bus, since you will have to switch busses, and again, it can be busy in the bus. A taxi from Terrapuerto to Huanchaco will cost S/.20 to max. S/.25 for the taxi. When you arrive by plane in Trujillo, the airport is located right between Trujillo y Huanchaco. A taxi will cost between 10 to max 15 Soles for the taxi. If you want to go by local bus you will have to turn left after leaving the airport and walk for about 500 m to the main road. The bus is just 1 Sol.