Essential North Peru Tour
Tours in which you travel through the center and south of Peru are very well known by tourists for their beautiful natural highlights and cultural remains, from the Inca and Spanish history. The North of Peru however is far less known, but has beautiful natural landscapes and a history that goes thousands of years back. Most of the human history as we know in Peru can be re-discovered during this tour. From the Moche culture along the coast, the culture of the Cloud People in Chachapoyas, to the Spanish colonial buildings in Lima and Trujillo.
This complete"Essential North Peru Tour" has a full program and is a good combination to discover for yourself the natural and historical beauty (including the third highest waterfall in the world) of the North. Even some of the archeological sites here are just literary being discovered, by as well scientists as tourists…
If you are are short on time, but interested in rough nature, culture and ancient history then this tour is a great choice!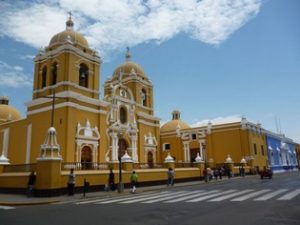 Short travel itinerary:
Day 1: Saturday -> Arrival in Lima + private city tour + bus to Chiclayo
Day 2: Chiclayo + Sican, Tumbas Reales and Tucume tour
Day 3: Chiclayo – Tour to Huaca Rajada and Bruning + Overnight bus to Chachapoyas
Day 4: Chachapoyas + Gocta Waterfall Tour
Day 5: Chachapoyas + Tour to Karajia y Caverna de Quiocta
Day 6: Chachapoyas + Tour to Kuelap – bus to Trujillo
Day 7: Trujillo – Huanchaco Beach
Day 8: Huanchaco + Tour to Chan Chan and Huaca de la Luna -> travel to Lima
Day 9: Early in the morning arrive in Lima and end of tour.
Optional to extend this tour with a tour to the South of Peru.
Essential North Peru, long itinerary:
Day 1: Lima –City Tour - Chiclayo
Lima is the capital of Peru and has more than 9 million inhabitants. Despite this huge amount of citizens and the busy traffic, it is still very impressive to visit the colonial city center. Your private tour through the center of Lima also includesa visit to the impressive San Francisco monastery, with colonial style catacombs. In the evening you travel by comfortable overnight bus to Chiclayo (13 h)
Day 2: Chiclayo + tour to Museo Sican – Museo Tumbas Reales - Tucume
After arriving in Chiclayo you will be transferred to your hotel.
Around 10:00 am starts yourarcheological group tour, in shared international services.
You start with visiting the interesting Museum of Sican. This museum shows a great collection with (golden) objects found in Bosque Pomac. Some of these golden objects belong to the most beautiful ever found in the province of Lambayeque, or maybe even in the whole of Peru.
After Sican you will bring a visit to the very beautiful museum Tumbas Reales. This museum is build in the shape of the old tomb from the Lord of Sipan and shows a great collection with many (golden) objects that were found in the original tomb. This combination makes that Tumbas Reales belongs to one of the best museums of Peru.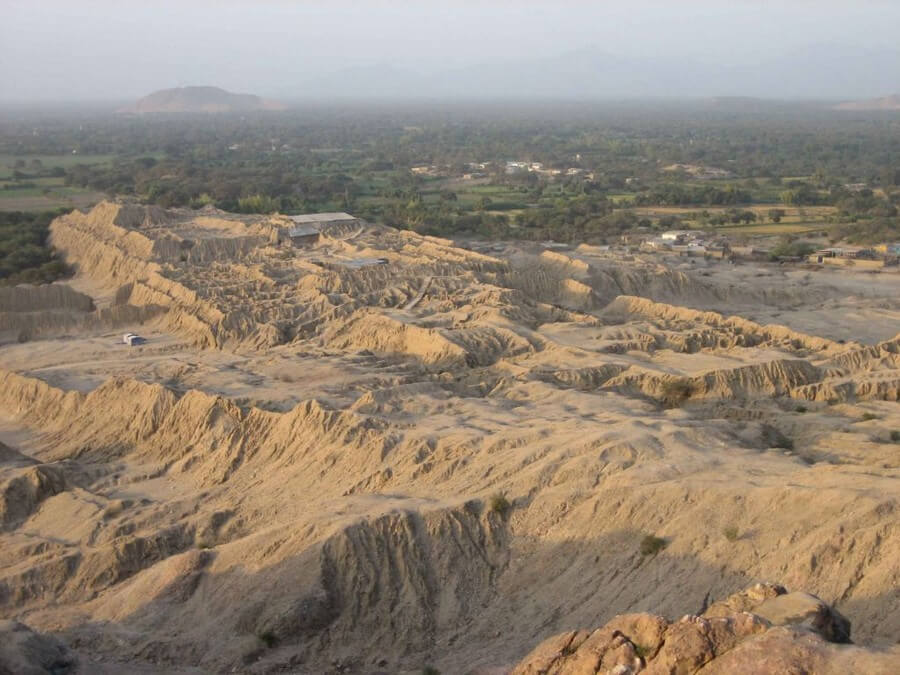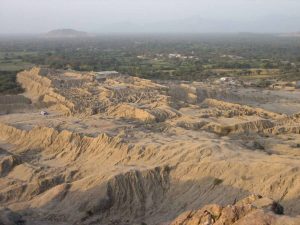 Later in the afternoon when the light is more soft, your will visit the archeological site Tucume. These pyramids/ ruins and ceremonial plateaus were ones build with adobe by the Lambayeque culture and the Chimu.
While walking over the site the sun go down and the shadows of the tombs grow bigger and bigger, giving the site a more mystical appearance, before we go back to Chiclayo.
Day 3: Huaca Rajada – Bruning Museum
The tour of this day is filled with archeological highlights. In the morning when the sun is not too warm yet your will visit Huaca Rajada, the original tomb from the Lord of Sipan. At the end of the eighties grave robbers found this tomb in Sipan. It was still almost intact and luckily the authorities soon heard about this discovery so they could stop the looting and start excavating this unique tomb in a professional way.
Most of the object they found you could see yesterday in themuseum Tumbas Reales. Today you will visit the very interestingBruning museum.
This museum includes a very complete collection about the history of the surroundings of Lambayeque. You can admire detailed textile and ceramics from the Chimu and Vicus culture, ceramics + golden objects and jewelry from the Mochica, and Chimu culture and several other objects from the Lambayeque, Moche and even from the Chavin and Inca culture.
In the evening (around 20:45h) you will take a very comfortabledirect public overnight bus to Chachapoyas.
Dag 4: Chachapoyas – Gocta Waterfall
Around 6:00am you arrive in the area of the Chachapoyas, the people of the clouds. They ones build beautiful cities on the surrounding mountain tops and buried their death in sarcophagus, placed on the mountain hills.
You will have a transfer to your hotel and some time to relax.
The excursion for today includes a short walk to the Cocachimbo community, from where a local guide will take you on a beautiful hike of around 2.5h to the high waterfall (771m) of Gocta.
Walking through the cloud forest towards and away from the waterfall you have a change to see toucans, humming birds and the Cock of the Rock.
Late in the afternoon you will be transferred back to Chachapoyas for a visit to the orchid garden. May is the best month to see many different species of orchids.
Day 5: Chachapoyas – Sarcofagos de Karajia
It takes a scenic ride of about 2 hours towards a small village named Cruz Pata. From this village it is only a 20 min. walk to the well preserved and impressive looking Sarcofagos de Karajia.
For the afternoon you can choose to visit the Caverna de Quiocta.
Day 6: Chachapoyas - Kuelap - Trujillo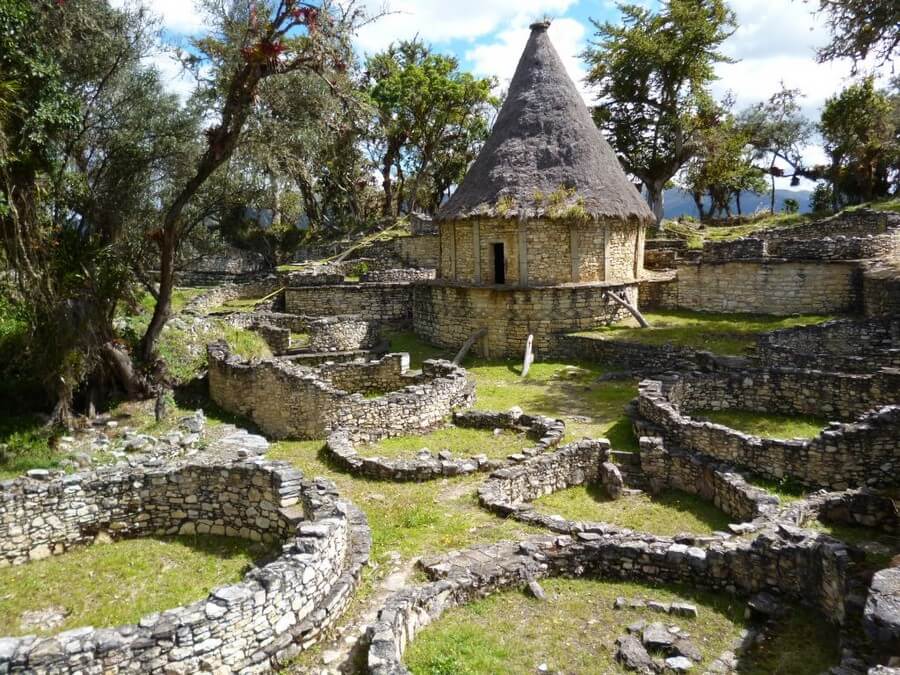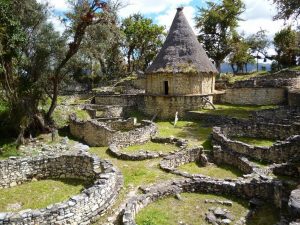 Today you will bring a visit to a relative recently discovered, but soon famous, archeological site named Kuelap (about 2.5 hours to get there).
The city is build on top of a mountain (3000m) and used to be the capital of the Chachapoyas culture. Some people call this city already The Machu Picchu of North Peru. While walking over the site and admiring the ancient architecture, you will also be surrounded by the nature of the highlands. Even most of the rustic walls and buildings are still covered with lush vegetation.
Overnight you drive back to the archeological dessert of the coast.
Dag 7: Trujillo - Huanchaco
You will arrive in the morning in Trujillo, from where a private transfer will bring you to the coastal village of Huanchaco. This is a great place to relax, eat fresh seafood, practice surfing, lay on the beach, or to use as starting point for several cultural tours in the surroundings of Trujillo.
Huanchaco is also known for the use of Caballitos de Totora, traditional fishing boats made of reed. Images of these boats already show up in the paintings of the ceramics from the Moche culture.
It is an idyllic view to watch these boats riding the waves around sunset from the beach of Huanchaco.
Day 8: Huanchaco - Trujillo – Huaca de Luna – Huanchaco – Chan Chan - Lima
This morning starts another very complete archeological tour in shared service towards the gigantic archeological (Moche) grave hills of Huaca del Sol and Huaca de Luna, with its new museum.
Part of the tombs are still decorated  with well conserved paintings on the walls. Painting which tell us a lot about the history of the Moche culture
And from these tombs even now they still frequently report new discoveries!
Optional: is to have lunch while watching a show from Caballos de paso.
In the afternoon you will visit the famous Chan Chan ruins (Chimu culture) , Huaca Arco Iris and Palacio Nik-AN  with different nature, bird and fish motives.
Tonight you will travel by very comfortable overnight bus to Lima(9h)
Day 9: Lima
Arrive in Lima and end of this tour.

Note 1: The itinerary's of the tour and excursions as described above are subjected to changes, due to unpredictable (natural) circumstances.
Note 2: It is optional to extend this tour with a standard tour to the South of Peru.
Inclusive and recommended to bring on this tour:
This 9 days tour in the north of Peru includes:
–    4 nights in hotels incl. Breakfast, based on 2 persons in a room
–    4 nights in very comfortable public overnight busses (optional flights)
–    Transport from city to city during the tour in comfortable, direct, public busses
–    Private transfers
–    Tours in shared service as mentioned above, to interesting archeological sites with local Spanish/English speaking guides + entrance fees in Chiclayo and Trujillo
–    24h emergency contact during the tour

Not included:
–    The entrance fees of archeological sites and tourist attractions in Lima and Chachapoyas
–    Lunch, dinner, drinks and other personal expenses
–    Tips
–    Travel insurance
–    International banking fees
–    Additional price for a single room supplement (ask for the options)
Optional: Include all the excursions mentioned in the tour in private services (about 240 US$ p.p. additional).
We recommend you to bring at least with:
–    Valid identification and travel documents and when needed a valid visa
–    The information of your travel insurance
–    Valid vaccinations, ask you countries health centre for more information
–    A good backpack, or big sport-bag, preferable no hard suitcase
–    A small day (back)pack
–    Good shoes
–    Sandals
–    A warm jacket/ fleece
–    A rain jacket/ poncho
–    A warm sweater
–    Two light trousers
–    One pair of shorts
–    3 T-shirts
–    A flashlight
–    Something to be able to back-up your photos
–    Protection against the sun and mosquito's (you can also buy in Peru)
Be aware that Peru is not a Third World Country anymore, so most things are available. If you do have any doubts about what to bring, please feel free to ask us.