Paddling in Cuyabeno Amazon Reserve
The Cuyabeno Wildlife Reserve: is situated in the north-eastern Amazon region of Ecuador, between the San Miguel and Aguarico rivers, and close to the Colombian and Peruvian borders. The reserve is made up of 605,000 hectares of primary forest, rivers and lakes, and is home to an incredible variety of animal and plant life. Five different ethnic groups live within the reserve: the Siona, Secoya, Cofán, Kichwas and Shuar, each of which has its own culture and language.

Short itinerary Amazon tour:
Day 1: Lago Agrio – Cuyabeno Reserve – Camping
Day 2: Cuyabeno Reserve
Day 3: Medicinal plants – Cuyabeno River – caimans
Day 4: Tarapuy – Siona – Cuyabeno River
Itinerary Paddling in Cuyabeno Amazon Reserve
For this Amazon tour we work together with an agency that is specialized in canoe trips and who are the only tour operator in Cuyabeno Wildlife Reserve, if not the entire Ecuadorian rainforest, that avoids motorized canoe travel as much as possible. During this tour you will be totally immersed in the rainforest and your experience will not be disturbed by any motor noise. As a result, you will be able to hear all the incredible sounds made by local insects, birds, monkeys and other animals. Another benefit of traveling by paddle canoe is that the animals are less likely to be scared away when you approach, increasing your chances of observing wildlife.
For your convenience and safety, we use Canadian-style canoes made of Royalex or Fibreglass. These canoes are lighter, more spacious and more stable than typical dugout canoes made from tree trunks.

Our Advantages
NO MOTOR NOISE ! By paddling you can see and hear more.
Rustic, comfortable cabins right on the Cuyabeno River
English and/or German speaking naturalist guides
Additional indigenous guides on 8-day tours
Small groups
State of the art canoeing and camping equipment
Exquisite cuisine
Customized tour options

We paddle or simply float with the current  for a maximum of 30 minutes to 4 hours a day. Each trip is carefully planned so that we only canoe along small, calm tributaries. No paddling experience is required to participate in one of our programs. Wealways have one of our staff in the back of each canoe and, in addition, everyone receives an introduction to paddling techniques on the first day of the trip. For your convenience and safety, we carry the canoes in a motorized dugout canoe when we travel longer distances, on white-water rivers or upstream.
Nevertheless, paddling is just one of the many options that we offer during this tour. Jungle hikes and several other activities also form a large part of our unique tour programs.
Guides: Our indigenous guides are all certified by the Ministry of Tourism; they are real experts in the rainforest and are also very experienced in ecotourism. Their knowledge of animals and plants, especially medicinal plants, is outstanding and unbeatable.
The indigenous guide will share his culture with you and introduce you to incredible rainforest survival techniques. Our naturalist guides stand out for their sound knowledge of birding, biology, animal habits, cultural history and much more. Our guests are always astonished by the guide's excellent ability to see even the most hidden animals in the forest and also identify their tracks.
Our program includes a wide range of activities: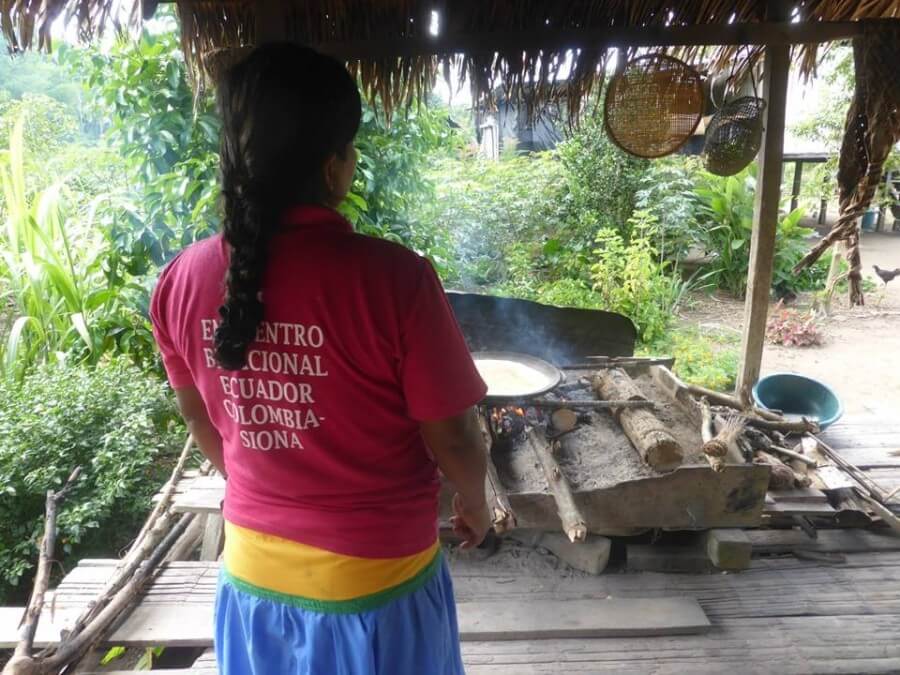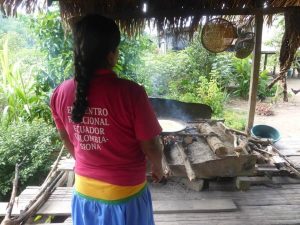 Canoe trips along small tributaries
Jungle hikes (day and night)
Visit to local communities (including cultural centers and museums)
Early morning bird watching
Piranha fishing
Swimming
Relaxing in hammocks
Accommodation, most nights is in rustic, traditional huts. On our 5-day trip, we spend the first night in tents at a beautiful spot in the midst of the forest. The following nights we stay in our recently finished hut that provides single and double rooms, each with private bathroom and shower. On longer tours we stay in simpler huts, where we provide one large room for pitching tents or mosquito nets. Only a few huts have shower facilities but you can always swim in the rivers and lakes, as has been done for years, or use our camping shower.
Food, ranges from traditional Ecuadorian food to international cuisine and is prepared in our camp kitchen. Our cooks are specially trained to carefully prepare meals that are not only delicious, but also hygienic and safe to eat. All the water used for drinking and cooking is pure bottled water. We can also offer our guests a wide range of vegetarian dishes on request.

Small groups are the best way for us to take all individual interests and travel needs into consideration. Small groups have a lower impact on the environment and increase the chances of spotting elusive jungle wildlife. For this reason we have max. group sizes. Families with children are always welcome on our tours, but we recommend that children are at least 10 years old.
The quality of equipment is fundamental in offering you both a comfortable and a safe trip. The only things you need to bring are some light clothes, your personal belongings and a flashlight with spare batteries. We provide you with quality Canadian canoes, paddles, life vests, rain ponchos, boots (up to European size 47), dry bags for your luggage (from 5 to 115 liters), tents, air-sleeping pads, light sleeping bags, sheet liners, mosquito nets, etc.
Day 1: Lago Agrio - Cuyabeno Reserve - Camping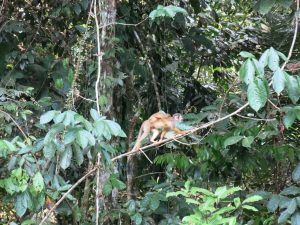 We leave Lago Agrio in the morning and travel to the Cuyabeno River bridge (the Park entrance) in private transport (3 hours). From the bridge we paddle by canoe down the Cuyabeno River to the Tiger Pass campsite, a beautiful spot in the midst of lush forest (3 hours). On the way, we see the wide range of flora and fauna that live in the primary forest. We finish the day with a night walk in search of nocturnal creatures. We spend the night camping out in tents.
Day 2: Cuyabeno Reserve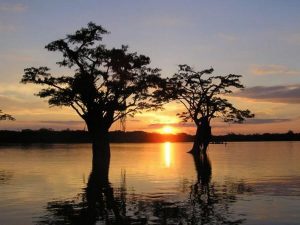 We continue paddling downstream to the Magic River Camp located on the banks of Cuyabeno River (3.5 – 5 hours). The facility consists of rustic jungle huts providing double rooms with beds, private bathroom and showers. In the afternoon we will explore the flooded forest of the Laguna Grande Lake, take a refreshing dip in the lake and watch the sunset.
Day 3: Medicinal plants - Cuyabeno River - caimans
In the morning we take a longer walk on a small path through primary forest (3 hours). Our guide will explain the uses and applications of plants, those which are medicinal, edible, poisonous or hallucinogenic, and those that are used to build houses and canoes or to make hammocks and baskets. Later we head back to the camp for a rest. In the evening we paddle downstream on the Cuyabeno River by canoe. To enjoy the beautiful flora and fauna around us! After dark we take a night excursion in search of caimans.
Day 4: Tarapuy - Siona - Cuyabeno River
Today we visit the cultural center of Tarapuy, the indigenous community of the Siona. We travel by motorized dugout canoe downstream on the Cuyabeno River and have a short hike, for about 2 hours, until we reach the community. Here we get an insight into the Siona culture and their current lifestyle. We will help to make bread from manioc root in a family home. On our way back to the lodge, we pass a gigantic kapoc tree with its immense buttress roots!
Day 5: CuyabenoRiver - birdwatching - Lago Agrio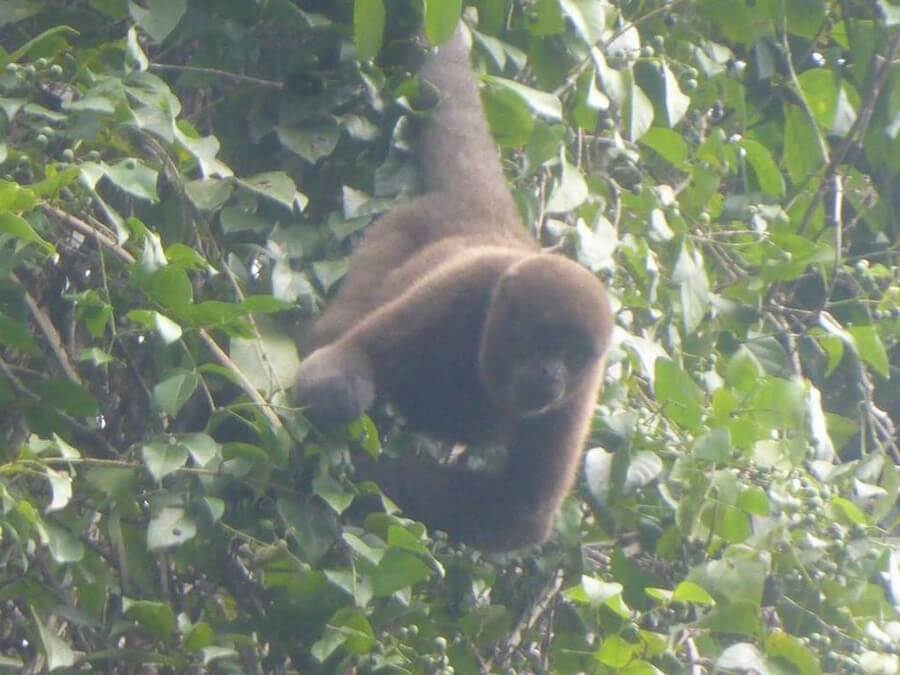 Before sunrise we head out in the canoes, paddling along the Cuyabeno River to spot birds. We return to the camp for breakfast. During the morning we take the trip back in the motor canoe. Again there are chances of spotting wildlife on our way to the Cuyabeno River bridge. Our private transport will be waiting to take us back to Lago Agrio, where we arrive in the late afternoon.
Included and recommended to bring into the Amazon:
The tour price includes:
All terrestrial and fluvial transfer from and back to Lago Agrio, licensed bilingual guide (additional indigenous guide for 8 day tour) , full catering (except breakfast on first day and dinner on last day), complete canoe and camping equipment (water proof bags, rubber boots, rain ponchos), daily guided excursion according to itinerary, coffee and tea on self-service all day, safe bottled water for drinking and all cooking, entrances to indigenous community, airport and hotel transfers in Lago Agrio.
Accommodations are as follows: 
1 night in tents and 3 nights at Magic River
The price does not include:
Transfer Quito-Lago Agrio-Quito, entrance fee to Cuyabeno Park ($10.00 p.p.), accommodation in Lago Agrio, soft and alcoholic drinks.

Guarantee
We offer several different sizes of waterproof bags. These help to protect cameras and personal belongings during the paddling trip. We ask for a guarantee of $ 10,00 per bag. The amount will be paid back after the tour when returning the bags. We recommend one big bag for backpacks and one smaller bag as a daypack for things on hand.
Minimum group size for our tours:
2 people according to availability
Maximum group size:
Normally 10, but when it is on group together, max 16 persons.

What should you bring on the tour:
– T-shirts and long-sleeved shirts for mosquito protection
– Several shorts and long pants for the jungle hikes (better cotton or linen, not jeans)
– A sweater or jacket (it gets chilly on rainy days and at night)
– 1 pair of tennis shoes, 1 pair of sandals
– Sun protection (sun cream, hat, sun glasses)
– Swimming clothes
– Biodegradable soap and shampoo  (we sell handmade soap at little cost in the local office)
– Mosquito repellent
– 1 day backpack
– 1 flashlight per person including spare batteries
– Passport
– Small dollar bills for the possible purchase of handicrafts in the indigenous community
– Camera, binoculars
– Park entrance fee of $ 20.00 per person
– Something to back-up your pictures
For reservations:
Please provide the following information:
– Fore- and last name, passport number and nationality
– Accommodation in Magic River Lodge: Twin rooms/double bed room
– Rubber boot welly size
– Arrival in Lago Agrio  (meeting point like airport, hotel, etc.)
– Special food requests (if vegetarian please specify if fish, eggs, etc
are ok)
– Your insurance details

Cancellations:
We charge the following cancellation fees calculating from the date in which we receive a written cancellation notice:
From 32 to 16 days before departure: 20% of the tour price
From 16 to 4 days before departure:  70%
From 4 days or less from departure: 100%
:: Departure Dates ::
——————————–

Please ask for up-to-date departure dates in 2018