Ecuadorian Relaxation Tour
It is impressively sad that many hard working people nowadays fight stress, marriage problems, sleepless nights and unhealthy food habits, with expensive psychiatry visits, sleeping tablets and vitamin substances…
We would like to offer you a far healthier alternative, a week holiday in the natural surroundings of Hosteria Izhcayluma. This is a rustic peaceful lodge, surrounded by a huge garden and located on a hill with an amazing view over the valley of Vilcabamba.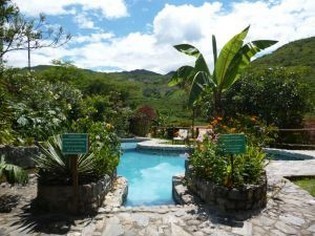 Short itinerary Relaxation Tour Ecuador:
Day 1 – Saturday: Quito/ Guayaquil – Loja – Vilcabamba (1500 m altitude)
Day 2: Vilcabamba and massage treatments
Day 3: Horseback riding
Day 4: Hike and Yoga
Day 5: La Ruta de Café y Panela (Coffee and Panela Tour)
Day 6: Visit the national park Podocarpus!
Day 7: Relax!
Day 8 – Saturday: Vilcabamba – Loja – Quito/ Guayaquil -> Home
Full Itinerary of this Relaxation Tour in Ecuador
Day 1 – Saturday: Quito/ Guayaquil – Loja – Vilcabamba (1500 m) - Izhcayluma
In only 45 minutes you fly either from Guayaquil, or Quito to the airport of Catamayo/ Loja.
Our private transport will be waiting for you at this small airport to bring you in 1h30min, through the countryside and over winding roads with great views, to Hosteria Izhcayluma.
After your check-in, the friendly receptionist will bring you to your own private cabaña, with a private balcony and your own hammock to watch the sunsets above the green hills.
When the sun is down you can try the international kitchen of Izhcayluma and/ or have a drink in the friendly bar. The ideal place to meet interesting new people!
Day 2: Vilcabamba and massage treatments
If you wake up early you can join the free meditation/
yoga class
in the morning, right when the first sunlight comes over the green hills and the birds start their morning concert.
Breakfast is served in the spacy restaurant with a panoramic view over the Vilcabamba valley. After a healthy breakfast that includes real fruits, fresh yogurt and homemade granola, you have time to explore the beautiful surroundings of the valley and/ or bring a visit to the small village of Vilcabamba.
For the late afternoon we have scheduled a complete full body
massage
from the very experiences massage ladies at Izhcayluma. Can you think of anything better to start your second day of vacation with?
Day 3: Horseback riding tour
Today it is time for some adventure. Starting at 10:00 am we have scheduled a 4 hours
horseback riding tour
with Tasca Tours through the amazing surroundings of the Vilcabamba valley. The very experienced guide speaks Spanish and English and the horses belong to some of the best horses in Ecuador. It is not important if you have experience or not, just let us know before and we pick you the right horse. All you have to do is: "Let go and enjoy the amazing ride!".
Late afternoon you can relax at the swimming pool or participate in one of the free Yoga classes to surprise yourself about the flexibility of your own body and mind. No worries, for many guests at Izhcayluma these Yoga classes are the first they have ever done in their live, so you won't be the only 'new person'. For guests who do have experience in Yoga, there are also more advanced classes available.
Day 4: Hiking and Yoga
For today we recommend to hike one of the several different trails that leave from Izhcayluma to various locations in and around the valley of Vilcabamba. The trails are self-guided and go from 3 to 8 hours in a calm pass. We highly recommend the
Izhcayluma Loop
, which takes 4 to 5 hours! These hikes make a good exercise in the healthy surroundings of Vilcabamba and provide you with amazing sceneries and views over the valley. Another option is to go with a local guide and climb the sacred
Mandango Mountain
.
After the hike it is a good idea to relax body and mind during the free Yoga class.
Day 5: La Ruta de Café y Panela (Caffee and Panela Tour)
The tour starts at 9:00 am. After half an hour we make our first stop to look at strange earth formations, also called "The Devil's Cathedral".
The tour continues the visit of a companion planting plantation, where they grow the most famous coffee variety of the world, the highland coffee Arabica.Tasca, cafe y panela tour, Vilcabamba
After this visit we reach the traditional village of Yangana. Here we get to know the coffee processing factory. The owners will explain to us the processing of the coffee and of course we can try the delicious brew as well.
In Yangana we step on our bikes to travel along the old secondary road with great sceneries back to Vilcabamba.
Along the way we'll take a break for a swim at a beautiful river and enjoy a late lunch (which is incl. in this tour).
Further on the road we'll encounter a typical Panela factory. Panela is a very sweet brown substance, produced by cooking sugar cane juice at high temperatures. We continue to ride through amazing country side, passing through the tranquil old villages of Quinara and Tumianuma! Around 15:30 pm we are back in Vilcabamba.
It is also possible to do this trip by car only.
Day 6: Hike in the National Podocarpus Reserve!
After a good breakfast we will bring you in about 45 min. to the entrance of the national park
Podocarpus
, named after the Podocarpus tree, the only native Conifer of Ecuador. The cloud forest of this park is a great place to observe various orchid species and other flower and plant species. It is also home to several bird species, including humming birds! If you are really lucky you might even see a spectacle bear! The park rangers see these animals only about ones every 2 months, but who knows…
From the entrance you can choose to make a long and very adventures hike of 5 hours (over only 5 km…) through the park. Note: this hike is not for people with vertigo… You can also do a short hike of around 2 hours in total up and down, to an impressive viewpoint (mirador) over the surroundings and the nearby town of Loja.
Optional, for the adventures people among us: bike back from the entrance of the National Park to Vilcabamba/ Izhcayluma.
Dag 7: Relax!
This day is a great day to relax, lie at the swimming pool, join the Yoga class and be surprised about the effects on your body from only one week of relaxation and exercise, in a healthy surrounding and without stress!
For after the Yoga class we've also included a final Full Body Massage.
Day 8 – Saturday: Vilcabamba – Loja – Quito/ Guayaquil - Home
Helaas Time to go back home. We will bring you to the airport of Loja on time to catch your flight to either Guayaquil, or Quito.
We hope you enjoyed the past week and that it gave you new and healthy energy to undertake the challenges at work.
Let op: het the itinerary of the tour above is to give an impression of the possibilities, but can be adjusted to suit your personal preferences.
Extra options:
1 – To rent the private suite with two queen size beds, for only 70,- US$ p.p. additional
2 – To go on a full day biking tour (depending on availability)

3 – To join a special shaman treatment. For centuries the human race has distanced itself from its true nature and therefore lost contact with Mother Earth herself. This has created more and more war and diseases and has led to the destruction of our natural environment and our selves. In order to heal our Planet Earth, first we humans need to heal Ourselves individually. The Earth Mother Ceremony is an opportunity to activate the Self Healing Process inside each of us.
More info: www.sacredmedicinejourney.com/
Included and recommended to bring with on this Relaxation tour:
– Return flights Quito/ Guayaquil – Loja – Quito Guayaquil (note: the prices of the flights can change, which will then influence the total tour price).
– Private transfers Loja/ Catamayo airport – Izhcayluma – airportAir Yoga in Ecuador, Izhcayluma
– 7 Nights in a private cabaña with private balcony and queen size bed
– Free breakfast buffet from 7:00 am till 10:00 am
– One horseback riding tour of 4 hours
– One Coffee and Panela tour
– Transport to and from the national Park Podocarpus
– Two full body massages for each of you
– Free Yoga classes
– Free hiking maps
Exclusive:
– International flights
– Accommodation and transport in Quito/ Guayaquil, but when requested, we can arrange this as well
– Food and drinks, unless mentioned in the itinerary
– Additional tours/ excursions and everything else that is not specifically mentioned in the itinerary
– International banking fees
– Additional price by a booking for only one person
Optional and to be booked ahead:
– To join a Sacred Sweatlodge/ Temazcal ceremony, depending on availability (vilcadomes@gmail.com)
– To rent the private suite with two queen size beds, for only 80,- US$ p.p. additional
– To join a special shaman treatment: http://www.sacredmedicinejourney.com/
We recommend you to bring:
– Contact and contract information of your insurance company
– Light clothes, incl.: shorts and T-shirts, but also long trousers and long sleeve shirts
Vilcabamba, Ecuador Tour – A warm jacket/ fleece, because it can be chilly at night
– A rain jacket/ rain poncho for the horseback riding and Podocarpus tours
– Good hiking/ walking shoes
– Sandals
– Swimming clothes
– Easy clothes for the Yoga classes (Izhcayluma provides the yoga mats)
– A flashlight/ head-light
– A good camera and something to back-up your pictures
– A small day-(back)pack to use during the tours
– Insect repellent and protection against the bright sun
– A hat and sunglasses