Tungurahua Trek in Ecuador
This adventurous day trek will take you to some remote hot springs on the lower flanks of Tungurahua, an active volcano with a small glacier.  The hike to the hot springs leads through a beautiful mountain forest.
Start around 9:00 am and back around 15:00 h.
Long itinerary Tungurahua Trek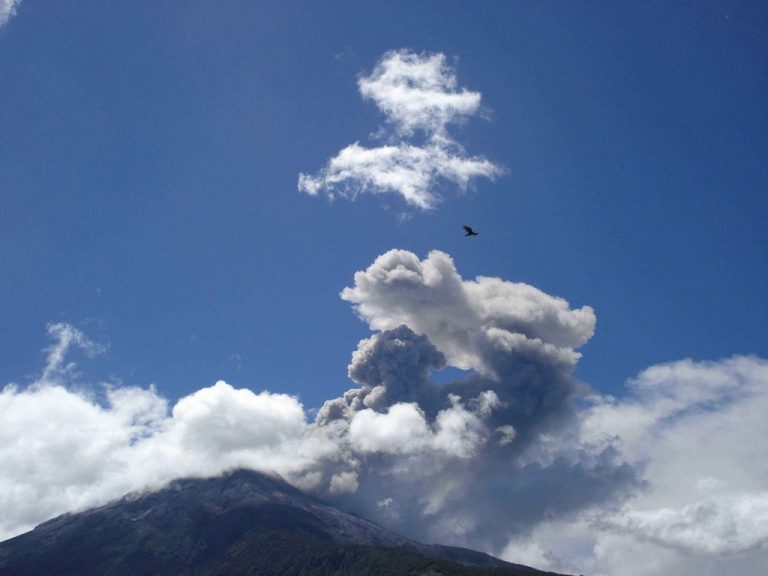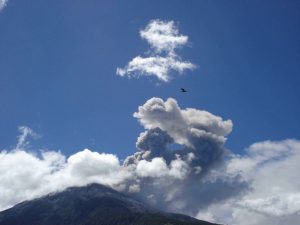 Departure at 9:00 am from Riobamba. We drivedown the old road to Baños, passing several villages on the way. With clear weather, you will have good views of Tungurahua volcano. After about 50 minutes we arrive at Río Puela, where we start our hike at 2600 m. altitude. We follow a small trail going up to a mountain forest. The vegetation is abundant with many ferns, mosses, bromelias and orchids. It is also possible to see evidence of the past eruptions. After about 2,5 hours hiking up we will arrive at the hot springs, at about 3000 m. altitude, bubbling out of the volcanic soil. A bit higher there is an impressive waterfall, pouring out icy water from Tungurahua's glacier. After relaxing – you can soak in the hot bath and cool off in the cold stream if you like – we will hike down and return to Riobamba. Arrive at about 15:00 hour.
Difficulty: moderate
Departure: any day with minimum 2 persons
Inclusive and recommended to bring on the Tungurahua Trek:
Included:
–  naturalist guide
–  transportation from / to Riobamba
–  box lunch
–  equipment (including rubber boots and rain poncho)
Exclusive:
–  Drinks
–  Personal spendings
–  Tips