Nemo II Galapagos Cruises
Captain Nemo, a character from Jules Verne, likes to explore the unknown of our oceans. So can you think of a better start of your Galapagos Cruise on board of the elegant catamaran Nemo II catamaran?
Price indication Nemo II Cruises: … US$ 4 Day Cruise, … US$ 5 Day Cruise and 3800 US$ p.p. for an 8 Day Galapagos Cruise. Note: these prices are a reference, the actual prices can be slightly higher or even lower, depending on season and demand.
Technical specifications of the Nemo II:
Type: Catamaran
Category: First Class.
Capacity: 14 Passengers.
7 Crew Members: 1 Captain, 1 Helmsman, 1 Deck sailor, 1 Bartender, 1 Cooker, 1 Machinist, 1 Certified
Experienced bilingual (Spanish/ English) naturalist guide
Loa: 21.88 mts.
Beam: 10.39 mts.
Draft: 1.50 mts.
Fresh water capacity: 2.000 lts.
Electricity: 12 V, 110 V, 220 V.
Engines: 2 engines / 200 HP.
Facilities on board:
7 Cabins
Dining room with bar
Lounge area
2 Life rafts
1 EPIRB (Satellite locator)
1 SART (Radio Beacon)
2 Waterproof VHF
20 Life vests HF & VHF
2 Mobile VHF
Hot water
Fresh water maker
Ice maker
Freezer
Nemo II accommodation specifications:
Cabin 1 and cabin 2: Double bed (only for couples).

Cabin 3 and cabin 4: Lower single bed and double upper bed.
Cabin 5: 1 Lower double bed and 1 upper single bed.
Cabin 6 and cabin 7: 1 Lower single bed and 1 upper single bed.
More independent information about the Nemo II Catamaran and the cruise itineraries of the Nemo II you can find on their independent Nemo Galapagos Cruises website.
Sailing routes Nemo II Cruises:
Nemo II cruise itinerary A; 8 days, Sunday till Sunday:
Sun. 1: Baltra (Start at mid-day) – Bachas Beach (WK-SN)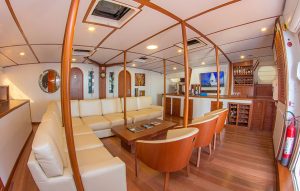 Mon. 2: Genovesa: Darwin Bay (WK-KY-PR-SN-PB) – El Barranco (WK-KY-PR-SN-PB)
Tue. 3: Santiago: Sullivan Bay (WK-PR-SN) – Rabida (WK-KY-PR-SN-PB)
Wed. 4: Santa Cruz: Highlands (WK) – Charles Darwin Station (WK)
Thu. 5: Isabela: Elizabeth Bay (KY-PR-PB) – Urbina Bay (WK-SN)
Fri. 6: Isabela: Tagus Cove (WK-KY-PR-SN-PB) – Fernandina: Espinoza Point (WK-SN)
Sat. 7: Santiago: Espumilla Beach (WK-KY-PR-SN-PB) – Buccaneer Cove (KY-PR-SN-PB) – Salt Mines (WK) – Egas Port (WK-SN)
Sun. 8: Daphne (CN) – Baltra (End at 08:30 am)
Explanation of the abbreviations:
SN = Snorkel Tour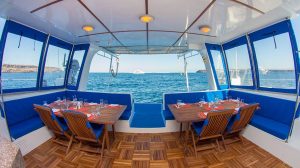 PR = Panga Ride (Zodiac rubber motor boat tour)
KY = Kayak tour
WK = Walking tour
CN = Circumnavigation/ sightseeing from the catamaran
PB = Paddle Board
More detailed information about the different Galapagos islands, their touristic highlights and their fauna you can spot at these locations you can find on our: Fairtravel4u guide to the Galapagos Islands.
Nemo II cruise itinerary A4 North; 4 days, Sunday till Wednesday:
Sun. 1: Baltra (Start at mid-day) – Bachas Beach (WK-SN)
Mon. 2: Genovesa: Darwin Bay (WK-KY-PR-SN-PB) – El Barranco (WK-KY-PR-SN-PB)
Tue. 3: Santiago: Sullivan Bay (WK-PR-SN) – Rabida (WK-KY-PR-SN-PB)
Wed. 4: Santa Cruz: Highlands (WK) – Baltra (End at 08:30 am)
Nemo II cruise itinerary A5 North; 5 days, Wednesday till Sunday:
Wed. 1: Baltra (start at mid-day) – Charles Darwin Station (WK)
Thu. 2: Isabela: Elizabeth Bay (KY-PR-PB) – Urbina Bay (WK-SN)
Fri. 3: Isabela: Tagus Cove (WK-KY-PR-SN-PB) – Fernandina: Espinoza Point (WK-SN)
Sat. 4: Santiago: Espumilla Beach (WK-KY-PR-SN-PB) – Buccaneer Cove (KY-PR-SN-PB) – Salt Mines (WK) – Egas Port (WK-SN)
Sun. 5: Daphne (CN) – Baltra (End at 08:30 am)
Nemo II cruise itinerary B South; 8 days, Sunday till Sunday:
Sun. 1: Baltra (Start at mid-day) – North Seymour (WK-PR-SN)

Mon. 2: San Cristobal: Lobos Island (WK-PR-SN) – Kicker Rock (CN) – Brujo Hill (WK-KY-PR-SN-PB)
Tue. 3: Floreana: Champion Islet (PR-SN) – Cormorant Point (WK-PR-SN) – Post Office Bay (WK-SN) – The Baroness Viewpoint (WK-KY-PR-SN-PB)
Wed. 4: Espanola: Osborn Islet (SN) – Gardner Island (PR-SN) – Gardner Bay (WK-KY-SN-PB)- Suarez Point (WK)
Thu. 5: Santa Cruz: Highlands (WK) – Breeding Center Fausto Llerena (WK)
Fri. 6: South Plaza (WK) – Santa Fe (WK-KY-PR-SN-PB)
Sat. 7: Bartolome (WK-PR-SN) – Chinese Hat (WK-KY-PR-SN-PB)
Sun. 8: Mosquera Islet (WK) – Baltra (End at 08:30 am)
Nemo II cruise itinerary B5 South; 5 days, Sunday till Thursday:
Sun. 1: Baltra (Start at mid-day) – North Seymour (WK-PR-SN)
Mon. 2: San Cristobal: Lobos Island (WK-PR-SN) – Kicker Rock (CN) – Brujo Hill (WK-KY-PR-SN-PB)
Tue. 3: Floreana: Champion Islet (PR-SN) – Cormorant Point (WK-PR-SN) – Post Office Bay (WK-SN) – The Baroness Viewpoint (WK-KY-PR-SN-PB)
Wed. 4: Espanola: Osborn Islet (SN) – Gardner Island (PR-SN) – Gardner Bay (WK-KY-SN-PB)- Suarez Point (WK)
Thu. 5: Santa Cruz: Highlands (WK) – Baltra (toiur ends at 8:30 am)
Nemo II cruise itinerary B4 South; 4 days, Thursday till Sunday:
Thu. 1: Baltra (Start at mid-day) – Breeding Center Fausto Llerena (WK)
Fri. 2: South Plaza (WK) – Santa Fe (WK-KY-PR-SN-PB)
Sat. 3: Bartolome (WK-PR-SN) – Chinese Hat (WK-KY-PR-SN-PB)
Sun. 4: Mosquera Islet (WK) – Baltra (End at 08:30 am)
These Nemo II Galapagos Cruises include:
– Accommodation in cabins with private bathroom, based on double ocupation
– 3 meals per day
– Free drinking water, (instand) coffee and tea
– Guided daily excursions as described in the itinerary above under guides of a
– Naturalist bilingual guide
– Free use of snorkeling equipment
Exclusive:
– Air flight to / from the Galapagos Islands
– Entrance Fee to the Galapagos National Park $ 100 per person (subject to change)
– INGALA transit card $ 20 per person (subject to change)
– Optional wetsuit rental at 5 US$ p.p. per day
– Beverages including soft- and alcoholic drinks
– Travel insurance
– Single supplement is 80% extra
– Tips
– Any personal spendings