Galapagos, Amazon and Volunteering 44d
During the first two weeks you travel through some of the most beautiful natural areas of Ecuador, including the Galapagos Islands and the Amazon Rainforest. After you've seen the Ecuadorian wildlife in its natural environment you will join the volunteer team of the Merazonia Animal Refuge and get the chance to help the less fortunate animals that were taken away out of their natural environment.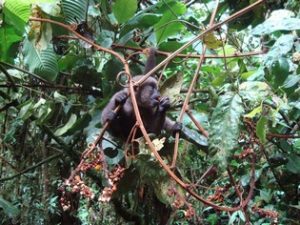 More information about the Merazonia volunteer project you can find on their own website: www.merazonia.org
Short itinerary of this volunteer tour in Ecuador:
Day 1(Sunday's): Arrive in Quito
Day 2: Quito – Galapagos Islands
Day 3: Galapagos Island tour
Day 4: Galapagos Islands tour
Day 5: Galapagos Islands tour
Day 6: Galapagos Islands -> Quito – Otavalo.
Day 7 (Saturday): Market in Otavalo
Day 8: Otavalo (Optional: Laguna Coicocha hike) – Quito.
Day 9: Quito – Lago Agrio – Cuyabeno Amazon Tour
Day 10: Cuyabeno Amazon Tour.
Day 11: Cuyabeno Amazon Tour.
Day 12: Cuyabeno Amazon Tour
Day 13: Cuyabeno – Lago Agrio – Quito.
Day 14: Quito – Baños
Day 15: Baños
Day 16: Baños – and the small town of Mera. From Mera it takes only 15 min. in a taxi and a short walk to cross the bridge over the river into the protected area of the Merazonia Animal refuge.
The next 4 weeks you will work and live with the volunteer team of Merazonia, while you stay in a 6-sided jungle abode, which consists of a large dorm-style room, housing up to 8 volunteers. There is also a large deck area to eat, relax in hammocks, or strike up a game of cards, a great surrounding to make new friends for life.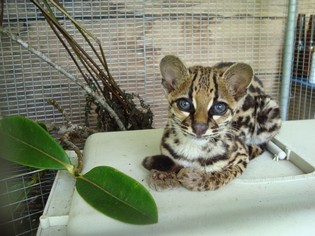 Day 44: End of this combination of travelling and volunteering. You can decide to go back to Quito and home, stay longer at Merazonia, or continue travelling. We will help you with the arrangements of any decision you make.
Galapagos, Amazon and Volunteering 44d, long itinerary:
Day 1: Quito
(Sunday's): Arrive in Quito(at an altitude of 2850 m)and private transfer to your hotel, close to the new airport.
In 2011 UNESCO elected vibrant city of Quito as the American Capital of Culture, because of its very impressive  colonial center.
Day 2: Quito - Galapagos - Puerto Ayora - Isabela - Flamingo Lagoon
In the morning you will take a flight from Quito or Guayaquil to Baltra Airport. Please remember that when you check in for your flight, you will also have to pay 20 US$ in cash for the "Galapagos Transit Control Card".
After arriving at Baltra Airport on the Galapagos it will be 1 hour earlier (Galapagos time difference). Before leaving the airport you will be asked to pay 100 US$ entrance fee for the Galapagos National Nature Reserve.
At the airport of Baltra you will be met by our guide, who will arrange the transfer by ferry and local bus to Puerto Ayora (Santa Cruz island). After lunch you will take the public speedboat to Isabela, the Galapagos' largest island. Arrive at Puerto Villamil after about 3,5 hours of navegation. In the late afternoon you will visit the Flamingo Lagoon, which is the largest coastal lagoon found in the Galapagos. This is one of the main reproduction sites for flamingos.
NOTE: Instead of the tour to the volcanoes and Concha Perla, it is possible to book the snorkeling tour to Cabo Rosa (extra cost). The Galapagos National Park administration assigns the groups with two different schedules; the first tour starts at 8.00 a.m. with return at 13.00 p.m., and the second starts at 11.00 a.m. with return at 16.00 p.m.
Departure by speedboat to Cabo Rosa, also called Los Tuneles. This is one of the most beautiful sights in the Galapagos archipelago. Continuous volcanic eruptions petrified into tunnel-like lava formations right in the middle of the sea, and the crystal clear turquoise water allows an amazing view of marine life and playful sea lions. The first stop is a small islet home to pelicans, blue-footed boobies and sea lions. We continue to Finados, a great snorkeling site where you can see the endemic Tintoreras sharks, sea turtles, surgeon fish and occasionally eagle rays and golden rays. After 1,5 hours arrive at the lava tunnels. We will navigate in and around the tunnels to enjoy the amazing sights, can do some more snorkeling and enjoy a short hike. In the afternoon return to Isabela.

Day 3: Sierra Negra - Volcan Chico - Concha Perla
After an early breakfast departure to Sierra Negra, one of Isabela's five active volcanoes. After a short ride by car we will continue on horseback to the rim of the crater. With a diameter of 10 km. this is the world's second largest volcanic caldera. From the crater you can enjoy spectacular views. We also will visit Volcan Chico, a smaller crater, where you can see petrified lava and fumaroles. Return to Puerto Villamil for lunch. In the afternoon we will go snorkeling at Concha Perla, a calm bay where you can swim with sea lions.
Day 4: Tintoreras Islet - Giant Tortoise Breeding Center - Muro de las Lagrimas
In the morning we will navegate by small speedboat to Tintoreras Islet, where a colony of white tip sharks can be seen. Tintoreras is also an important breeding site of marine iguanas, and you can see sea lions and penguins. It is an excellent place for snorkelling. After a hike around the islet, get back on the boat and cool off by snorkeling in the waters nearby. Swimming next to multicolor fish, starfish, sea urchins, and with luck manta rays, sharks, and sea lions is a major highlight in this excursion. After a fascinating experience we will return to the hotel for lunch.
In the afternoon, visit the Giant Tortoise Breeding Center of Isabela. Here you can observe a variety of species of giant tortoises. You will also hear how this center has successfully bred and raise the giant tortoises to preserve many endangered subspecies. Afterwards, we will visit the Wall of Tears (Muro de las Lagrimas). Between 1946 and 1959 Isabela Island was used as a penal colony by the Ecuadorian government, and the prisoners were obligated to build this wall out of the sharp and hard volcanic rocks. The wall is 100 meters long and 7 meters high. On the way back we will make a visit to a Lava Tunnel, Mirador Orchilla, Estero de Isabela, and Playa del Amor. We will then return to the hotel to rest before heading to dinner at a local restaurant specified by the guide.
Day 5: Galapagos (Puerto Ayora) - highlands of Santa Cruz -Charles Darwin Station
Early breakfast and departure by public speedboat back to PuertoAyora (Santa Cruz island). After check-in at hotel in Puerto Ayora you will drive to the highlands of Santa Cruz, where you can see the giant tortoises in their natural habitat. After lunch return to Puerto Ayora and visit the Charles Darwin Station. Here you will have the opportunity to see Lonesome George, the last Galapagos tortoise of its species.
Day 6: Galapagos (los Gemelos) Baltra - Quito - Otavalo
After breakfast short excursion to Gemelos or Twin Craters, which are similar to craters, but formed by a collapse of the earth because of the lava flows that passed below it. After this excursion we continue to the Baltra Airport where you will take a flight back to Quito.
A private transfer will bring you in about 2 hours directly to your hotel in Otavalo (2560 m altitude).
Otavalo is one of the very few places in Latin America where its citizens are proud to be indigenous and with reason. Already for thousands of years the people of Otavalo are known for their special high quality weaving techniques and commercial skills. The Inca's supposedly used their weaving skills and now the Otavalenios have shops in several places over the world, even in New York City.

Day 7: Otavalo Saturday Market and surrounding
Today you can explore the small town, visit the famous local and colorful Saturday market, visit a rescue centre for birds of prey, go on a short hike to the waterfall of Peguche, or to join a very interesting excursion to visit several small communities in the surroundings of Otavalo. During this tour you get great views of the country side of Ecuador and you will learn about the different ancient handicrafts that are still practiced in these communities. These handicrafts include leather work, weaving and making flutes.
Day 8: Otavalo (Optional: Laguna Cuicocha crater lake) - Quito
In the morning: Optional to hike around Laguna Cuicocha (4h). The Cuicocha Lake is a 3 km (2 mile) wide caldera and crater lake at the foot of Cotacachi Volcano in the Cordillera Occidental of the Ecuadorian Andes.
Its name comes from the Kichwa indigenous language and means "Lago del Cuy" or Guinea Pig Laguna in English. It was given this name due to the guinea pig shape of the largest Island in the middle of the laguna.
Half day use of hotel room in Otavalo. Halfway the afternoon private transport back to Quito.
Day 9: Quito - Lago Agrio - Cuyabeno Reserve
Private transport to the airport followed by a short flight takes you from Quito to Lago Agrio.
From here starts your tour through the 
Cuyabeno Wildlife Reserve
. This reserve is situated in the north-eastern Amazon region of Ecuador, between the San Miguel and Aguarico rivers, and close to the Colombian and Peruvian borders. The reserve is made up of 605,000 hectares of primary forest, rivers and lakes, and is home to an incredible variety of animal and plant life. Five different ethnic groups live within the reserve: the Siona, Secoya, Cofán, Kichwas and Shuar, each of which has its own culture and language.
The base of your trip in the Cuyabeno Wildlife Reserve, is the Nicky Amazon Lodge, located near the Laguna Grande. The lodge has a capacity for 32 people accommodated in double, triple and cuadruple rooms with private bath and hot water showers. It has a dining area, and a traditional bar. Solar panels provide electricity for recharging batteries in the evening.
Our trip starts in Lago Agrio at 9:30 a.m. If you arrive by plane we pick you up at the Lago Agrio airport at 9:55 a.m. We travel by bus or truck for about 1,5 hours until the town of Tarapoa, where we eat lunch. After 20 more minutes arrive at the Cuyabeno bridge, the main entrance to the Cuyabeno Fauna Reserve. From here we continue by motorized canoe downstream the Cuyabeno river to the lodge. On the way we have chance to observe several species of monkeys and birds. After about 2 hours we arrive at Nicky Amazon Lodge. Time for a short relax and an introductory walk around the Lodge. After dinner our naturalist bilingual guide gives us a briefing on the activities for the next few days.

Day 10: Cuyabeno Amazon Reserve, hikes and canoe tours
We start the day with an early breakfast, because the brisk morning hours are the best time to see the rainforest's thriving activity. Trek into primary rainforest with our naturalist guide. He shows us the practical and medicinal uses of several plants, and we learn how all creatures in the tropical rainforest co-exist in a fragile balance. We may spot amphibians, butterflies, centipedes and millipedes, snakes, birds, monkeys, and the footprints of mammals. After lunch at the lodge, navigation along the Cuyabeno River and around the Kapok Island in search of different species of monkeys. We also have a good chance of seeing the freshwater pink dolphins (Inia geoffrensis and Sotalia fluviatilis). Before dinner we venture into the forest to find insects, spiders, tarantulas, snakes or colorful frogs. The night world of the Amazon is perfect for viewing small species and enjoying the nocturnal sounds of the jungle.
Day 11: Cuyabeno Reserve, Siona Community
Get up early in search of monkeys and birds. After breakfast we follow the "taricaya" or turtle trail to the Seoqueya Community. A member of a Siona indigenous family will show how to prepare yucca bread, and our guide will explain about the culture and traditions of the native people. We navigate downstream to visit the shaman who teaches us the ancient healing traditions and natural medicine. Return to the lodge for lunch and relax. In the afternoon we navigate upstream to the Laguna Grande. Here we can admire the flooded forest or igapo, dominated by the famous Macrolobium trees. Take a swim in the lake and enjoy the spectacular sunset. Before returning to the lodge, we will search for caimans and fishing bats.
Day 12: Hike and canoe tours in Cuyabeno Reserve
Today we will do a morning walk in the rainforest, plus an extra canoe excursion in the afternoon, in order to enjoy the exhuberant flora and fauna of the Cuyabeno Reserve. Depending on the weather it is possible to enjoy another evening hike through the mysterious rainforest.
Day 13: Cuyabeno Reserve - Lago Agrio - Quito
Your last day starts with a short canoe excursion early morning, to enjoy the sunrise over the jungle. This is a good opportunity for bird watching – you may spot macaws, toucans, parrots, caciques, hoatzin and other tropical bird species. After breakfast you have time to prepare your luggage for the trip back. Navigation upstream back to the Cuyabeno Bridge, and bus / truck ride back to Lago Agrio. Arrive at about 14:30 p.m. You will have some free time in Lago Agrio, before boarding the return flight to Quito in the late afternoon. Transfer to your hotel and overnight in Quito.
Day 14: Quito and local bus to Baños
Today our private transport will take you to the bus terminal just outside of Quito, from where you can take a local bus (3h) to the friendly town of Baños, at the feet of the grumpy volcano Tungurahua (means Little Hell). At night you can sometimes even see a bit of lava coming out of its mouth.
Day 15
A free day in Baños, to enjoy the hot springs were the town received its name from. Because of these hot springs it has developed into a friendly tourist town with lots of activities for local and foreign tourist. These activities include: Rafting, biking, abseiling, quad riding, hiking, spa treatments and more. Gaining in popularity and with reason, is "La Casa del Arbol". From this 'tree house' you can swing high above the valley, with view on the Tunguragua vulkaan!
For who wants to do something more active, it is a recommendable tour to bike the road downhill from Baños to Puno along the Pastaza River. Along the way you will have great views over see steep cliffs and several waterfalls, including the Pailon del Diablo!
Day 16
In the afternoon you walk to the bus terminal and drive in about an hour to the town of Mera. From here it takes only 15 min. in a taxi and a short walk to cross the bridge over the river into the protected area of the Merazonia Animal refuge.
More information about working for and with Merazonia: 
Merazonia is an up-and-coming rescue center for trafficked and abused Amazonian animals, located on 250 acres of rainforest, in Mera, Ecuador. Animals confiscated by the Ministry of Environment and the police, are brought to us where our resident veterinarian gives them their first check-up in our clinic. We are caring for monkeys, kinkajous, cats, other mammals and parrots. Our volunteers help us care for the animals, as well as continue to construct enclosures and trails to improve the centre. We work on both rehabilitating and providing release programs for the animals. If animals are too injured or imprinted for this, we will give them a chance to live as naturally and comfortably as possible.


We also place importance on outreach, education, and research, and plan on implementing local educational programs as well as welcoming international students and researchers. Currently we invite anyone with a passion to make a difference to volunteer with us, get a bit of jungle dirt under your nails, and contribute to the creation of a haven for animals in need!


Merazonia has a young team of people who encourage volunteers to help think of ways we can improve the park. We are currently caring for well over 50 animals, including: capuchins, tamarin and woolly monkeys; many species of parrots and macaws; kinkajous and small mammals; and sometimes felines. Because rehabilitation is an important part of what we do, the group of animals we look after often changes, with animals being released or moved to other refuges, depending on the care and environment they need.
We live at the reserve, which is a 15-minute taxi ride from the town of Mera. Any bus towards Puyo will pass by Mera's central square from where you can take a blue pickup taxi, called Transmera to the center. Volunteers stay in our 6-sided jungle abode, which consists of a large dorm-style room, housing up to 8 volunteers. There is also a large deck area where we usually eat our meals, relax in hammocks, or strike up a game of cards. Our bathroom facilities are next to the volunteer house, and consist of composting toilets and our famously hot showers.
Volunteers take turns in cooking and our huge kitchen includes even an oven, to encourage volunteers to bake pie or cookies, a great treat after a day of hard work in the jungle.


A typical day starts with feeding the animals and cleaning their cages at 7.30 a.m. After breakfast we work on maintaining and keeping the park clean, or building new trails and enclosures. The animals get fed again at 3 p.m. But there is also time to explore the land, relax by the river, or swim in our waterfalls.

Day 44

End of this combination of travelling and volunteering. You can decide to go back to Quito and home, stay longer at Merazonia, or continue travelling. We will help you with the arrangements of any decision you make.

NOTES: The itinerary may be subject to changes due to weather conditions and the water level in the Cuyabeno Reserve. The Cuyabeno Tour starts each Monday (group size 4 – 10 persons). The Galapagos tours only leave twice a month, please check the "Galapagos Island Hopping section for dates available.
The fee for Merazonia is 520 USD p.p. for 4 weeks, including 28 overnights and (mostly vegetarian) and meals. This money is already included in the public price of this tour, but because we stand for transparentcy you could also decide to pay this money yourself upon your arrival in Merazonia.
Price note: the price of this special tour is based on a booking for min. 2 persons. The price is a bit more with just one person and can also be adjusted according to the services.

Galapagos, Amazon and Volunteering 44d Inclusive and recommended to with :
Included in this tour:
– 11 nights with breakfast based in a single room.
– The fee for Merazonia is 520 USD p.p. for 4 weeks, including 28 overnights and (mostly vegetarian) and meals – Private transfers with English speaking driver/guide
– Flights to and from Lago Agrio
The Galapagos tour comes with:
– Flights to and from the Galapagos Islands with a max price of 475 US$ p.p., if more the total price goes up.
– English speaking naturalist guides
– Transfers on the Galapagos by public bus and public speedboat
– Accommodation in budget class hotels (double room with private bath and hot water)
– Meals full board
– Excursions as detailed in the itinerary
– Snorkeling equipment on Isabela
The Cuyabeno tour comes with:
– Naturalist guide
– Transportation from / to Lago Agrio
– 4 Nights accommodation in Nicky Jungle Lodge (shared double and quadruple cabins with private bath)
– Meals and purified drinking water
– Jungle equipment (rubber boots, rain poncho and life jackets for on the boats)
Not included:
– Entrance fee for the Galapagos Islands (20 US$ has to be paid on the airport of Quito and 100 US$ upon arrival on the Galapagos + 5 US$ dock-fee
– International flights and airport taxes
– Optional excursions
– Drinks, meals and personal expenses not mentioned in the itinerary above
– Travel insurance
– Additional price for a single room supplement (ask for the options)
– Tips
We recommend you to bring at least with:
–    Valid identification and travel documents and when needed a valid visa
–    The information of your travel insurance
–    Valid vaccinations, ask you countries health centre for more information
–    A good big backpack or sport bag, NO hard case suitcase.
–    A small day (back)pack
–    Good shoes
–    Sandals
–    A warm jacket/ fleece
–    A rain jacket/ poncho
–    A warm sweater
–    Three light trousers
–    Two pair of shorts
–    4 T-shirts
–    Swimming wear
–    A flashlight
–    A water proof to protect your electronics against the humidity of the rainforest
–    Something to be able to back-up your pictures from your camera
–    Protection against the sun and mosquito's (you can also buy in Ecuador).

Additional information from the volunteer project:
In the Amazon, the weather runs from brilliantly sunny to downright wet (it is the rainforest), so we recommend raingear and layering work clothes (and liquorice or chocolate if you really want to get in good with the managers). While we provide linen and blankets, if you are prone to chilliness, we recommend bringing a sleeping bag for extra comfort. We also provide candles, but a flashlight is always handy for the dark jungle nights.