From Vilcabamba, Ecuador to Chachapoyas, Peru
The most scenic way to travel from Ecuador to Chachapoyas in Peru is without doubt through Podocarpus.
This eastern route starts from Loja/ Vilcabamba. On the way to Chachapoyas it passes through the Podocarpus National Park and crosses the border at La Balsa.
Until March 2003 it was still only possible to cross this border by boat over the Canchis River. The small local boats were also called "Balsas", hence the name La Balsa.
On March 8, 2003 both, the presidents from Ecuador and Peru where present when a new international bridge between the two countries was opened.
Transporters Nambija Bus
Now, 16 years later, there is direct bus from Transportes Nambija that crosses this bridge from Ecuador into Peru and back.
To be honest, this direct bus takes a bit of the adventure out of the journey along this less travelled route. But in return it makes the route more accessible for backpackers who travel alone. Even when they don't speak a lot of Spanish.
Until July 2018 it took travelers about two days to travel from picturesque Vilcabamba to Colonial Chachapoyas. Along the way you had to change transport five times and each time you had to wait for transport to fill up before departure. The real low budget adventures travellers can find these travel instructions below the new recommendations.
In one day from Vilcabamba to Chachapoyas
Since August 2018 Transportes Nambija Bus drives directly from Yantzaza to Jaen in Peru. More information about Cooperativa de Transporte Internacional Nambija: Phone number in Ecuador (07) 231-5177)
Nambija bus from Vilcabamba, Ecuador to Jaen and Chachapoyas in Peru: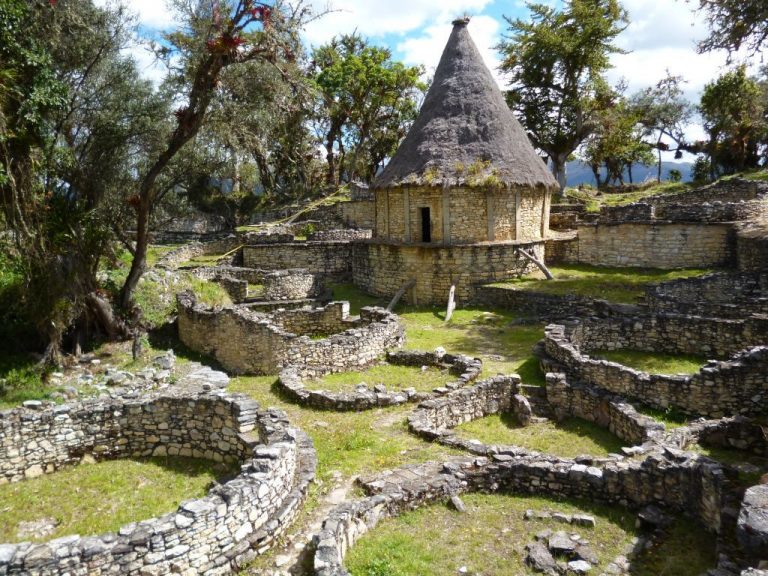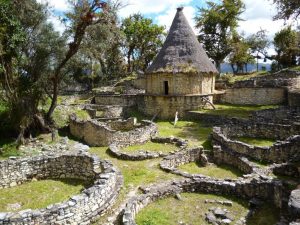 – Departure from Yantzaza at 3:45 am, arrival in Jaen around 17:30 h.
– Ticket price from Yantzaza to Jaen, is 26 US$ p.p. and from Vilcabamba to Jaen is about 22 US$. You can buy these tickets at the bus terminal in Loja and Hosteria Izhcayluma in Vilcabamba.
– Along the way Nambija bus will make official stops in: Zamora, Loja (around 7:00 am), Vilcabamba (around 8:00 am and then having breakfast for 20 min.), Hosteria Izhcayluma (around 8:15/ 8:25 am), Zumba (around 13:30 h), La Balsa (around 14:15 h), San Ignazio, around 15:30 h and arrival in Jaen around 18:00 h.
– After arrival in Jaen you will have to take a (motor) taxi (3 Soles) to the departure point for the Collectivos to Chachapoyas. The departure of these direct collectivos is from calle Alfredo Bastos y Pedro Comejo, price around 25 Soles/ 8 US$ for 3h30.. If there isn't any collective departing soon, you can also decide to travel first to Bagua Grande (1 hour) and take from there Colectivo Turismo Selva S.A. Av. Chachapoyas to Jaen (2h30 min.)
– Arrival in Chachapoyas after a long, but beautiful trip, around 21:30 h!
Hostels in Chachapoyas, Peru
Good places to stay overnight in Chachapoyas include: Hostal Chachapoyas Backpackers en Hotel Xalca.
– Optional: If you are tired and want to spend the night in Jaen, you can stay in Hotel Real Suites
From Chachapoyas, Peru to Vilcabamba, Ecuador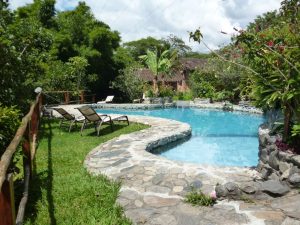 Travelers who want to travel from Chachapoyas to Vilcabamba can follow the same route the other way around. Do keep in mind that the bus from Nambija departs Jaen at 13:00 h. The address of their office in Jaen is: Terminal Terrestre binacional, calle Alfonso Aranda Vidal nº 137 sector Pueblo Libre (La Colina). Phone: +51927159571
The bus that departs at 13:00 h from Jaen will arrive around 23:00 h in Vilcabamba, price around 22 US$. Recommendable place to stay in Vilcabamba is:
Hosteria Izhcayluma. Please do make a reservation before arriving, because they are very popular. Izhcayluma Lodge.
There are plans from Transportes Nambija bus to open an extra service. But these plans and hours are not confirmed yet. It is also possible that the Ecuadorian Transportes Cariamanga Bus will open a route to Jaen.
Important La Balsa Ecuador and Peru border information
Even now, at the moment of updating this article (October 2019), the immigration offices from La Balsa are not connected to the national grid. This means that the offices in Ecuador and Peru are not yet connected to the national immigration networks.
Because of this all immigration and migration information has to be handled manually. The information has to be send manually to the nearest immigration office with national connection. Unfortunately the immigration offices in Ecuador and Peru seem to work a bit sloppy. Because of this it is still not uncommon that information gets lost.
The consequences can be when you want to leave or enter Ecuador or Peru
– Your entrance information doesn't show up at the migration office. You will have to proof that you have entered the country legally.
– It is possible that when you come back into Ecuador or Peru you first have to pay a fine. This because it might show in the immigration system that you never left the country and therefore overstayed your visa…
Ecuador border immigration advise
There isn't much we can do to have the immigration services work correctly, but we can at least check that we receive a clear stamp with date in our passport and maybe even make a picture of the border crossing.
Travel tip
USD from Ecuador can be used all over Peru as long as they are in good condition, but Soles from Peru are not very easy to exchange within Ecuador.
Alternative way of traveling to Peru
If you have time and want to experience an alternative way of traveling you can still travel as followed:
– Vilcabamba – Zumba (5/6 hours by bus, including companies such as: Nambija, Cariamanga, Sur Oriente and Transporters Loja)
– Zumba – La Balsa (1h30 min). This route had to be done in a so called Ranchera (open truck with wooden seats), that departs from Zumba to the border only 3 times a day, the first at 8:00 am. Or you could take a taxi ride for about 25,- US$
– La Balsa – San Ignazio (1h) in a collective taxi (Collectivo). These Collectivos depart only when full, usually with 4 people.
– San Ignazio – taxi to next departure point for Collectivos to Jaen and then 2/3 hours in other Collectivo to Jaen.
– Jaen – Bagua Grande (1h in Collectivo)
– Bagua Grande – Chachapoyas (3h in Collectivo), or with a stop in Pedro Ruiz (1h30 min.).
Last travel alternative
Since 2017 Transporters Sur Oriente Bus also offers one direct bus from Loja to La Balsa. This bus departs at 5:00 am from Loja and arrives around 13:30 h at the border.