Choquequirao Trek
Follow the well hidden Peruvian Inca Trail towards the archeological site of Choquequirao, also known as "the last refuge of the incas". A curiosity is that Choquequirao means "cradle of gold" in Quechua, the language of the Inca's and the indigenous people of Cusco…
The design and building style of Choquequirao are similar to those of Machu Picchu, but the site is a bit smaller. Archeologists are still busy with making new discoveries restored, which makes the site much more authentic than Machu Picchu.
Also Choquequirao was rediscovered by Hiram Bingham and also about Choquequirao really isn't much known.
The archeological site of Choquequirao is strategically located at an altitude of 3033 m above sea level, above the Apurimac River and right in the middle of 3 valleys. Part of the site and way to get there is still covered by cloud forest and there are no roads or railways to bring tourists to Choquequirao.
The Choquequirao trekking is beautiful and offers splendid views over the cloud forest, lower Andes and impressive Salkantay Mountain (6271 m)!
Choquequirao Trek
Day 1: Cusco – Cachora – Cocamasana – Playa Rosalina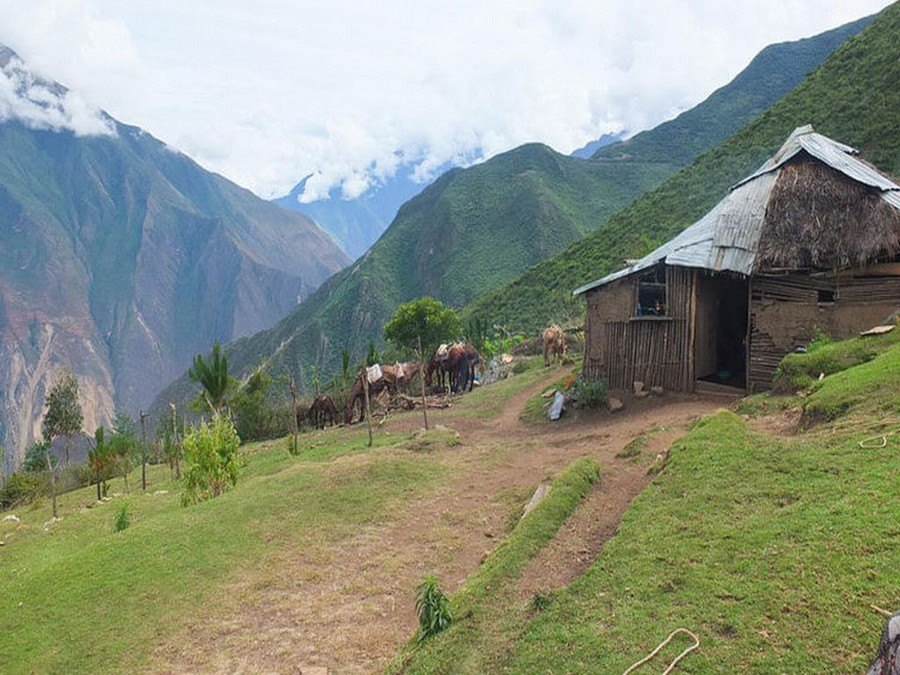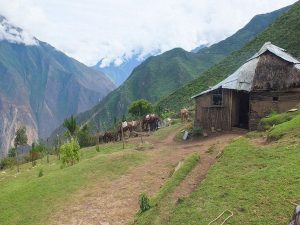 We will leave from Cusco approximately at 5:30 am. Our first day starts out from the village of Cachora, here we meet our horsemen and the mules to arrange all the equipment during the trek, and then we continue our journey for two hours to the pass of Capuliyoc (2800m/9186f). The trek offers a beautiful view of the mythical mountain Padriyoc, and wayna cachora of the deep canyon and of the river Apurímac, meaning "speaking river"then we will descend towards Coca Masana 2335m. Where the climate becomes noticeably warmer and the flora and fauna begin to change. Finally we will arrive at Playa Rosalina at 1540m. Overnight camp
Day 2: Playa Rosalina – Choquequirao
After breakfast we will climb a steep trail, a 5 hours hike to Rayanpata beside the Chunchullymayu River where we will take our lunch and a good rest. Along the way you will observe many orchids and wild flowers as well as many types of birds from Rayanpata to Choquequirao (3033m/9951f). There is a two hours hike. Arriving at the archaeological site of Choquequirao in time to enjoy the sunset campsite overnight.
Day 3: Choquequirao – Rayanpata – Capuliyoc
Choquequirao TrekAt sunrise, after breakfast and we will visit the archeological site of Choquequirao. By now, only 30% has been exposed. The guide will explain the history and importance of the site. After you will have free time to visit some sectors of the complex. Then we start the return trek and camp in Capuliyoc.
Day 4: Capuliyoc – Cachora – Cusco
This is the last day of trekking. We will appreciate the canyon that forms the Apurimac River (God talker) then we will take a trail that crosses the throat of the canyon, with an impressive view of Waynaqalli towards the canyon, considered the most spectacular in South America. Finally we will be in Cachora and return to Cusco by bus.
Inclusive in this 4-day trek:
(Public) Bus from Cusco Cachora Cusco
Admition ticket to Choquequirao
Professional guide
Meals 3 breakfasts / 4 lunch / 3dinners
Cook
Horseman and horses to carry the equipment
Tents, mattresses, chairs, dinning, kitchen tents
Tents for two passengers
Oxygen, first Aid Kit
Not Included:
Sleeping bag
Tips
Everything not mentioned in the itinerary