Tambopata, Explorer's Inn Amazon Tour
During this Amazon tour you will stay in: The Explore's Inn Lodge, located within the 274,690-hectare Tambopata National Reserve, one of the world's most species-rich biodiverse natural protected areas and the meeting point of three distinct biomes: lowland tropical rainforest, cloudforest and humid tropical savannah and extensive palm swamps. The scene of numerous biodiversity world records.
The Explorer's Inn is even the only lodge which is mentioned in the famous Guinness Record Book Due to its significant World Records: 601 Bird Species and 1237 butterflies, etc.
The reserve provides unrivalled opportunities to observe Amazonian wildlife up, close and personal.
Short Amazon tour itinerary:
Day 1: Puerto Maldonado – Tambopata National Reserve – Explorer's Inn Lodge
Day 2: Tambopata Reserve – Cocococha Oxbow Lake
Day 3: Small Tabopata clay lick – visit chacra
Day 4: Tambopata – Puerto Maldonado
Tambopata Explorer's Inn Lodge, long itinerary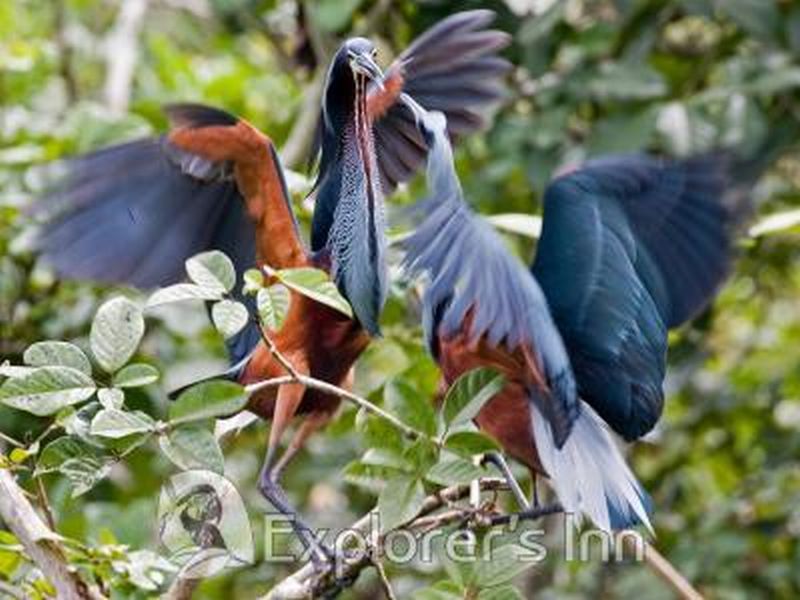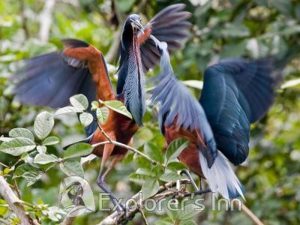 Whether you are an experienced research scientist or simply want to experience tropical rainforest for the first time, the Explorer's Inn is the place for you. Visit us and wake to the roars of howler monkeys and the numerous melodies of the resident caciques that nest in the palms beside the bungalows. Spend the day walking jungle trails and paddling across oxbow lakes as tiny saddleback tamarin monkeys leap through the forest canopy, and precocious giant river otters fish for their breakfastand black caimans bask by the banks. Relax and watch the sun set over the swirling waters of the Tambopata River as brightly-colored macaws and oropendolas fly overhead on route to their roosting sites.
Note: LUGGAGE.- Due to limited space in our dugout canoes, is only one (1) medium size handbag or rucksack allowed per passenger. The excess baggage can be left in our Puerto Maldonado office.
Day 1: Puerto Maldonado - Tambopata National Reserve - Explorer's Inn
Reception at the airport and transfer to the dock located in the native  community of Infierno from where we  board our canoe and start a one-and-a-half hour journey  to the Explorer`s Inn. During the trip we have a box lunch on board and may see caimans, turtles and capybaras, among other animals.  We are received at the Inn with a welcome drink.  After resting, we take a short night-hike to see nocturnal rainforest animals. Back at the lodge we have dinner with our guide and some of the Resident Naturalists who are available to answer questions or brief us about the Amazon rainforest, the great variation of wildlife and the Tambopata National Reserve.
Day 2: Tambopata Reserve - Cocococha Oxbow Lake
We rise early and walk with our guide approximately three-and-a-half miles to see the giant otters at Cocococha oxbow lake.  On the way we observe plants, insects, butterflies, birds, monkeys and, if we are lucky, possibly larger mammals. At the lake we occupy a strategic hiding place and wait for the otters. Afterwards we take a short canoe ride around the lake watching the wildlife on the shoreline. Back at the lodge we have a late lunch and in the afternoon you can either rest or visit our neighbors from the local La Torre community. They will teach us more about their live in the Amazon.
At dusk we take a brief walk to Sunset Point to watch night fall in the Amazon. We then board the canoes again to look for caimans with our torches. The exact day of this excusion depends also on the weather.

Day 3: Small Tabopata clay lick - visit chacra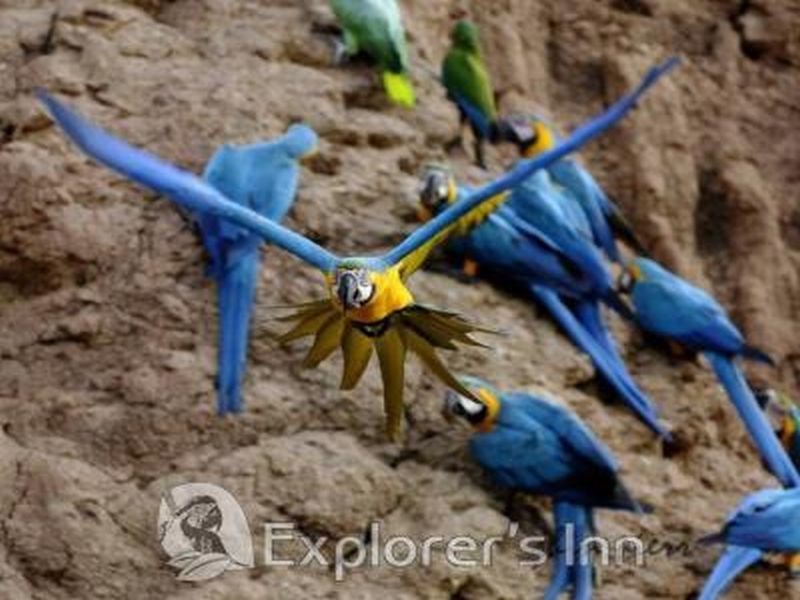 Another early start to visit a small but busy clay lick about 15 minutes from the lodge by boat. Here macaws and other parrot species gather every morning to feed from the mineral rich soil, an unforgettable spectacle. We return to the lodge on foot, taking in the flora and fauna of the rainforest. After breakfast we visit the chacra (small family farm) of a local family where we see how they sustainably grow crops in the rainforest and use medicinal plants. Back at the lodge we have a late lunch.
In the afternoon we visit our 42 meter high tower in order to enjoy the spectacular views of the sunset and surroundings. We have the chance to see a variety of fauna species, including types of macaws, parrots, toucans and monkeys!
Day 4: Tambopata - Puerto Maldonado
We again wake early to have breakfast and board the canoe to return to Puerto Maldonado. On the way we watch the day dawn over the Tambopata River. Once in Puerto Maldonado we are transferred to the airport to take our return flight.
Note: the daily programs can vary, due to locel (weather) conditions, but we will always try to keep the (new) itinerary as close to the original program as possible.
For more information about the Amazon Rainforest and the different nature reserves in Peru, Ecuador and Bolivia you can visit our special website: Information about the Amazon rainforest reserves
Included and recommended to bring into the Amazon:
Our Amazon program includes:
– Transfer Bus station- lodge- bus station or optional Airport/ Lodge/ Airport
– All meals are included during your stay
– Welcome drink
– The entrance fee to the Tambopata National Reserve (worth 65 soles!)
– Box lunch on  the boat to  Explorer's Inn
– 3 nights at Explorer's Inn
– Introductory nocturnal walk
– Excursion to spot caimans at night
– Excursion to Cocococha lake
– Excursion to small Claylick  (Colpita)
– Excursion to a nearby Community
– Official guide in English and Spanish
– Personalized assistance
Note: LUGGAGE.- Due to limited space in our dugout canoes, is only one (1) medium size handbag or rucksack allowed per passenger. The excess baggage can be left in our Puerto Maldonado office.

Our prices do not include:
–  A luxury overnight bus to Puerto Maldonado and back to Cusco. We can reserve this for 55 à 75 US$ p.p. return, depending on level of comfort.
– Optional Flights
– Additional nights
– Single room 150 US$ (when available)
– Optional visit to the Collpa / Macaw Clay lick, 75 Soles (32 US$).
– Personal expenses
– International banking fees
– Tips
– Al things not mentioned in the tour information above
– An obligated travel insurance
Recommended to bring with into the Amazon are:
Binoculars
Camera (+ something to back-up pictures)
Flashlight, or better a Head Light
Daypack
Cap or Wide-Brimmed Hat
2 pair of light trousers
2 pair of shorts
3 T-shirts
Bathing Suit
Rain Coat/ Poncho
Water Bottle
Sunblock
Sunglasses
Insect Repellent (you can also buy in Cusco)
Certificate of Yellow Fever Vaccine!
Bills/ notes of small amounts
Toiletries
Good walking shoes/ boots **
Sandals or alternative footwear for use at the lodge.
Important notes:
*   In the rainy season it is usually necessary to walk in rubber boots / wellies, which are provided by the lodge (up to size 10/ 44, bigger is difficult to get). During the dry season it may be possible to walk in walking boots.
•    Clothing: Guests should arrive to Puerto Maldonado duly dressed for the trip and they should not start getting dressed at our office, what has also been a cause for delays and annoyance to the other passengers. It is also necessary to remind them to bring some warm clothing for chilly nights and mornings which are not frequent even in the Amazon rainforest.
•    Boats to and from the Explorer's Inn: Normally  the airline's  flights  to and from Puerto Maldonado do not arrive and depart with much time  difference , guests should be clearly informed that, as not being our services private, only one boat a day will do the trip to the lodge either way. Because of this they cannot claim that Peruvian Safaris provides an extra boat if, for any reason, one of the flights is delayed and they have to wait in town until the second flight arrives or, if they have to get up and leave the lodge earlier than necessary to take their return flight.