Tour with a rental car through Ecuador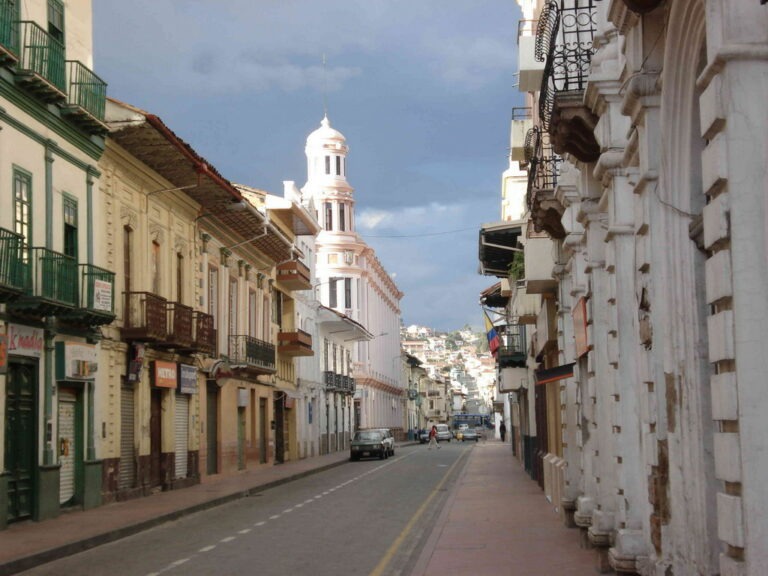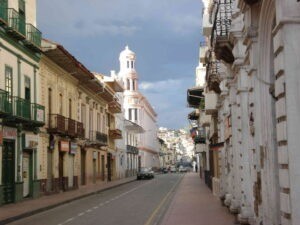 What do you prefer? A tour with private transport and driver through Ecuador, or a tour with your own rental car? And which trip do you think is cheaper? The answer to that question you can read it below.
The Corona Crisis made it difficult to travel to Ecuador. But now that the pandemic seems to have passed its peak and travel restrictions are becoming less strict every month, the popularity of tours in Ecuador is also rising again. However, we do notice that there is now more demand for personal service, more freedom when traveling and less crowds. A tour with a rental car through Ecuador meets all these requirements.
Ecuador is a relatively small country, with a beautiful variation of possible road trips. The mai roads are in general also of good quality. Only during the rainy season from January to April can roads be temporarily blocked by (small) landslides in the mountains and Amazon region.
During this tour through Ecuador we try to make optimal use of the freedom that a rental car can offer. You can visit remote crater lakes, active volcanoes, local villages and the Amazon region. For people who want the freedom of private transport, but don't want to drive themselves, we also offer this tour with private transport and driver.
Short description of Ecuador Tour with Rental Car: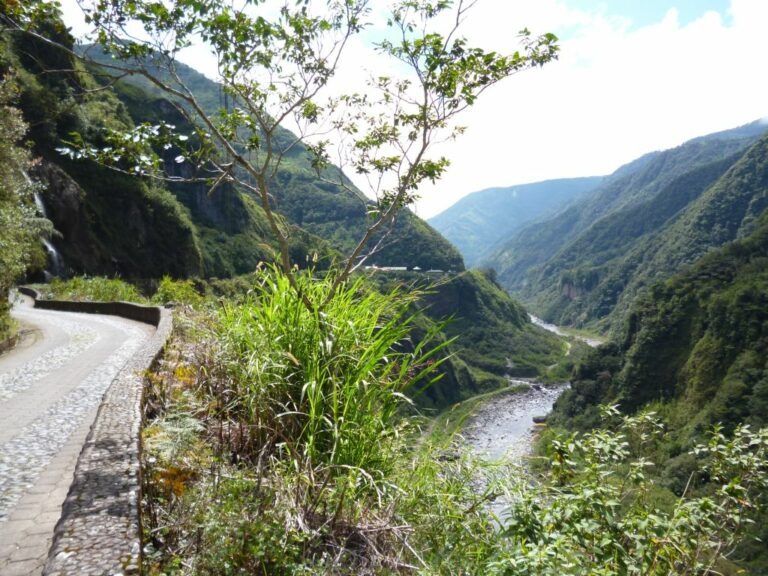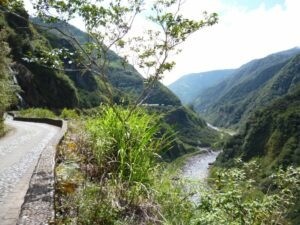 Day 1 – Friday: Arrival in Quito – Otavalo (2530m)
Day 2: Saturday market – Laguna Cuicocha
Day 3: Mitad del Mundo – Quito (2850m)
Day 4: Quito (optional Teleferico)
Day 5: Quito – Sichos – Isinliví (2820m)
Day 6: Isinliví – Chugchilan – Laguna Quilotoa (3914m) – Latacunga – Tambopaxi
Day 7: Tambopaxi Lodge (Cotopaxi Volcano) – Papallacta Lodge (3250m)
Day 8: Papallacta (early departure) – Lago Agrio and start Amazon tour
Day 9: Hiking, piranha fishing, caiman searching and swimming…
Day 10: Tarapuy – Siona culture – Evening walk
Day 11: Cuyabeno Amazon Tour – Lago Agrio
Day 12: Lago Agrio – Tena
Day 13: Start 3-Day Achiyaku Tour
Day 14: Achiyaku Tour
Day 15: End Achiyaku Tour and to Baños (1800m)
Day 16: Baños (optional: Casa del Arbol)
Day 17: Baños – Chimborazo (5000m) – Riobamba (2750m)
Day 18: Riobamba – Cuenca (2550m)
Day 19: Cuenca (optional Cajas Nature Reserve)
Day 20: Cuenca
Day 21: Cuenca – Guayaquil
Day 22: Guayaquil -> end of this trip
Complete itinerary of this 22d  tour with rental car in Ecuador
Day 1, Friday: Arrival in Quito – Otavalo (2530m)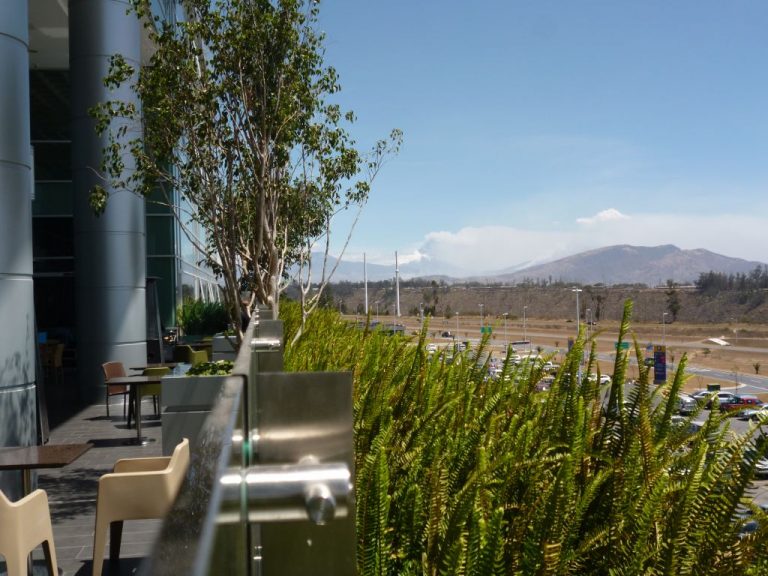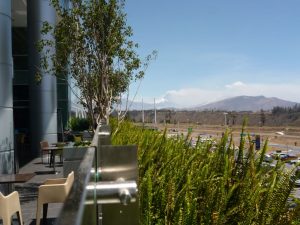 Upon arrival at the airport, the rental car is already waiting for you. Because the airport is outside the city and more or less between Quito and Otavalo, you immediately drive away from the crowds. This is good to get used to the car and the traffic in Ecuador.After about an hour and a half drive you will arrive in Otavalo. This village is one of the few places in Latin America where the indigenous inhabitants are openly proud of their origins and culture. They have every reason to do so, because the inhabitants of this region have been known for thousands of years for their special weaving techniques, the very high quality of their woven products and their keen commercial spirit. It seems that even the Incas took advantage of the skills of the Otavalo residents and the Otavalenios now have their own shops scattered throughout much of the world, including New York and Amsterdam.
Overnight in a hotel with parking.
Day 2: Saturday market – Laguna Cuicocha
On Saturday morning it is recommended to walk around the brightly colored Saturday market for a few hours, pick out souvenirs and take beautiful pictures.
Later in the morning or in the afternoon you can choose to explore the area with the rental car. For example, you can drive to Cotacachi, the village known for its traditional way of leather processing. Not far from Cotacachi you can also visit the famous Cuicocha crater lake. However, this must be accompanied by a local guide. Other alternatives are a visit to Pegucha, where you can visit a waterfall and a pan flute workshop and/or a visit to Parque Condor. This is a Dutch-run bird of prey shelter, where you can see the impressive Andes Condor up close.
3.
Day 3: Otavallo - Mitad del Mundo – Quito (2850m)
The distance between Otavalo and Quito is not very long. Therefore we recommend to also visit Mitad del Mundo (the French monument on the Equator) and the adjacent Inti Ñan museum (which is about the real equator) on your way to Quito. The museum also provides a good explanation of the different cultures that exist in Ecuador.Don't arrive too late in Quito so you can still navigate this busy city in daylight.Overnight in hotel with parking option.
Day 4: Quito (optional Teleferico))
In 2011, Quito was elected cultural capital of Latin America by UNESCO, because of its In the morning it is recommended to explore this center on foot and visit La Basilica, La Iglesia, Plaza del Independencia and Plaza de Armas, among others. Before noon it is a good idea to drive by car to the beginning of the Teleferico (cable car). This Teleferico takes you to an altitude of 3947m with beautiful views over the valley of Quito and the volcanoes behind it.
Day 5: Quito – Sichos – Isinliví (2820m)
When you drive with your rental car from Quito towards the south, you will have on your left-hand side a beautiful view of the impressive cone-shaped Cotopaxi volcano. The road you will be driving on is called the Panamericano. This famous road crosses from North to South through most of the countries in Latin America. After about two hours it's time to turn right and drive along a winding mountain road with beautiful views to the town of Isinliví.
Overnight in the famous Llu Llu Llama Hostel
Day 6: Isinliví – Chugchilan – Laguna Quilotoa (3914m) – Latacunga – Tambopaxi
Today you continue your rental car along the winding mountain road, while enjoying the view and the rural scenes around you. The landscape becomes more and more rugged until you arrive at the famous crater lake Laguna Quilotoa at an altitude of 3914m. In good weather, this entire lake turns emerald green due to the minerals in the water. This is a nice place for a picnic lunch with a view!
From Quilotoa you descend along another mountain road to Latacunga and the Panamericano. When you drive back in the direction of Quito, turn right this time in the direction of the Cotopaxi nature reserve. As a place to stay, we chose the Tambopaxi Lodge, the only lodge that is actually located in the national park.
Day 7: Tambopaxi Lodge (Cotopaxi Volcano) – Papallacta Lodge (3250m)
In the morning you can visit the highest shelter on the Cotopaxi volcano, Refugio José Ribas, at an altitude of 4800m. This is the sleeping place for people who want to climb to the top of the Cotopaxi the next morning. When you have climbed from the last parking lot at 4560m altitude to 4800m altitude, you will get an idea of how hard it is to make physical efforts at this altitude! But no worries, tonight you can relax in the natural hot springs of the Papallacta Lodge. You can also book a massage if you wish.
Day 8: Papallacta (early departure) – Lago Agrio and start Amazon tour
From the Andes of Papallacta you will travel early this morning towards the Amazon basin of the Cuyabeno Amazon Reserve. The descent is so fast that sometimes you can even feel the pressure difference in your ears. Along the way you will see the landscape getting greener. In Lago Agrio, or at the Cuyabeno Bridge you will meet the guide and the rest of the group and depart together towards the Cuyabeno Amazon Reserve.
After lunch we leave by canoe with outboard motor for 2.5 hours on the Cuyabeno River towards the Jamu Lodge (or a similar lodge).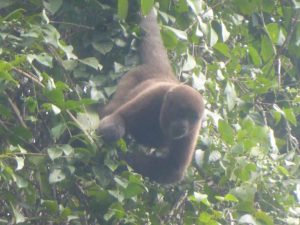 Along the way you can enjoy beautiful views over the lush green banks of the Cuyabeno River. You will also see many different birds, including for example: the Caciques, Oropendolas, Greater Anis and the prehistoric "Hoatzin" and there is a good chance of seeing various monkey species and perhaps even other mammals. Many different animal species live in the Cuyabeno Reserve, but which you can see / photograph depends, among other things, on luck, weather conditions and your own observation skills. Around 16:30 h we arrive at the Jamu Lodge. The rooms are divided and there is time to rest and enjoy the beautiful surroundings of the lodge. It is also possible to go swimming and/or to admire a beautiful sunset. Dinner is at the Lodge and afterwards you can choose to enjoy the sounds of the jungle around you.
Day 9: Hiking, piranha fishing, caiman searching and swimming…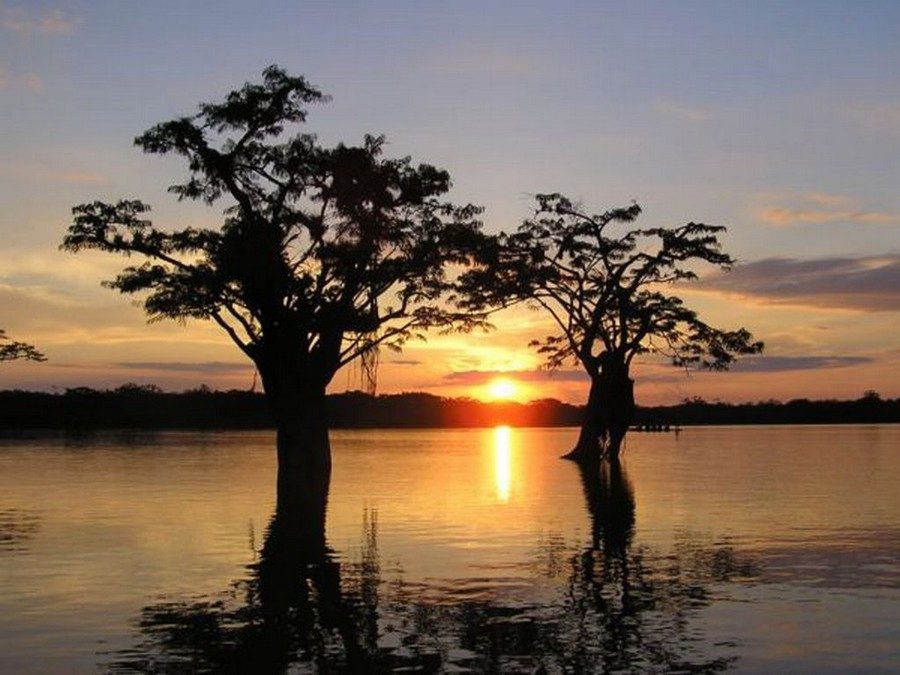 After breakfast we take a nice walk of 3 to 4 hours through pristine rainforest. Along the way our guide will explain more about the area and the Amazon Rainforest in general. During this walk you will learn more about the medicinal effect of various plants that we encounter along the way. There is also a good chance of seeing different bird and monkey species. Lunch is at the Jamu Lodge. In the afternoon you can go fishing for piranhas, take a dip in Laguna Grande and/or enjoy a beautiful sunset. This afternoon it is also possible to see the famous pink dolphins and perhaps even an anaconda sunbathing in the fork of a branch on the waterfront.
Dinner is at the lodge and after dinner you can join a night canoe tour in search of caimans!
Day 10: Tarapuy – Siona culture – Evening walk
For people who want to see the sunrise and experience the awakening of the jungle, it is possible to participate in an early bird spotting canoe tour.Then it's time for our breakfast. Later in the morning we will navigate in traditional dugout canoes (called "quilla") to the Tarapuy community. During our visit to this indigenous community you can see how the traditional Casabe bread (bread made from Yucca) is made. In addition, we learn how this community lives from what the jungle brings them.
After visiting the Tarapuy community, we will visit the Sionas community and learn more about their ancient traditions and lifestyle. After these educational visits we return to the lodge for a late lunch. The afternoon is free to relax and enjoy the beautiful surroundings.
In the evening you can take part in an adventurous walk to get acquainted with the nightlife of the jungle. Accompanied by the nocturnal jungle sounds, we use flashlights to look for colorful frogs, insects and geckos. However, it is also quite possible to encounter other nocturnal inhabitants, such as snakes, armadillos, night bears, or maybe even an ocelot (wild cat)!
Day 11: Cuyabeno Amazon Tour – Lago Agrio
After our last breakfast in the jungle we navigate with our motor canoes to the exit of the Cuyabeno Reserve. Keep your eyes open along the way, because it can happen that we are stared at from the treetops by a pair of monkey eyes. We disembark at the Cuyabeno Bridge and travel further overland back to Lago Agrio.
Overnight in Lago Agrio
Day 12: Lago Agrio – Tena (600 m)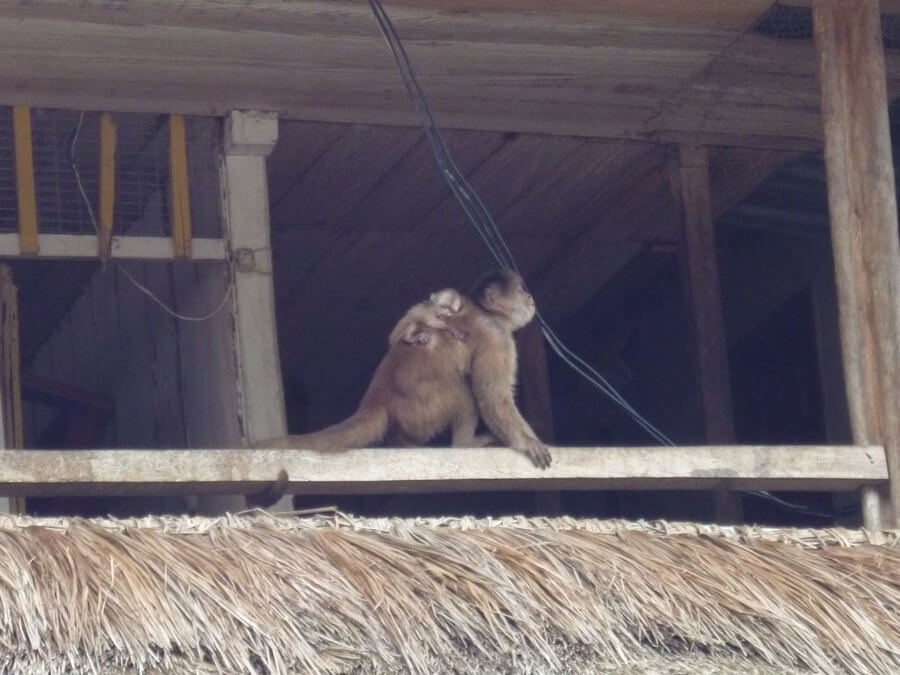 This is a beautiful route along and through the jungle. Sometimes you see nothing but lush green out of the windows, while at other times you drive through plantations or small settlements. The road surface is alternately unpaved, asphalted or concrete, while in the rainy season it is also not unusual to have to wait a few hours for a small landslide.
Overnight in Tena on the edge of the Amazon region.
Day 13: Start 3-day Achiyacu camp package + 1 day rafting and/or visiting caves in the Tena area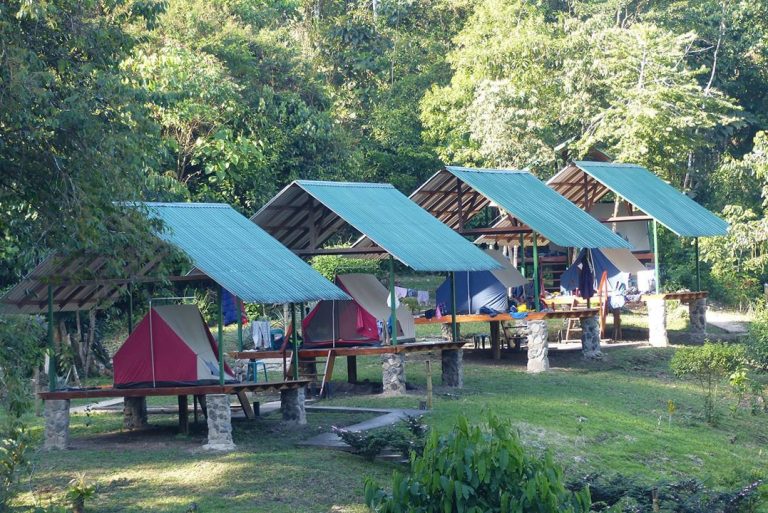 After breakfast you will be picked up at your hotel and travel in 20 minutes to the beginning of a path that leads deeper into the jungle. The walk to the Achiyacu camp is also about 20 minutes. Upon arrival you will be assigned a tent on a wooden platform. And after being settled, you will go on a journey of discovery through the surrounding jungle with the local guide. You will visit caves and a small waterfall where the indigenous people used to perform shamanic ceremonies until recently. Along the way, the guide will tell you about the flora and fauna in the area. Then it's time for a late lunch at the camp and the afternoon is free to relax, swim in the river and/or make chocolate from cocoa beans (depending on the season). Dinner and overnight at the camp.
Day 14: Bird watching, hiking, cave visit, swimming and gold panning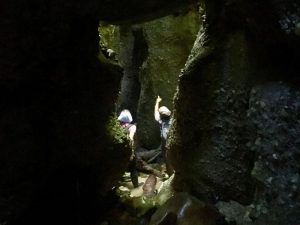 We start the day after an early breakfast with a walk to a viewpoint. Along the way we will see and hear many different bird species, insects and frogs, but it is also possible that we encounter monkeys and other mammals. Arriving at the viewpoint you have a beautiful view of the Andes Mountains and the Colonso Chalupa Nature Reserve. We continue our route to a canyon with a cave where bats live.
After returning to our camp it is time for lunch. In the afternoon we can practice some local customs, including blowpipe shooting, panning for gold in the river and preparing a typical local dish. You can also swim in the river again. In the evening, the guide will lead a short walk to get to know the nightlife of the rainforest. If you pay attention you can spot various colorful insects, amphibians and reptiles along the way and if you are lucky you can even spot an owl, kinkajou, armadillo, coatis, etc.
Day 15: Morning walk – Tena – Baños (1800m)
After an early breakfast we will make a last jungle walk of around three hours. Of course we hope to spot wildlife again, such as different bird species and monkeys, but the focus is mainly on getting to know the different (medicinal) properties of the trees and plants. After a farewell lunch, you will be transferred back to Tena. Also from Tena to Baños is another varied route where you can enjoy beautiful landscapes from behind the wheel of the rental car. When you have passed Puyo (known for its balsa souvenirs) you will notice that the road starts to climb again. On your left you will soon see the impressive Pastaza River, one of several feeder rivers of the Amazon River. Along the way you can stop at El Mirador de Mera (the viewpoint of Mera) and the impressive El Pailon del Diablo waterfall, which can also be seen in the movie Proof of Life.
Day 16: Baños (optional: Casa del Arbol)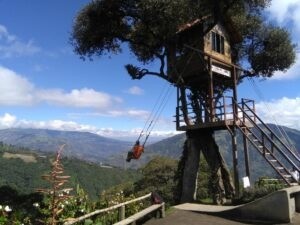 Baños can be translated into Spanish as toilets, or baths. This famous tourist village is named after the presence of several natural hot springs. After all the kilometers you have travelled, it is wonderful to be able to dip your body in such a warm spring. But if you are in Baños you should certainly not forget to visit the famous Casa del Arbol (tree house). The swing on this tree house was once made by an elderly man who observed the active Tungurahua Volcano that lies behind Baños. The swing on his observation tree house tree house should make it more attractive for his grandchildren to visit him more often. However, one photo in National Geographic with a tourist on this swing and a smoking Tungurahua volcano in the background, has ensured that now not only his grandchildren, but children and adults from all over the world come to visit!
Day 17: Baños – Chimborazo (5000m) – Riobamba (2750m)
From Baños you drive today along the Pastaza River and past the Tungurahua Volcano to the Panamericano. Before reaching Ambato you turn left and before you arrive in Riobamba you are treated to the impressive view of the Chimborazo Volcano on the right. With a height of 6263m above sea level, the Chimborazo Volcano is the highest volcano in Ecuador. However, due to its location close to the equator, the summit is also the highest point on earth measured from the center of the earth! Even if you visit the refuge Refugio Edward Whymper this afternoon on the flank of the Chimborazo, at 5000m above sea level, you are already higher than the top of Mount Everest!
Day 18: Riobamba – Cuenca (2550m)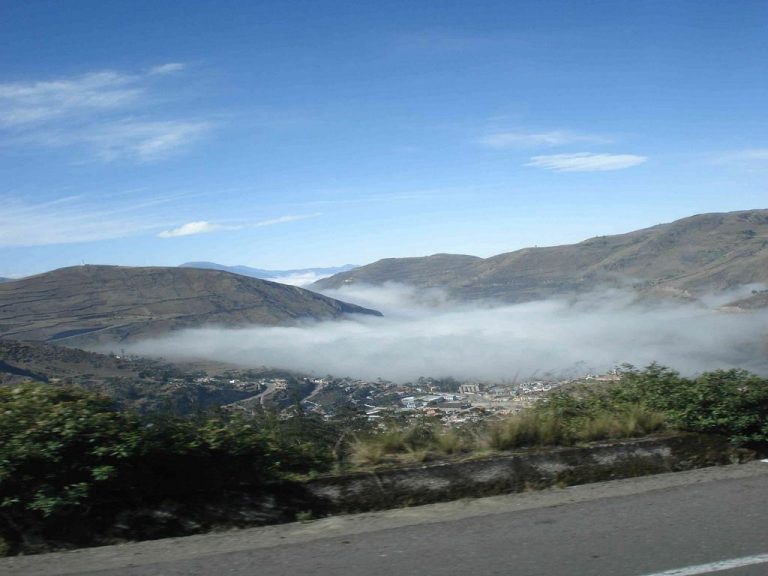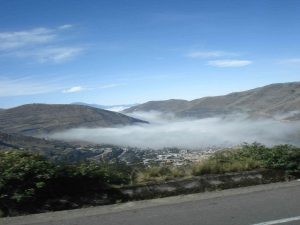 The first part of today's route you drive with your rental car along the railway from Riobamba to Alausi. While the track descends from Alausi through the famous 'Devil's Nose' into the valley, you look right over this valley from the window of your rental car. Due to differences in temperature and air pressure, it sometimes seems as if this valley is covered by a white duvet of clouds.
On the way to Cuenca it is also possible to turn left at Cañar and visit the northernmost Inca Ruins of Ingapirca. The rural route from Ingapirca to Cuenca is brightened up by several houses painted in pastel colours.
Overnight in a hotel in Cuenca with parking.
Day 19: Cuenca (optional Cajas Nature Reserve)
Cuenca is the third largest city in Ecuador, but while you walk around in the historic center you will hardly notice it. Today's Cuenca was built on the remains of what must once have been a city of the Incas. However, this city, Tomebamba, was already demolished by the Incas themselves, so that the Spaniards could not take it. Cuenca is now best known for compiling and selling the famous 'Panama hats'.
Optionally
, it is recommended to make a beautiful hike through Cajas National Park. With a humid climate, unexpected fog banks and more than 200 lakes, this special national nature reserve has a little Scottish feel, but with a gem. altitude between 3500 m and 4200 m. During your hike, you should also try to cross one of the small 'fairytale forests'. These are relatively small forests, full of large ferns, moss, fairy benches and trees with a papery bark that do not grow straight up, but in many bends and twists!
Day 20: Free day in Cuenca
Today is a good day to take it easy, for example with a visit to the Panama Hat Museum, a stroll through the colonial center of Cuenca and/or along the Tomebamba River. Cuenca also has many good restaurants and some nice terraces where you can drink delicious coffee. Follow this link for more
tips about Cuenca
, the Pearl of Ecuador and its tourist attractions!
Day 21: Cuenca – Guayaquil
Your last ride with the rental car through Ecuador is another beautiful journey. In about four hours you drive over the Andes mountains to above 4000m, and then quickly descend to Guayaquil, which is at sea level. On a sunny day it is recommendable to get a breath of fresh air with sunset on the Malecón of Guayaquil, with a view over the Pacific Ocean.
Day 22: Guayaquil -> end of this trip
We will take you to the airport at a time convinient for your departure time. End of this tour, but hopefully you will enjoy thinking back about this trip for many years to come!
Tips about traveling around Ecuador with a rental car can be found in our special
article about car rental in Ecuador
.
Optionally, this tour with rental car can also be carried out entirely with private transport and your own driver. The price of this trip will then be: 3150 US$ p.p.
More information about the unique Galapagos Islands!
Inclusive in this Ecuador Tour with rental car:
– 21 Days of rent for the rental car, exclusive petrol
– A 4d/3n Amazon tour organized by the Jamu (or similar) lodge in the Cuyabeno Amazon Reserve, incl.: 3 nights in a double room with private bathroom; 3x lunch, 3x dinner and 3x breakfast; various group excursions accompanied by an English speaking guide. Excl.: 10 US$ entrance to the Cuyabeno Reserve
– A 3d/2n tour organized by the Achiyaku camp, incl.: two nights in a two-person tent; 2x lunch, 2x dinner and 2x breakfast; various group excursions accompanied by an English speaking guide.
– Incl.: short tour from Tambopaxi to Cotopaxi
– 16 overnight stays with breakfast in the hotel mentioned above (depending on availability)
– Private transfer from hotel in Guayaquil to the airport
– 2 Spanish lessons via Skype
– 24/7 Dutch speaking emergency contact
– All administration costs and local taxes
Exclusive:
– International flights
– A travel insurance that also covers the use of a rental car
– Gasoline (approximately … US$ per gallon)
– If you visit sights with the rental car, such as Mitad del Mundo, the Teleferico, etc., you have to pay the entrance fees on the spot
– Personal expenses and anything not clearly indicated in the itinerary
– Optional gratuities
Optional: you can also complete this trip with a private driver. The costs for this trip are then: 3150 US$ p.p. including the above mentioned excursions. Indeed. this is slightly cheaper than if you travel around with a rental car yourself. This is mainly because you still have to pay the rent of the car on the days when you are not driving…
We recommend that you bring at least:
– A valid passport (valid for at least 6 months after returning to your home country), a visa, if necessary and any other necessary travel documents.
– The policy number and contact information of your travel insurance
– Valid vaccinations (ask a tropical doctor for more and up-to-date information)
– A good backpack, large sturdy sports bag, or medium suitcase
– A comfortable daypack
– Good walking shoes
– Sandals
– A warm jacket/fleece
– A good raincoat/poncho
– Two warm sweaters
– Three light trousers (cotton or linen)
– Four T-shirts
– Two long-sleeved shirts
– Two pairs of shorts
– One headlamp/flashlight per person (possibly extra batteries)
– Something to store your digital photos
– Protection against sun and mosquitoes
– Small US$ bills (for emergancies, taxis, tips, etc.)