Cuyabeno Amazon Paddling Tour Adventure!
During our most adventurous Amazon tour you will be paddling through the unique Cuyabeno Wildlife Reserve which is located in the north-eastern Amazon region of Ecuador, close to the Colombian and Peruvian borders and between the San Miguel and Aguarico rivers.  The wildlife reserve is made up of 605,000 hectares of primary forest, rivers and lakes, and is home to an incredible variety of flora and fauna. Five different ethnic groups still live within the Cuyabeno Wildlife reserve: the Siona, Secoya, Cofán, Kichwas and Shuar. Each of these ethnic groups has its own traditions, culture and language.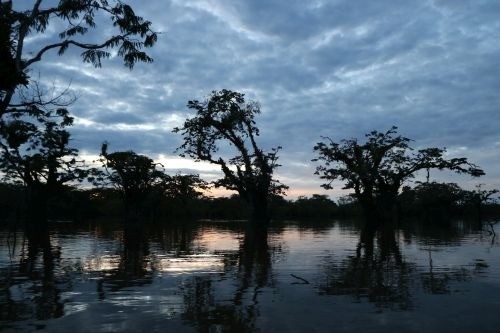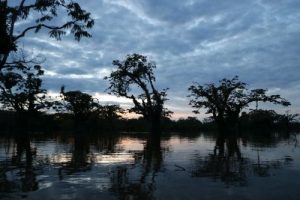 Short itinerary Amazon adventure tour:
Day 1: Lago Agrio – Cuyabeno Reserve – Amazon Lodge
Day 2: Cuyabeno Amazon Reserve tours
Day 3: Cuyabeno Amazon Reserve tours
Day 4: Canoe tour through the floating forest
Day 5: Amazon Lodge – paddling Cuyabeno River – Puerto Montufar
Day 6: Montufar – paddling – Aguas Blancas
Day 7: Aguas Blancas – paddling – Bucana Aguarico – Playas Cuyabeno
Day 8: Playas Cuyabeno – canoe tour – Rio Aguarico – Lago Agrio
For more information about the Amazon Rainforest and the different wildlife and nature reserves in Ecuador, Peru and Bolivia you can visit our special website: Information about different Amazon rainforest reserves
Itinerary Cuyabeno Amazon Paddling Tour Adventure
Day 1: Lago Agrio - Cuyabeno Reserve - Amazon Lodge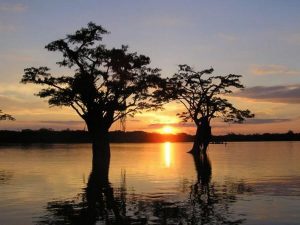 (Usually on a Monday) In the morning (or the night before) you travel to Lago Agrio.
Upon arrival in Lago Agrio, we will pick you up at the airport, or meet at our office in Lago Agrio. After the introductions we will go with our private bus or car to the entrance of Cuyabeno River (2 hours), where we will have a box lunch. At this point the visitors have to register in the Reserve's. Our Naturalist Guide will give information about the Reserve, important recommendations and other tips to begin the two hours navigation on the Cuyabeno River to reach Jamu Lodge in the afternoon. At that time you will be shown to your rooms and you can relax a little. After a siesta, we will leave the camp for a swim in the lagoon and to watch a beautiful sunset in the middle of the Laguna Grande. You will then return to the camp for dinner. You will spend the night in bungalows with double beds and Mosquito nets.
Day 2: Amazon hike - Laguna Grande - caiman tour
After breakfast we will make a trek in the primary forest for 3 to 4 hours, where your guide will explain how the complex tropical ecosystem works. You will be able to learn about medicinal plants and might be able to see some exotic birds or monkeys. We will then return to the camp for lunch and a siesta. In the afternoon, we will go to the lagoon, have a swim and watch the sunset. With a little luck you can observe the pink river dolphins or an anaconda sunbathing in a tree. We will return to the lodge for dinner, and take a canoe night ride to look for caimans.
Day 3: Siona Community - Cuyabeno River - nocturnal hike
After breakfast, we depart to head to the Siona Community of Puerto Bolivar, the largest ethnic group in the Reserve. During this tour you will learn their customs, traditions and way of life. You will be part of the elaboration of the Casabe; local dish made of yucca (carbohydrates are the principal food of the community). A visit to the Shaman is also included. He will explain some more about life in the jungle. The trip takes 1 hour navigation downstream to get there, on the way it will be possible to admire the existing fauna along the Rio Cuyabeno such as: birds, monkeys, snakes, pink dolphins, tortoises and many others. This is a full day excursion with Lunch in the Community. After that we return to the lodge to go for a nocturnal hike through the primary forest in search of insects, spiders, geckos or scorpions, and listen to the night sounds of the jungle. We will have dinner and spend the night in the lodge.
Day 4: Canoe tour through the floating forest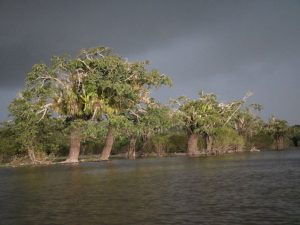 We depart in native, dugout canoes, called "quilla", to visit smaller lagoons such as Pato Cocha, and Caimán Cocha. While paddling you have a better opportunity to see more fauna and flora, and you can get a good idea of what an igapo (flooded) forest looks like. You can observe a variety of different birds and monkeys. Because this activity is about 4 – 5 hours long, we take a box lunch with us and will have a picnic surrounded by beautiful nature!
Last night in the Jamu Lodge.
Day 5: Jamu Lodge – Paddling - Cuyabeno River – Puerto Montufar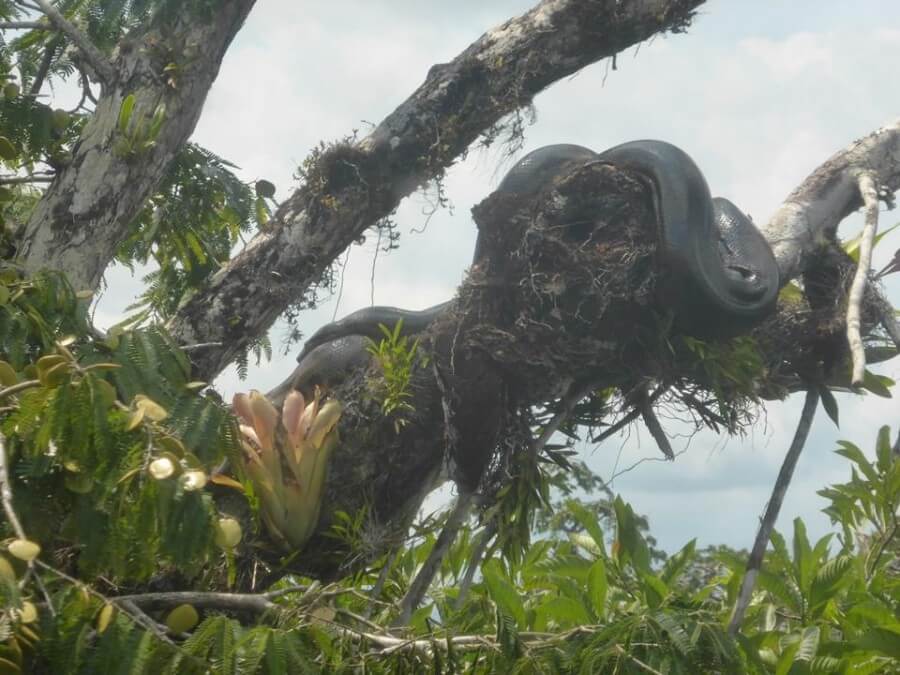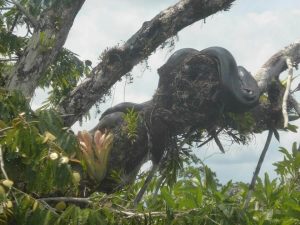 After breakfast you will start the private part of your adventures tour, with your own personal cook and guide!
We will now paddle downstream over the Cuyabeno River towards Montufar. Along the way we pass through lush rainforest and if we're lucky and keep our eyes and ears open, we might spot a great variation of flora y fauna. Depending on the weather and how the rowing goes, we will find a nice spot on the shore of the river to enjoy our picnic/ lunch box. While our cook set's up our lunch, you will have time to explore the surrounding.
Again depending on weather, you're rowing and the river current, our campsite will be close to a reference point in the river called Montufar.
Upon arrival we will set up our tents and have time to relax.
Later in the afternoon we will stretch our legs and explore the pristine rainforest around our campsite. This and the following 2 nights we will sleep right in the jungle at open spots not far from the river. They are not official campsites, so the locations can change depending on the local circumstances and decision from the guide.
Note: for toilet use you will have to dig a hole in the ground…
After dinner and a briefing about tomorrow's itinerary it is time to sleep and enjoy our first night in the sleeping in nature.
Day 6: Montufar - Paddling – Aguas Blancas
At dawn, before breakfast we will explore the surrounding of our campsite, to observe nature waking up and see which animals might have visited us last night (footprints)…. After breakfast we clean up our campsite and continue rowing downstream over the Cuyabeno River towards Aguas Blancas. We will have again a picnic from our lunch box and fill the afternoon with an interesting short hike through the rainforest.
Our improvised campsite for tonight is close to Aguas Blancas.
After dinner and a briefing about tomorrow's itinerary, we crawl in our tents where we can fall asleep while listening to the mysterious sounds of the jungle around us.
Day 7: Aguas Blancas - Paddling – Bucana Aguarico – Playas Cuyabeno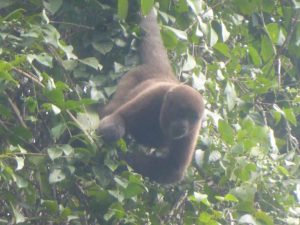 Today we will paddle along the Cuyabeno River and the Aguarico River and will make short hikes around lunch time and after arriving at our campsite. Places to hike will be decided in consultation with the guide and depending on accessibility of the jungle.
Dinner and overnight will be in our tents close to Playas Cuyabeno.
Day 8: Playas Cuyabeno - canoe – Rio Aguarico – Lago Agrio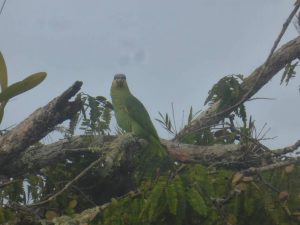 Today we travel by motorized canoe in 2 to 4 hours upstream, depending on weather and current, to a small hamlet called Posa Onda (deep pool), between Laguna Grande and the entrance of the Cuyabeno River.
From Posa Onda we ride in about 2h30 min. back to the town of Lago Agrio, arriving somewhere between 14:00 till 17:00 h.
Exclusive flight or bus back to Quito.
Note: The tour itinerary above provides a good impression of the daily excursions and activities, but the final itinerary can depend on local, unpredictable circumstances and preferences of the clients in consultation with the guide. Check for more information about the Ecuadorian Amazon.

Inclusive and recommended to bring into the Amazon
Inclusive in our price:
– 4 Nights in a double room with private bathroom in the Jamu Lodge
– 3 Nights in tent from the brandt REI, or similar, with mosquito protection inside.
– Drinking water, 7x Breakfast, 8x lunch/ lunch box and 7x dinner + coffee and tea while at the Jamu Lodge
– 4 Days of group excursions as written in the itinerary above, with an English speaking guide and together with the guests of the Jamu Lodge. The lodge accommodates up to 40 people, but the maximum group size for the day-excursions is 12 participants.
– We will provide rain ponchos, swim vests and rubber boots (up till size 44)
– 3/4 Days of private services (as written above) during which you will only be traveling with your own English speaking guide and cook, paddling for 3 days in 8 m long glass fiber canoes with aluminum/ plastic paddles; private hikes into the forest and sleeping in tents. The tents are from REI: https://www.rei.com/
– Transport in auto/ bus from Lago Agrio to the Cuyabeno Bridge and from Posa Onda back to Lago Agrio
Not included in this tour price:
– Transport from Quito to Lago Agrio and back. We can book you seats in the Treasure Tourist bus (20 US$ one way), or a flight (between 150 to 190 US$ return flight)
– Siona community fee, 10 US$ p.p.
– Extra (soft) drinks and alcohol
– Personal spendings and optional tips
Recommended items to bring on this tour into the Amazon:
• Comfortable loose Clothing
• 4 T-shirt and 2 pair of shorts
• Long-Sleeve shirts and long pants for walking/ against mosquitos
• Warm jacket for the nights
• Good hiking shoes
• Bathing Suit and towel
• Sun Glasses and a hat
• Sandals
• Personal things
• Sun Block
• Insect Repellent
• Head light/ flashlight with extra batteries
• Good camera with extra batteries and memory
• Original Passport + copy
• Plastic bags to protect your things from the humidity
• Pocket money for entrance fee, tips and personal spending during the tour
• Binoculars
• Biodegradable soap