7  Day Machu Picchu and Titicaca Tour
This special short tour brings you in only 7 days to historic Cusco, the Sacred Valley of the Inca, amazing Machu Picchu and the impressive Titicaca Lake.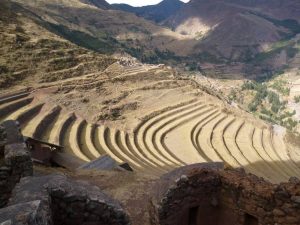 Short tour itinerary:
Day 1: Early Arrive in Cusco and free day in Cusco
Day 2: Start Sacred Valley Tour
Day 3: Visit Machu Picchu and back to Cusco
Day 4: Cusco to Puno
Day 5: Puno – Uros – Amantani
Day 6: Amantani – Taquile – Puno – Juliaca – Lima
Day 7: Lima –>
7 Day Machu Picchu and Titicaca Tour
7 Day Machu Picchu and Titicaca tour
Day 1: Early Arrive in Cusco and free day in Cusco (Altitude 3520 m.)
Arrive in Cusco and transfer to your hostel in the historical center of Cusco and at walking distance from Plaza de Armas.
Cusco was ones the Inca Capital of Peru, ruling most of South America. After the Spanish Conquistadors arrived, they build their colonial buildings on top of the Inca foundations of the Inca buildings. This combination of different building styles together with the beautiful location in the mountains, the many touristic activities, restaurants, bars, etc., have made from Cusco one of the most popular tourist cities in South America!
Overnight with breakfast in a hotel in the center of Cusco.
Day 2: Sacred Valley Tour in private service, incl.: Pisac - Salineras - Ollantaytambo – Aguas Calientes
This full day tour takes you to all the most famous and popular parts of the Sacred Valley. This is a fully guided tour with an English speaking guide who will provide detailed explanations of the surrounding towns and sights in the Sacred Valley.
After the pick up from your hotel, you will begin the 60 minute drive to the archeological site of Pisac. Passing along the ruins and enjoying the great views over the valley the guide will explain you about the impressive Inca history! After visiting the archeological site of Pisac, you will have time to stroll around on the colorful market in the village of Pisac.
You will have approximately 30 minutes to visit the market, so make sure you bring some extra cash to get the perfect gift and then it is time to drive to the impressive Salt Pans of Salineras de Maras. Already long before the Inca's came to the Sacred Valley, the Maras civilization build many shallow pools to collect a salt water stream that comes out of a mountain. With the sun the water evaporates and the salt stays behind. The hundreds of pools provide a spectacular view! Time to drive back to Urubamba.
Optional
: A complete buffet Lunch in Urubamba (40 soles or US$14 additional), or bring a lunch package.
After lunch the journey continues along the valley to the town and ruins of Ollantaytambo. Founded by the Inca Ollanta on the banks of the Urubamba River, Ollantaytambo is a fort built into the mountain with Andean terraces and also a traditional town. At the top of the ruins we find the Sun Temple, constructed of large blocks that have remained intact for centuries in spite of the effects of time and weather.
From Ollantaytambo you take the train to Aguas Calientes (1h45 min.)
After arriving in Aguas Calientes (now officially called Machu Picchu Pueblo), someone will be waiting for you to bring you to your hostal.
Overnight + breakfast in a hotel in Aguas Calientes.
Day 3: Visit Machu Picchu and back to Cusco
Today you can choose to get up early as 5:00 am, have breakfast and leave with the first bus at 5:30 am towards Machu Picchu. This way you will have the whole morning, until 12:00 pm (new regulations), to visit the most famous Inca -, or maybe even the most famous archeological site in the world! Although the siteof Machu Picchu is famous, it is also still covered with mysteries about its original purpose, how the Inca's could build this city on and between the mountain tops? Even the original name of Machu Picchu is still a mystery, as 'Machu Picchu' is actually the name of the mountain behind the ruins… More info:
About Machu Picchu
.
When you explore the site, we also recommend you to visit the Care Takers Hut, the famous Sun Gate and/ or the Inca Bridge.
After visiting Machu Picchu you take the bus back to Aguas Calientes (leaves every time when full), it takes 20 min. to ride back and you have to be at the train station half an hour before your train towards Ollantaytambo leaves.
From Ollantaytambo you take shared tourist transport back to Cusco (about 2 hours).
Overnight with breakfast in Hotel in Cusco.
Day 4: Cusco to Puno (3820 m.)
7:15 am – Transfer from hostel to bus terminal
8:00 am – Comfortable direct bus from Cusco to Puno, which is beautiful ride of around 380 km. The highest point you will cross today is around 4300 m. After this point the valley gets wider and the landscape more desolating.
15:00 h – Arrive in Puno and transfer to your hostel
Peruvians see Puno as their musical capital and in the evenings there are often small musical parades in the streets, especially in calle Jr. Lima.
Overnight + breakfast in hotel in Puno.
Day 5: Puno - Uros – Amantani
From Puno start every day tours to the famous islands of this side of Lake Titicaca and for you it is included to join one of these tours.
The tour leaves around 8:00 am and the first stop is at the floating reed islands, were the descendants of the Uros give you a warm welcome. This is a good place to take pictures of their traditional houses and clothes. After learning more about their culture, the tour continues towards Amantani.
On this small island with great views, but no cars and limited electricity, the people live mostly from farming, fishing and tourism. You will be invited to stay and eat with a local family, learn more about their culture and enjoy a beautiful sunset above Lake Titicaca.
Day 6:
Next day the boat takes you to nearby Taquile, the island where men have to knit hats to 'conquer' their wife. While you walk across the island your guide will explain more about the history and culture of Taquile. Then it takes about 2.5 hours to navigate back to Puno.
Private transfer from your hostel to Juliaca airport to catch your flight to Lima
Arrive in Lima and transfer from Airport to hostal Iquique in Lima
Overnight in + breakfast in Hotel in Lima
Day 7: Lima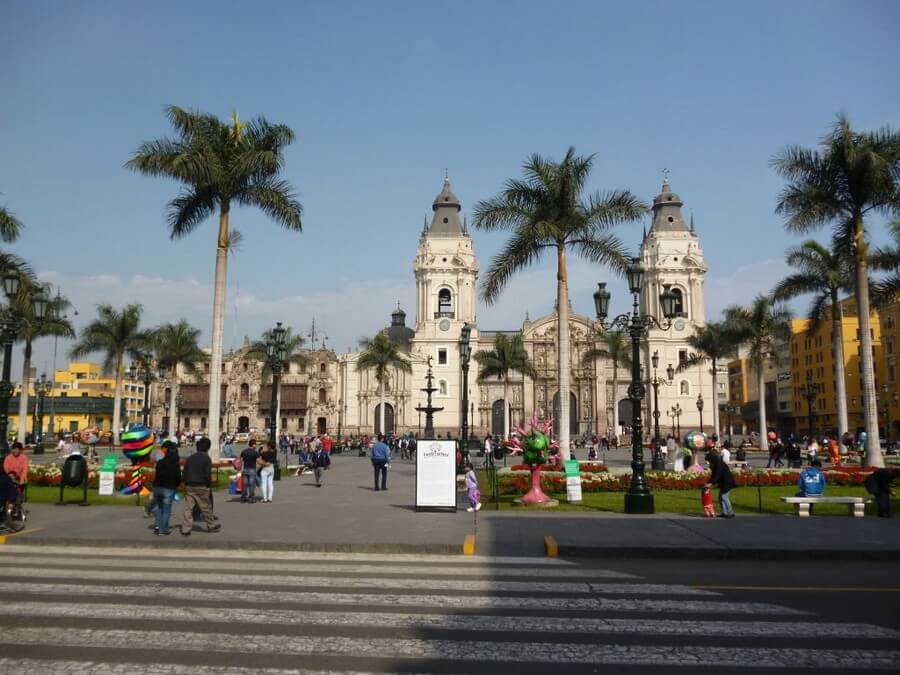 Transfer from hotel to Airport in Lima.
Note: the itinerary above could be slightly different depending on availability and local (weather) circumstances.
The price of this tour is: 760,- US$ p.p.
The price of this tour is based on min. 2 participants, sharing a double room.
ISIC card holders will receive a 15 US$ discount.
Recommendation: We recommend you to look for flight combinations. It is not always possible, but if you can book your flights within Peru in combination with your international flights, it could save you more than 100 US$ p.p. so it is worth to try.
Inclusive and recommended to bring on this tour:
Al transfers as mentioned above
5 Nights in hotels with private rooms and breakfast incl.
1 Night with a local family on the island of Amantani, incl. 1 lunch, 1 dinner and 1 breakfast
A tour in private service into the Sacred valley of Cusco, incl.: Visits to Pisac Ruines, Pisac Pueblo, Salineras, Urubamba and Ollantaytambo English speaking guide, transport, entrance fees of Pisac Ruins and Ruins of Ollantaytambo (worth 80 soles)
The tourist train from Ollantaytambo to Aguas Calientes and back
The tourist bus from Aguas Calientes to Machu Picchu and back
The entrance fee of Machu Picchu (worth 152 soles) + guided tour
Tourist transport from Ollantaytambo to Cusco
Comfortable public bus on the route from Cusco to Puno.
A 2-days Titicaca tour in shared international service, during which you visit the islands of Uros, Amantani and Taquile, incl.: English speaking guide, transport and one night on Amantani.
Private transport from Puno to Juliaca airport.
Not included:
Flights
Everything not mentioned in the itinerary above
Drinks, lunches and dinner, unless mentioned different (like on Amantani)
A travel insurance
(International) banking costs
Tips for guides and drivers during tours
What to bring on this tour:
Valid identification and travel documents and when needed a valid visa
The contact and contract information of your travel insurance
Valid vaccinations, ask you countries health center for more information
A good backpack, or big sport-bag, preferable no hard suitcase
A small day (back) pack
Good shoes
Sandals
A warm jacket/ fleece/ sweater
A rain jacket/ poncho
Two light trousers
One pair of shorts
3 T-shirts
A headlight/ flashlight (handy on Amantani)
A sleeping bag can be handy on Amantani, although they do provide blankets.
Something to be able to back-up your photos
Protection against the sun, rain and mosquito's