Travel the 6 highlights of Peru
After arriving in the modern metropolitan of Lima, you will fly directly to the classic white city of Arequipa. Surrounded by snow capped volcanoes Arequipa is the starting poitnt of this tour.
From Arequipayou will travel to the impressive Colca Canyon, one of the deepest canyons in the world, ruled by the mighty condor! Traveling from the depts. Of the Colca Canyon, over the Andean Mountains, your will reach the highest navigable lake in the world, Lake Titicaca. Here you can visit the interesting Uros, Taquile, or Sillustani cultures.
Then it is time to step in the footsteps from the first Inca, Manco Capac who rose out of Laka Titicaca, looking for a place to live for his sons. When he found the fertile Sacred Valley, he constructed Cusco and the empire of the Inca began. In only 100 years of ruling, the Inca's became the most known culture of South America and Machu Picchu recently became one of the new Seven World Wonders, an impressive accomplishment!

Short itinerary:
Day 1: Arrival in Lima
Day 2: Lima – Arequipa
Day 3: Arequipa – Colca Canyon
Day 4: Colca Canyon – Puno
Day 5: Puno – (optional: Uros – Taquile and/ or Sillustani)
Day 6: Puno – Cusco
Day 7: Cusco
Day 8: Cusco – Sacred Valley – Aguas Calientes
Day 9: Aguas Calientes Machu Picchu – Cusco
Day 10: Cusco – Lima – End of tour
The 6 Highlights of Peru, complete itinerary
Day 1: Lima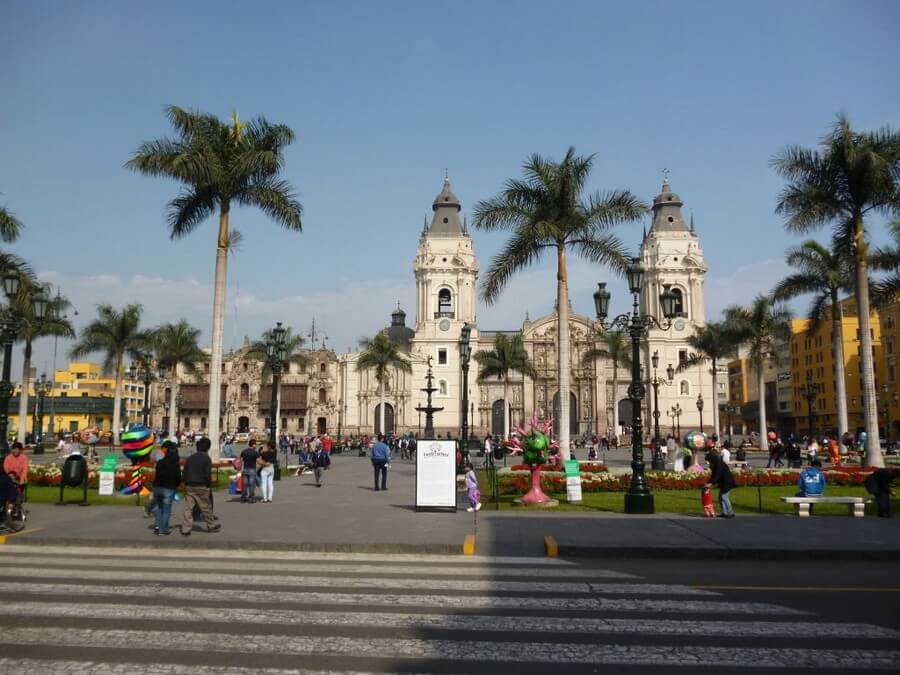 After arriving in Lima, our private transfer service will bring you to your hotel. Lima is the capital of Peru and has more than 10 million inhabitants. Despite this huge amount of citizens and the busy traffic, it is still recommendable to visit the impressive colonial city center. A popular city tour will bring you through the Plaza de Armas, the impressive San Francisco monastery, with colonial style catacombs and even Parque del Amor on the coast. If you have enough time it is also recommendable to visit the interesting Larco Museum and in the evening the spectacular lightshow of Parque del Agua. Optional, you can also choose to fly today directy to Arequipa, to have one day extra to acclimatize
Day 2: Lima – flight to Arequipa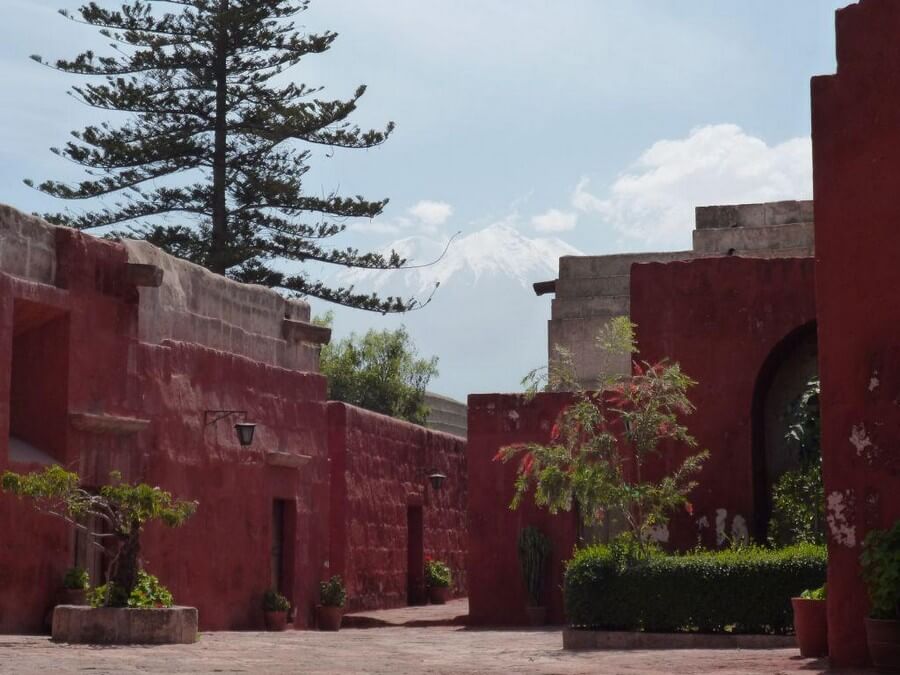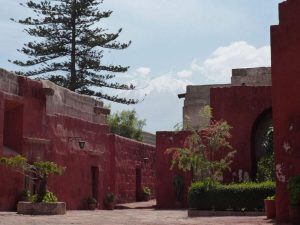 Today you will take an early flight towards Arequipa (at an altitude of 2350 m).
You arrive in the morning and have the afternoon free to explore this impressive city.
Arequipa is also called 'The White City', because most of the buildings in the city centre are build with stones of volcanic white sillar. To most Peruvians their 'Ciudad Blanca', surrounded by impressive snow capped volcanoes, is the most beautiful city in Peru. Discover for yourself if you agree with them. We recommend to visit at least the famous Juanita Ice Princes and the huge Santa Catalina Convent.
Day 3: Arequipa - Colca Canyon
Today you will join together for two days with other international travelers to visit the famous Colca Canyon. The road crosses through two National Parks with beautiful views and a guarantee to see many lama's and alpaca's. Most likely we will also see some vicuñas. These elegant members of the South American camel family are more shy and are protected by Peruvian law, to preserve them from extinction.
After crossing a mountain pass at 4900m altitude, the bus descents towards the village of Chivay (3600m). You will get free time here to walk around on your own and have lunch on the market or in a local restaurant.
After lunch you will be brought to your hotel in Chivay, or one of the surrounding villages. Around sunset you can go to the hot springs were the spring water is so hot that it needs to be cooled down before it enters the several small swimming pools.
Day 4: Colca Canyon - Chivay – Puno (3830m)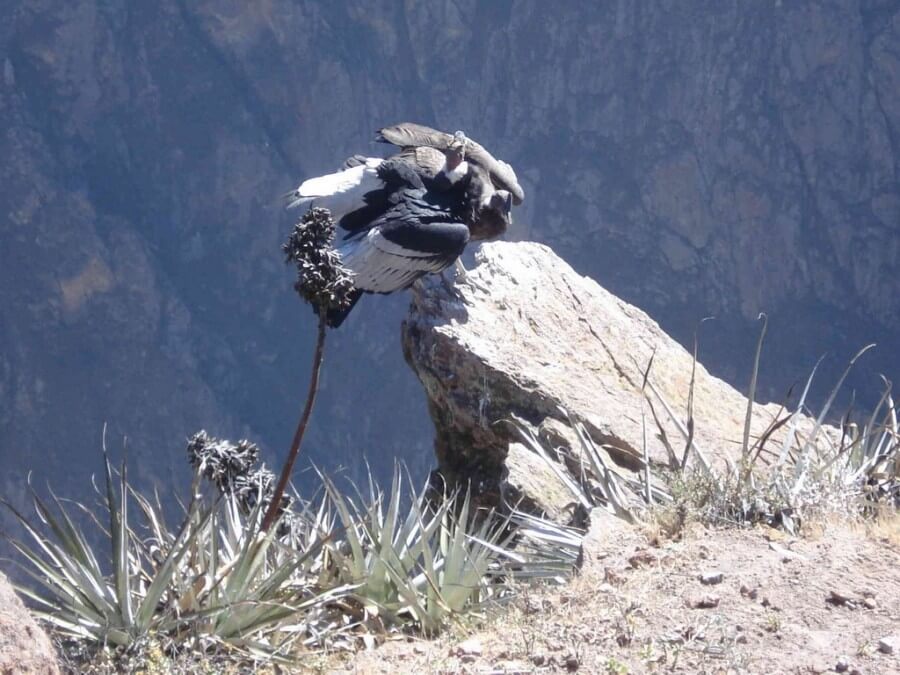 Today you will have to get up early to drive along a very scenic route with great views over the the Colca Cañon to the special condor viewpoint 'Cruz del Condor'. Depending on the season it is almost a guaranty to see the mighty condors ascending from the depth of the canon where they have their nests. This fact makes that Cruz del Condor draws many tourists, but luckily for us these giant birds don't seem to be the least disturbed with all this attention.
After saying goodbye to the condors, you drive back to Chivay. Here you have time to lunch before going to Puno.
Day 5: Puno - Lake Titicaca (optional: Uros, Taquile, or Sillustani)
Peruvians see Puno as their musical capital and there are often small parades in the streets. From Puno start every day tours to the islands on this side of Lake Titicaca.
In the morning you can decide for yourself if you want to visit the famous Uros Islands. Here the descendents of the Uros will give you a warm welcome and explain you more about their history, present culture and floating reed islands.
You can extend this tour with an afternoon visit to Taquile, the island where men have to knit hats to 'conquer' their wife. While you walk across the island your guide will explain more about the history and culture of Taquile.
Another option for the afternoon is to visit the mysterious towers of Sillustani. The Collas who supposedly had contact with the Tiawanaku culture, build these towers to bury their death. The Inca's later adopted and improved these techniques to build their cities.
Day 6: Puno - Cusco
A pretty ride, with scenic views and interesting stops, brings you through the highlands of Peru from Puno to Cusco, the Inca and tourist capital of Peru! Your hotel is right in the historical city center of Cusco.

Day 7: Cusco
Today you have a free day to Explore the interesting city of Cusco. Some of the highlight which we recommend to visit include: the impressive cathedral, Quricancha (Temple of the Sun), the Inca Museum and Museo Pre-columbino. If you want to visit more archeological Inca sites and like to walk a bit, we can recommend to take a taxi to Tambo Machay and then walk back to Cusco, passing along the way the archeological sites of Pucara, Quenko and Sacsayhuaman. Other options include: a rafting tour, horseback riding, mountain biking, quad riding, etc.
Day 8: Cusco - Sacred Valley - Aguas Calientes
To maximize your experience in the most important valley of the Inca's we have standard included a beautiful private tour through the Sacred Valley.
Your tour will start with a visit of the archeological site of Pisac. Passing along the ruins and enjoying the great views over the valley the guide will explain you most of the impressive Inca history. After visiting the archeological site of Pisac, you will have time to stroll around on the colorful market of the village of Pisac and/or relax and have lunch.
On the way to the village of Ollantaytambo, you will also bring a visit to Salineras. This is a pre-Inca salt winning place from the Maras culture. Hundreds of years ago they started to collect the water from a mountain in small shallow pools. The sun would dry the water and what was left is salt. Even now this system is still working and the white 'salt pans' provide a great view in the green valley. From Salineras you drive further to the town of Ollantaytambo.
After a short walk through the village, your guide will lead you around the ancient Inca fortress of this village. The fortress of Ollantaytambo is one of the very few places where the Inca's won a big battle against the Spanish conquistadors.
After visiting this interesting site you will say goodbye to your guide and take the train to Aguas Calientes (now officially called Machu Picchu Pueblo).
We recommend you to go to bed early in this tourist village and get a good night of sleep for the exciting day of tomorrow.

Day 9: Aguas Calientes - Machu Picchu - Cusco
Today you can choose to get up early as 5:00 am to leave with the first bus at 5:30 am towards Machu Picchu. This way you will have the whole morning until noon to visit the most famous Inca -, or maybe even the most famous archeological site in the world, Machu Picchu
Although the site is famous, it is also still covered with mysteries about its original purpose, how the Inca's could build this city on and between the mountain tops and even about its original name. For more information: 
About Machu Picchu
After the guided tour you will have free time to explore the ancient site of Machu Picchu by yourself. We recommend to visit the viewpoint at the Care Takers Hut and maybe even walk a bit in the direction of the Inti Punku Sungate. Your train and bus back to Ollantaytambo and Cusco will leave late in the afternoon, or evening, which gives you enough time to relax and have lunch in the lush surrounding of Aguas Calientes.
Day 10: Cusco - Lima
Today we have scheduled in the tour a morning flight back to Lima is, but this itinerary can easily be changed towards your preferences, depending on availability of flights.
Please inform us with your booking around what time you prefer to fly.

Tour extention options:
For more information about extending this tour with an adventures trekking, please visit: Recommendable trekking options in Peru!
Another highly recommendable extention of this tour can be to visit the Amazon Rainforest. Please check out our tour options for more information: Our Amazon Tour Selection in Peru!
Inclusive and recommended to bring on this tour:
Price note: During high season, from half May until half of September, this tour will cost 50 US$ p.p. more.
This tour includes:
–  ALL transfers with private transport!
–  Overnight stays in 3 stars hotels, including all breakfasts
–  A flight from Lima to Arequipa + a flight from Cusco to Lima
–  A tour into the Colca Canyon in shared service with an English speaking guide, incl.: transport (Arequipa – Colca Canyon – Puno), one night in the Colca Canyon and one breakfast.
–  A guided tourist bus ride from Puno to Cusco, incl.: interesting stops, an English speaking guide and lunch
–  A private tour into the Sacred Valley, including transport, guide lunch and entrance fees
–  A train ride from Ollantaytambo to Aguas Calientes (Machu Picchu Pueblo) and back
–  The bus from Aguas Calientes to Machu Picchu and back
–  The entrance fee of Machu Picchu
–  A guided service on the archeological site of Machu Picchu
–  24h emergency support in English
The price doesn't include:
– International flights and taxes
– Optional excursions and extensions of the tour
– Entrance fees and meals not mentioned in the itinerary
– Alcohol, soft drinks, food and other personal expenses
– Tips (in restaurants, for guides, drivers and more) during the tour
– Additional price for one person a room, 240 US$
– Optional: customized hotel upgrade
– International banking costs
– Obligated travel and health insurance
Optional: climbing the Huayna Picchu, or Machu Picchu Mountain. 15 US$ additional.
We recommend you to check the local visa and vaccination obligations.

We recommend you to bring at least with:
–    Valid identification and travel documents and when needed a valid visa
–    The information of your travel insurance
–    Valid vaccinations, ask you countries health centre for more information
–    A small day (back)pack
–    Good shoes
–    Sandals
–    A warm jacket/ fleece
–    A rain jacket/ poncho
–    A warm sweater
–    Two light trousers
–    One pair of shorts
–    3 T-shirts
–    A flashlight
–    Something to be able to back-up your photos
–    Protection against the sun and mosquito's (you can also buy in Peru)
Be aware that Peru is not a Third World Country anymore, so most things are available. If you do have any doubts about what to bring, please feel free to ask us.