A surrealistic tour through Peru, Bolivia and Chile
Travel through surrealistic landscapes and explore the highlights of Peru and Bolivia, including the Colca Canyon, Salar de Uyuni, Lake Titicaca and Machu Picchu! If you have 29 days to travel through Peru and Bolivia, then this is the best route to do so. In addition to the highlights of the 3 weeks tour, this tour also covers the rough San Pedro de Atacama desert and the amazingly colorful Bolivian desertwith its lakes and flamingo colonies!


Different from most other agencies this tour already includes many not to miss excursions like: a visit to Islas Ballestas, sleeping in Huacachina, a tour to the Colca Cañon, a 3-days tour through the Salar de Uyuni, a private guided tour through the Sacred Valley and a visit to Machu Picchu, including entrance fee!
For all our tours and excursions we have tried to find a balance in time, service and price. We chose for example not to use expensive private busses on journeys where these don't give much of an advantage. During this tour you will discover for yourself that it is always more authentic and sometimes even more comfortable to travel with local transport instate of (small) private busses).

Short travel itinerary:
Day 1 : (Sat.) Arrival in Lima
Day 2 : Lima – Paracas – Huacachina
Day 3 : Huacachina – Nasca – comfortable night bus
Day 4 : Arequipa
Day 5 : Arequipa
Day 6 : Arequipa – Colca Cañon
Day 7 : Colca Cañon – Arequipa
Day 8 : Arequipa – Chili – Arica
Day 9 : Arica and comfortable night bus
Day 10 : San Pedro de Atacama
Day 11 : Start Salar de Uyuni Tour
Day 12 : Salar de Uyuni Tour
Day 13 : Salar de Uyuni – Salt flats – Uyuni
Day 14 : Uyuni – Potosi
Day 15 : sat Potosi (optional Mine-Tour) – Sucre
Day 16 : Sucre
Day 17 : Sucre
Day 18 : Flight from Sucre to La Paz
Day 19 : La Paz
Day 20 : La Paz – Copacabana
Day 21 : Copacabana – Puno
Day 22 : Puno
Day 23 : Puno – Cusco
Day 24 : Cusco
Day 25 : Cusco – Sacred Valley – Aguas Calientes
Day 26 : Aguas Calientes – Machu Picchu – Cusco
Day 27 : Cusco
Day 28 : Cusco
Day 29 : Sat. – Cusco – Lima – end of tour, or continue with one of the extensions…
Long itinerary of Surrealistic tour through Peru, Bolivia and Chile
Day 1: Arrival in Lima
After arriving in Lima, one of our drivers will pick you up from the airport and drive you in about 35 min. to your hotel in Miraflores.
The metropol Lima, locatede on the Pacific Coast, is the capital of Peru and has more than 10 million inhabitants. But despite this huge amount of citizens and the busy traffic, it is still recommendable to visit the impressive colonial city center. Not to miss highlights include: the huge Plaza de Armas, the majestic cathedral, the catacombs of the San Francisco convent, Museo Larco the Water Park (at night) and Parque del Amor with sunset! Lima is also known as gastronomic capital of South America with a wide variety in dishes!
Day 2: Lima - Islas Ballestas - Huacachina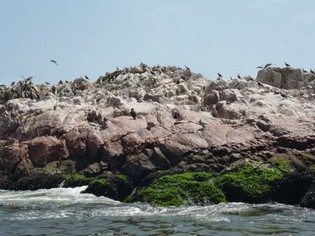 A busy, but very varied day! To be able to catch a boat tour to the Islas Ballestas (Bow Islands), you have to leave very early today by comfortable public transport. This bus brings you direct from Lima, through Pisco to the harbor of Paracas. At 8 am in the morning several open motor (speed)boats leave from here to make a tour around the islands.
Some people refer to these 'arch' islands as 'Little Galapagos', because of their abundant bird-life, the presence of many sea lions and even some penguins. This excursion is included in the tour.
After this excursion the tour continues to Ica and the oasis of Huacachina. From here you can join a spectacular 'Sunset Buggy Tour' over the sand dunes around Huacachina, a great ending for an interesting first day!
Day 3: Huacachina - Nasca - Arequipa
Today it is only 2 hours to Nasca, famous for the presence of the mysterious Nasca-lines. There are still many theories about why and how these lines were drew in the dessert, but most likely the real answer will always stay a mystery. Depending on the weather conditions it is optional to fly in the morning or afternoon over these lines.
Under normal circumstances there will be plenty of time left to also visit the unique cemetery of Chauchilla, where century old, but well preserved mummies and skeletons look up at you from their holes in the dessert ground.
Tonight around 22:00h you take a luxury public touring car towards Arequipa. Just upon your arrival around 7:30am, they will even serve you a small breakfast in the bus.
Day 4: Arequipa
Today you have a free day in your busy schedule to discover Arequipa (2350m) and start acclimatizing. Arequipa is also called 'The White City', because most of the buildings in the city center are build with stones of volcanic white sillar. To most Peruvians their 'Ciudad Blanca', surrounded by impressive volcanoes is the most beautiful city in Peru.
Day 5: Arequipa
On your second day in Arequipa you can continue to relax or enjoy a so called 'Reality Tour'. This tour will bring you to less visited places of Arequipa and explains more about the daily life of the people in Arequipa. Note, this tour is only possible with a min. of 4 people.

Day 6: Arequipa - Colca Canyon Tour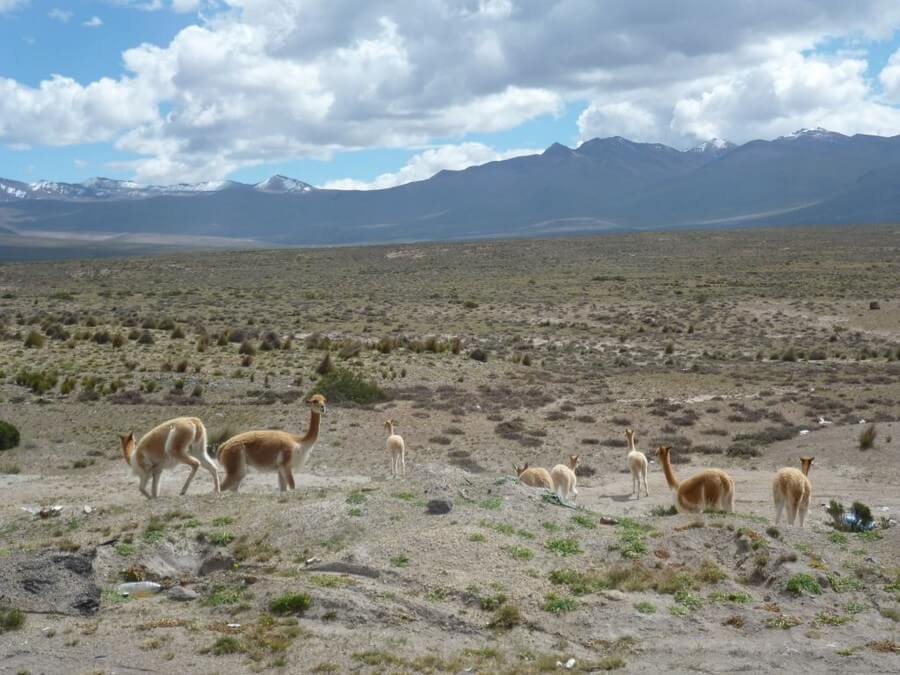 This tour is in shared service, with other international tourists. On request it is possible to make this a private tour, to stay overnight in Cabanaconda, or even to go hiking in the canyon. Let us know if you are interested in one of these options.
The regular tour towards the famous Colca Cañon starts early, so there is time enough to enjoy the view and make some great pictures. The road crosses through two National Parks with beautiful scenery's and a guaranty to see many lama's and alpaca's. Most likely you will even see some vicuñas. These elegant members of the South American camel family are more shy and are protected by Peruvian law, to preserve them from extinction.
After the bus cross a pass at 4900m altitude, you decent towards the village of Chivay (3600m). You will get free time to walk around on your own and have lunch on the market or in a local restaurant.
After lunch you will be brought to your hotel, which is either in Chivay, or one of the surrounding villages.
In the afternoon you can go for a short hike in the beautiful surroundings and/or relax in the hot springs of Chivay.
Day 7: Colca Canyon - Arequipa
We get up at 5 am to leave at 6 am in the direction of the famous viewpoint 'Cruz del Condor'
Depending on the season it is almost a guaranty to see condors ascending from the depth of the canon where they have their nests. This fact makes that Cruz del Condor draws many tourists, but lucky for us these giant birds don't seem to be the least disturbed with all this attention.
After saying goodbye to the condors, you drive back to Chivay. Time to lunch before the bus goes to Arequipa.
Day 8: Arequipa - Tacna Chile - Arica
Today we descent into the desert of Tacna and cross the border into Chili. We stay overnight in the lively coastal city of Arica.

Day 9: Arica - San Pedro de Atacama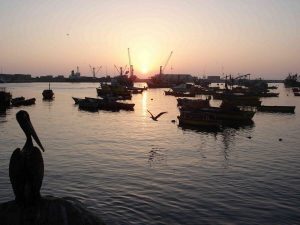 In Arica there are a few small beaches, buildings designed by Eiffel and a pier with regular surf contests, but the most interesting attraction is their harbor. This harbor is always busy and full with (fishing) boats, many sea lions, pelicans and other birds. It is also a good place to eat fresh fish, incl. ceviche.
Tonight we take a comfortable night bus to San Pedro de Atacama.
Day 10: San Pedro de Atacama (2400 m).
Around 10 am you will arrive in San Pedro de Atacama.This dusty hippy/ tourist town is known as the Chilean entrance to the Atacama Desert, one of the driest deserts in the world and as a starting point for tours into Salar de Uyuni of Bolivia.
Two of the must see highlights in San Pedro de Atacama include a small, but very interesting meteorite museum, where you can hold and even buy your own piece of meteorite. Our second recommendation is to join a so called Sunset Tour through Valle del Muerte y Valle de La Luna.
Day 11: Start of the surrealistic tour through the Salar de Uyuni!
Today we will climb quickly from 2400 m to more than 4000 m altitude, past the Licancabur Volcano and a lonely border crossing, right into the Altiplano of Bolivia. In this desolated landscape we will visit Laguna Blanca, Laguna Verde, the 'Dali Landscape', a natural hot spring and steaming hot mud pools, which look almost like witches use them as cooking holes in the ground. We will sleep in very simple barracks close to Laguna Colorada, a lake at 4200 m altitude that is colored with different minerals and many flamingos!
Day 12: Salar de Uyuni Tour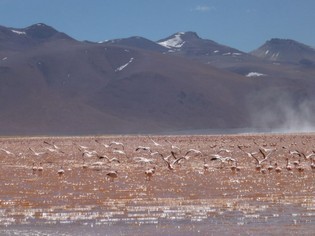 After a good breakfast and a last peek on the surrealistic Laguna Colorada, we continue our adventures Salar de Uyuni Tour. Today we will pass many scenic landscapes, several pretty lakes and interesting rock formations. Our tour will include the option to see many more flamingos, spotting vicuñas, desert voxes and maybe even viscachas (special kind of rabbit) and a smoking volcano! Tonight we sleep in a small local village close to the salt flats of Uyuni. More information about the Salar de Uyuni, its formation and its present status you can find on: 
Salar de Uyuni
.
Day 13: Salar Tour - Uyuni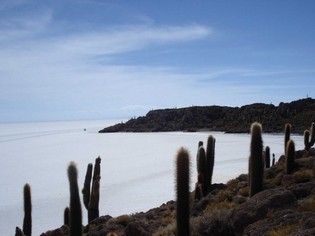 Today we have a relaxed day, visiting the seemingly endless salt flats of Uyuni. We can use this special white landscape to make many funny and unrealistic pictures. We challange you to use your fantasy! After appreciating the emptiness of the Salar, we will visit a small coral island with huge cactusses, located in the middel of the salt flat. A trye surrealistic experience! After a walk over this island, our next visit is to the first and only Salt Hotel that is actually build on the salt flat. We finish todays tour with a visit to the 'Salt-Workers Town' of Colchani and the Train Cemetery.
Tonight you will sleep in 'the army town' called Uyuni. You will stay in hotel Tonito next to the army base and with the best pizza restaurant of Bolivia.
Day 14: Uyuni - Potosi (4060 m)
The beautiful ride to Potosì is almost an excursion on its own. Due to its silver mine Cerro Rico, Potosì ones belonged to one of the biggest and richest cities in the world. It was over this silver that the Dutch buccaneer Piet Hein gained its biggest victory over the Spanish fleet.Together with the fact that Casa de la Moneda produced the first coins of the American continent, it describes Potosì's important part in History. After arriving you have time to explore the colonial centre of this city above 4000m altitude.

Day 15: (optional Mine Tour) - Sucre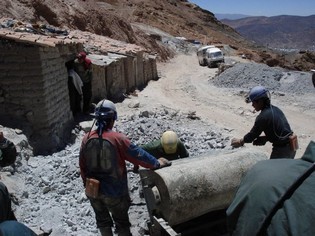 In the morning there is the option to bring a visit to the historical mines of Cero Rico. These mines brought wealth to Potosì and the western world, but also misery and death to about 8 million slaves. Nowadays they don't find much silver anymore, but the mine still contains many other minerals. The high metal prices and silent hope to find a new silver vein make that many men still daily enter the mines under old fashion and very basic conditions. More interesting,
historical information
about Potosí.
In the afternoon you drive in three hours with private transportation to the official capital of Bolivia, Sucre.
The colonial city of Sucre is named after the right hand and friend of former freedom fighter Simon Bolivar, General Antonio José de Sucre, from Venezuela.
Day 16: Sucre (2796 m)
A recommendable option for today is to join a spectacular hike in the surroundings of Sucre. This hike is called the Full Day Rockpaintings Hike. The hiking starts at about an hour from Sucre, passing the chapel of Chataquila at 3.665m. We follow the rim of the "Cordillera de los Frailes".
Halfway this hike you visit the rock paintings in the Caves of the Inca Machay and of the Puma. Walking down to the rock paintings will give you splendid views of the valley of the Rio Ravelo and the Crater of Maragua. After visiting the rock paintings you will walk down to a few rivers that we'll cross and from there you go down to the village of Tumpeka. from here we drive in 2 hours back to Sucre.
Day 17: Sucre
Today you can see for yourself why Sucre is often called the most beautiful city of Bolivia. It is a good day to relax after the hike from yesterday and maybe even after joining last nights nightlife in Sucre… It is also recommendable to go sightseeing in this friendly city. Visit one of the several museums, join another hike, or mountain biking tour, take the so called 'Dino Truck' to visit the ancient old dinosaurs foot prints, visit the impressive cemetery, or maybe (on Sundays only) bring a visit to the colorful indigenous market of Tarabuco Town.
Day 18: Sucre - La Paz
In the morning you fly in less than an hour from Sucre to La Paz. In the afternoon you have free time to stroll through the city.
'La Paz' translates as 'The Peace', but 'The Market' would have been a better name for this busy never sleeping city. This is one of the best places to shop for souvenirs, or maybe even buy an amulet on the mysterious witches market. We can also highly recommend to 'take a ride' in the new Teleferico above La Paz, with great views over the city, the valley and the snowcapped Cordillera Real mountain range around La Paz!
Day 19: La Paz
For dare devils it is an option to bike down the former most dangerous road in the world. This beautiful ride brings you from 4700m to the semi jungle of Coroico.
Two other recommendable options are:
To bring a visit to the pre-Inca site of Tiawanaku. It is said that the Inca's adopted part of their building style from the Tiawanaku culture. But the culture is most known for its impressive farming methods.
Or to visit Chacaltaya (5450 m), ones the highest ski-piste in the world. The ski-piste is closed now, but the views of the surroundings are beautiful!
Day 20: La Paz - Copacabana - Lake Titicaca
During your 4 hour trip to Copacabana you cross the smallest point of Lake Titicaca. After arriving in Copacabana, you have the whole afternoon to have lunch and explore this 'pilgrim/ backpacker' town. You can also decide visit the cathedral, to relax with a coffee or cocktail on the beach shore of Lake Titicaca or to climb the Cerro Calvario to watch beautiful sunsets.
It is also possible to join a half day trip to Isla del Sol. This island offers beautiful sceneries on and views over, Lake Titicaca and according to some Inca stories this island was also the birth place of their first Inca.
Day 21: Copacabana - Peru - Puno (3850 m)
Today we cross the border back into Peru and our bus ride towards Puno offers great views over Lake Titicaca. Peruvians see Puno as their musical capital and there are often small parades in the streets.

Day 22: Puno - Lake Titicaca Tours
Puno is not a pretty town, but it is the starting point to visit the famous floating reed islands of the Uros Civilization. You can combine this visit with visiting Taquile Island. On this island the men have to knit hats to 'conquer' their wife. A well knit hat proofs that the future husband isn't lazy. It is said that some of these woolen hats can even be used to carry water! The third popular excursion goes to the mysterious funerary towers of Sillustani. The Collas who seemed to have contact with the Tiahuanaco culture, build these towers to bury their death. Later the Inca's adopted these techniques to build their cities.
Day 23: Puno - Cusco
A pretty ride through the highlands of Peru, brings us from Puno to Cusco, the Inca and tourist capital of Peru with many touristic highlights to visit! Your hotel is in the historical city center of Cusco.

Day 24: Cusco
A free day to discover Cusco, where its many historical sites and museums keep even the most experienced traveler busy. Active options for today include a rafting tour, horseback riding, mountain biking, or even bring a visit to the Rainbow Mountains (departure 3 am in the morning!). We can also recommend to make a pretty and interesting hike passing by some of the most important archeological Inca sites around Cusco, including: Tambo Machay, Puca Pucara, Quenko and the impressive site of Sacsayhuamán!
Day 25: Cusco - Sacred Valley - Pisac - Salineras - Ollantaytambo - Aguas Calientes
For today we included a beautiful private tour through the Sacred Valley with a visit to the archeological site of Pisac. Passing along the ruins and enjoying the great views over the valley the guide will explain you part of the impressive Inca history.
After visiting the archeological site of Pisac, you will have time to stroll around on the colorful market in the village of Pisac.
From Pisac you drive in about an hour to the salt pans of Salineras. For centuries already the Maras civilization catches here a small stream of salty water that comes out of the mountain. They catch the water in small shallow pools and let it dry in the sun, until they have only salt left. The view of these white pans in the green valley is mind blowing! After Salineras you drive in an hour to the friendly tourist town of Ollantaytambo.
From Ollantaytambo your guide will lead you around the ancient Inca fortress of this village. The fortress of Ollantaytambo is one of the very few places where the Inca's won a big battle against the Spanish conquistadors. One of the mysteries of this site is how the Inca's were able to cut and manage the huge granite rocks on top of the site.
After visiting this interesting site you will have dinner in the village before taking the train to Aguas Calientes (now officially called Machu Picchu Pueblo).
Those who booked the Classic 4-days Inca Trail will stay tonight in Ollantaytambo, this way tomorrow they don't have to get up as early as their companions who leave from Cusco.
Day 26: Aguas Calientes - Machu Picchu - Ollantaytambo - Cusco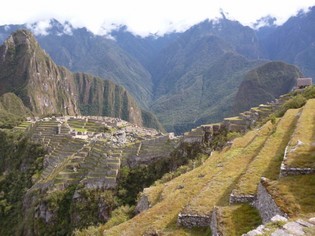 Today you can choose to get up early as 5:00 am to leave with the first bus at 5:30 am towards Machu Picchu,  so you will have the whole morning, until noon to visit the most famous Inca -, or maybe even the most famous archeological site in the world.
Today also start the different optional hikes towards Machu Picchu from Ollantaytambo (or Cusco). These hikes include the famous Inca Trail, the impressive 4-day Salkantay Trek and the Inca Jungle Tour.
Although the archaeological site of Machu Picchu is famous, it is also still covered with mysteries about its original purpose, how the Inca's could build this city on and between the mountain tops and even about its original name. More information:
About Machu Picchu
After your guided tour over Machu Picchu, you have free time to explore the site by yourself and maybe take this iconic picture of Machu Picchu from the Hut of the Caretaker. Your train and bus back to Cusco will leave late afternoon/ evening.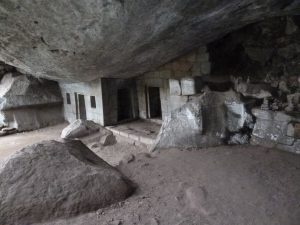 Important note: For everyone who wants to climb Huayna Picchu or Machu Picchu Mountain, at the edges of the archeological site of Machu Picchu, make sure to let us know BEFORE your booking and we will check availability.
When you climb the Huyana Picchu Mountain there is also a 'secret trail', which goes to the back of the mountain to visit the originalTemple of the Moon. This beautiful trail takes an additional two hours and you have to start before noon from the top of the Huayna Picchu Mountain.
Day 27: Cusco
A free day in Cusco to visit more ruins, go horseback riding, rafting, bungy jumping, or maybe even visit a volunteer project.
Day 28: Cusco
A free day in Cusco to relax and enjoy a cup of coffee or tea on one of the balconies around Plaza del Armas.

Day 29: Cusco - Lima
Today we have scheduled in the tour an early flight back to Lima is, but this itinerary can easily be changed for passengers who want to stay longer in Cusco (30 US$ p.p. for each night longer. Please inform us with your booking if you want to stay longer.
Note – day 29: If you had booked an Inca Trail/ trek you will arrive today in the evening back in Cusco. Your flight to Lima will be re-scheduled for day 30 in the morning.

Aditional information about flying over the Nazca Lines:
Due to regulations from 2012, persons who weigh more than 90 kg might be asked to pay 40% additional! There is a balance at the airport and each passenger will be obligated to step on this balance before entering the plane…
Please let us know with   your booking if you want to fly over The Nasca Lines and what your weight is and we try to give you as soon as possible the actual flight prices for that date.
Tour extention options:
For more information about extending this tour with an adventures trekking, please visit:Recommendable trekking options in Peru!


Another highly recommendable extention of this tour can be to visit the Amazon Rainforest. Please check out our tour options for more information: Our Amazon Tour Selection in Peru!
Included and recommended to bring on this tour:
This tour includes:
– ALL the transfers in Peru and the transfers to and from the airports in Bolivia.
– overnight stays in hotels with a price range between USD 40-70, including all breakfasts
– day 3 and 9: comfortable night bus, we don't have a hotel these nights
– Transport from city to city in comfortable public busses and:
– train Ollantaytambo-Machu Picchu Pueblo-Ollantaytambo
– bus Machu Picchu Pueblo – ruins of Machu Picchu (2 ways)
– flight Sucre-La Paz, including airport taxes
– flight Cusco-Lima, including airport taxes
– The included excursions, always have English speaking guides, except in The Salar de Uyuni:
– day 2: Shared services tour to Islas Ballestas
– day 6-7: Colca Canyon, including entrance fees
– day 11 till 13: A tour in Shared, international service through the desert and over the Salt flats of Uyuni, incl. transport 3x breakfast, 3x lunch and 2x dinner, plus 2 nights in very basic accommodations
– day 25: Sacred Valley, including, transport, guide and entrance fees worth USD 26 per person
-day 26:  Entrance fee to Machu Picchu + guided tour. Please be informed that due to new regulations you already have to decide with the    booking of your tour if you want to climb up Huyana Picchu, or Machu Picchu mountain (15 US$ additional fee).

The price doesn't include:
–  Optional excursions;
–  Transfers in Chile and Bolivia (except to and from the airports) (about 2 US$ a transfer)
–  International flights and taxes
–  Entrée's, (exit) taxes, food and other personal expenses;
–  Tips (in restaurants, for guides, drivers and more) during the tour
–  Additional price for one person a room
–  All things not mentioned in the tour above
–  International banking costs
–  Obligated travel and health insurance
We recommend you to check the local visa and vaccination obligations.
For this tour we recommend you to bring at least with:
–    Valid identification and travel documents and when needed a valid visa
–    The information of your travel insurance
–    Valid vaccinations, ask you countries health centre for more information
–    A good backpack, or big sport-bag, preferable no hard suitcase
–    A small day (back)pack
–    Good shoes
–    Sandals
–    A warm jacket/ fleece
–    A rain jacket/ poncho
–    Two warm sweaters
–    Thermo underwear for the very cold (-16 C.) Salar tour
–    Three light trousers
–    4 T-shirts
–    Two pair of shorts
–    A flashlight
–    Something to be able to back-up your photos
–    Protection against the sun and mosquito's (you can also buy locally)
Be aware that Peru is not a Third World Country anymore, so most things are available. If you do have any doubts about what to bring, please feel free to ask us.
Note 1: During high season, from half May until half of September, this tour will cost 60 US$ p.p. more.