Private Cabanaconde Tour
More information about the Colca Valley and Tours:
Driving from Arequipa (2400 m) to Chivay (3650 m), you will cross a high altitude pass at 4900 m, before arriving in the Colca Valley. During the journey you will enjoy passing through a range of unique ecological zones, from desert to altiplano and dry tundra. Animals spotted along the way, or in the valley itself include herds of vicuñas (a wild relative of llamas and alpacas) and a variety of birds, of particular interest the giant hummingbird, eagles, Andean geese and even flamingos (September through March)!
Along the route you'll find a wide range of very different microclimates that vary with the altitude.
In the cold, dry, highlands, livestock production predominates, focused on alpaca and llamas; in the middle zone, agriculture is more important, featuring products such as corn, quinua, barley, beans, and a variety of potatoes, as well as dairy production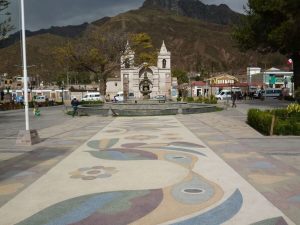 The town of Chivay (3650 m) is the capital of the valley, 176 km from the regional capital, Arequipa, and is well known to among locals and foreigners for the presence of the La Calera hot springs 3 km outside of town.
Chivay is also a good place to look for high-quality, locally-produced crafts, in particular goods hand-knitted from 100% alpaca fiber, and elaborately embroidered goods produced by hand on sewing machines (hats, coin purses, belts, etc.). Such crafts are also available in some of the miradors (scenic overlooks) along the highway, and in surrounding towns. Be careful not to be confused by cheaper, industrially-produced products of lesser quality.
From Chivay you will drive along the Colca Canyon towards the village of Cabanaconda (3450 m). About 10 km before arriving at the village you will pass by the Cruz del Condor Mirador, the famous Condor Viewpoint. Tomorrow morning between 7:30 and 9:30 am you will usually be able to spot the mighty Andean Condor!
Itinerary of this private Cabanaconde Tour
Day 1: Arequipa - Chivay - Cabanaconde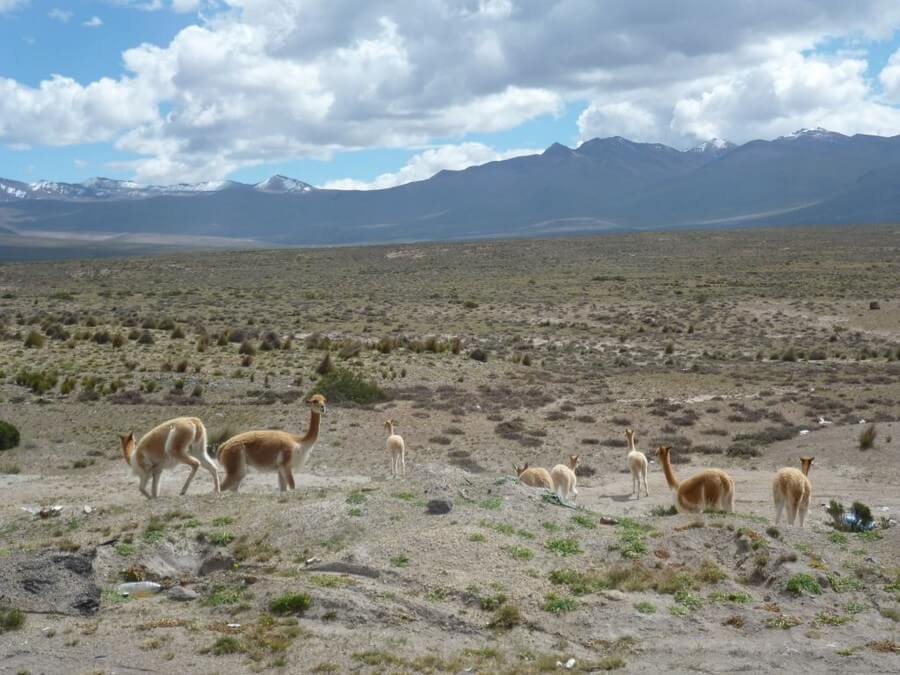 You leave your hotel at 8:00 am and drive in about 5 hours to Chivay, at 3620m altitude. On the way it is possible to get great views of the volcano's Misty, Chachani, Ampato, Mismi and more. You will pass through several nature reserves including Reserva pampas Cañahuas, Reserva Nacional Salinas and Aguada Blanca home to vicuñas, lama's and alpaca's. There will be enough stops and time to take photos of these South American camels and the mountain landscape. Halfway you can make a short stop at a small cafeteria, were you can try some of the best coca tea of Peru. Before you decent in the Colca Cañon you will drive over a pass at 4900m altitude.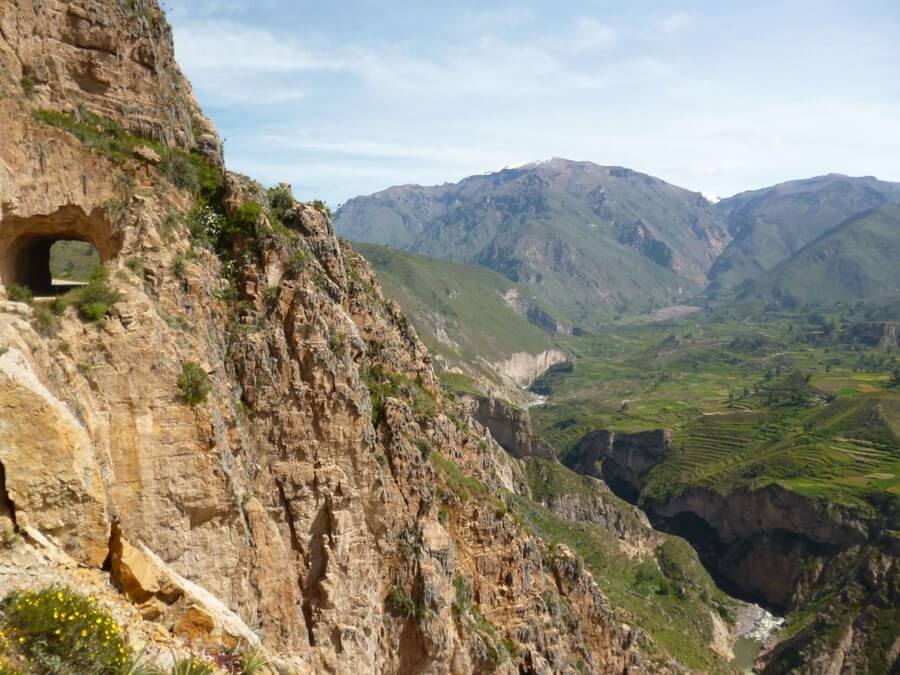 In Chivay, the capital town of the Colca Cañon you have an hour to walk around and have lunch before we leave to Cabanaconda. On your way you will already make several stops at the best known viewpoint over the famous canyon. The advantage of making these stops in the afternoon is that there are now far less tourists when many people go to and come from the Cruz del Condor Viewpoint.
After about one and a half hour you pass by the Cruz del Condor and short after you have the option to leave the bus and walk the last bit along the canyon towards Cabanaconda town (3450m altitude). If you are lucky you might be able to see some condors flying away from the sunset, returning to their nests under Cruz del Condor.
Day 2: Cabanaconda - Cruz del Condor - Chivay - Puno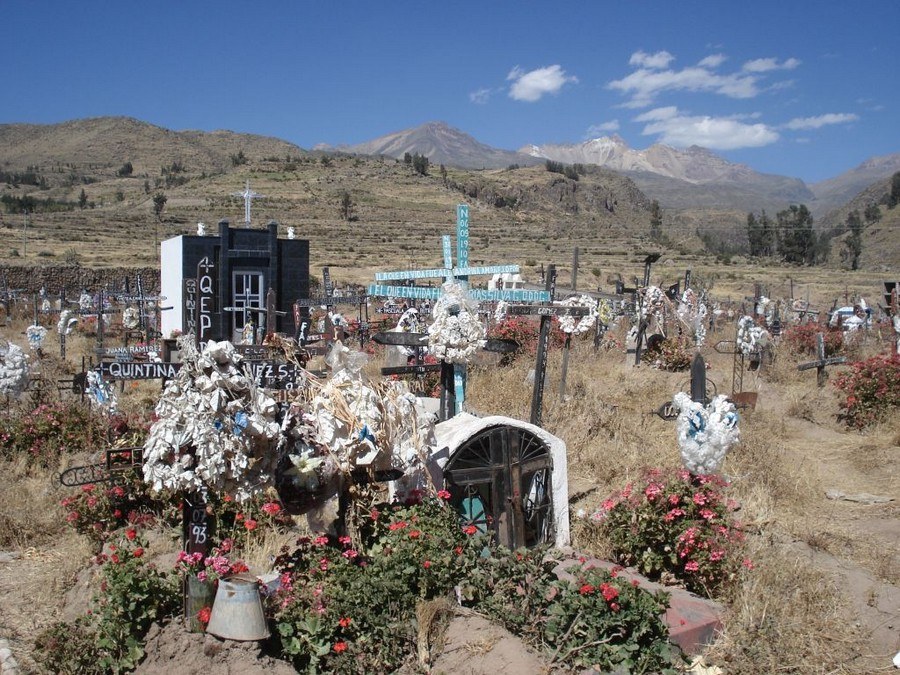 Breakfast is at 7:00 am and you can leave the hotel at 7:30 am. A short ride (10km) brings you to the Cruz del Condor. Here you can wait for the condor to wake-up and for the temperature to rise. As soon as the temperature is high enough to warm the wings of the condor and to create enough up-going thermal airstreams the condors will take off.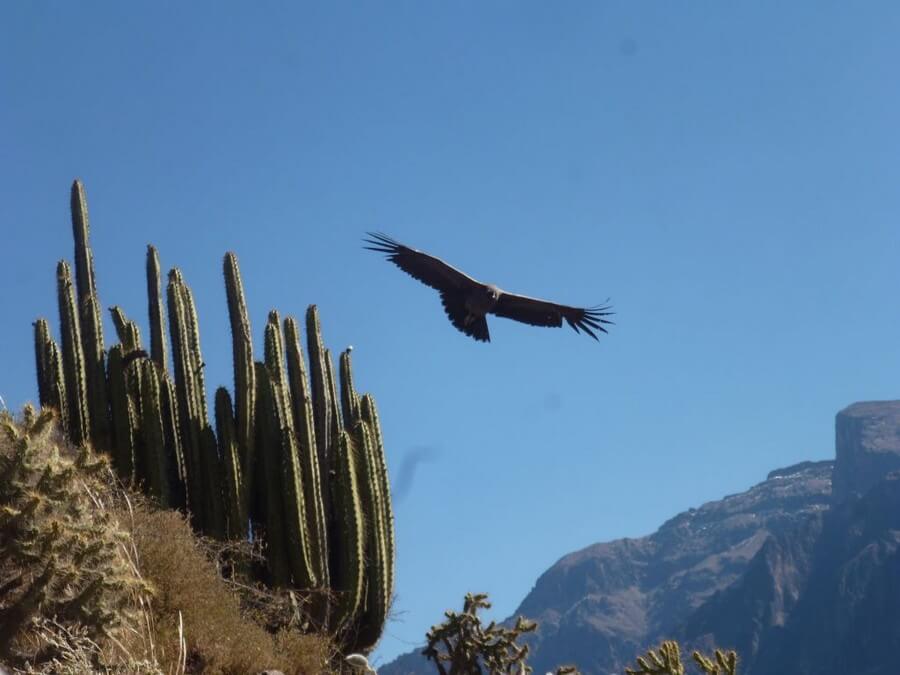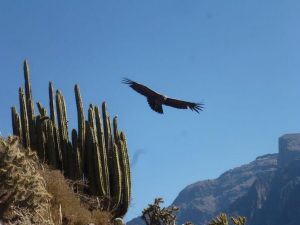 Note: From the Cruz del Condor you can make a short walk along the canyon before we drive back to Chivay. On the way back you can decide to make some stops again and bring short visits to the villages of Maca and Yanque.
After lunch in Chivay you drive back over the high pass to the Coca tea cafeteria. From this point you will take shared tourist transport to Puno (about 4 hours).
Inclusive in this private Cabanaconde Tour:
The price of this tour is mostly based on private servives, because unfortunately we can't guarantee a daily departure of the cheaper tours in shared/ pool service. Of course, when you let us know your travel dates, we can always check if there's also a shared tour option available.
Included in this Cabanaconde tour:
–  Private transport (and additional shared tourist transport)
–    Professional personal Guide in the canyon in English (other languages available)
–    01 night in a hotel in Cabanaconda incl. breakfast.
–    Meals (02 breakfast, 01 lunch, 01 dinner)
Not included:
–  Entrance fee of Colca Cañon (70 soles)
– All food that isn't not mentioned above
– Drinks and other personal expenses
– Optional entry to the thermal baths in Chivay (15 soles, if enough time)
– Tips