Inca Jungle Trail to Machu Picchu
The Inca Jungle Trail is an original and adventures budget tour for people who want to avoid the busy crowd on the Classic Inca Trail. More adventages compare to the Classic Inca Trail:
Inca Jungle Trail:

You can just book day in advance
One day to acclimatize is enough
You sleep in basic hostels
You hike through the Andes Mountains, banana plantages, coffee plantages, local towns and jungle
You can combine this trek with mountain biking, rafting, zip-line and hot springs
You finish at the tourist entrance of Machu Picchu
You can combine this trek with climbing the Huayna Picchu, or Machu Picchu Mountain
Very cheap for 4 days!

 Classic Inca Trail:

You have to book months in advance
You need a few days in Cusco to acclimatize
You sleep in tents
You hike through the Andes Mountains and cloud forrest and pass by ancient archaeological Inca sites
You hike 42 km over the old Inca Trail, crossing Death Womans Pass at 4200 m
You finish at the Inti Punku Sun Gate entrance to Machu Picchu
You are not allowed anymore to climb the Huayna Picchu, or Machu Picchu Mountain
Relative expensive…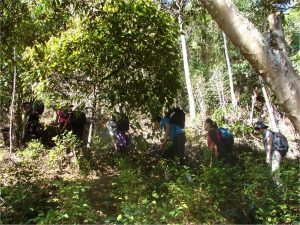 Did you know that some of the finest Peruvian coffee actually grows in the department of Cusco. Make sure to taste some at breakfast!
Short Itinerary Inca Jungle Trail:
Day 1: First day of the Inca Jungle Trail: Cusco to Santa Maria
Day 2: Santa Maria to Santa Teresa
Day 3: Santa Teresa to Aguas Calientes
Day 4: Aguas Calientes – Machu Picchu to Cusco
Itinerary of the Inca Jungle Trail to Machu Picchu
Day 1: Cusco Pispitayoc (Biking + optional Rafting)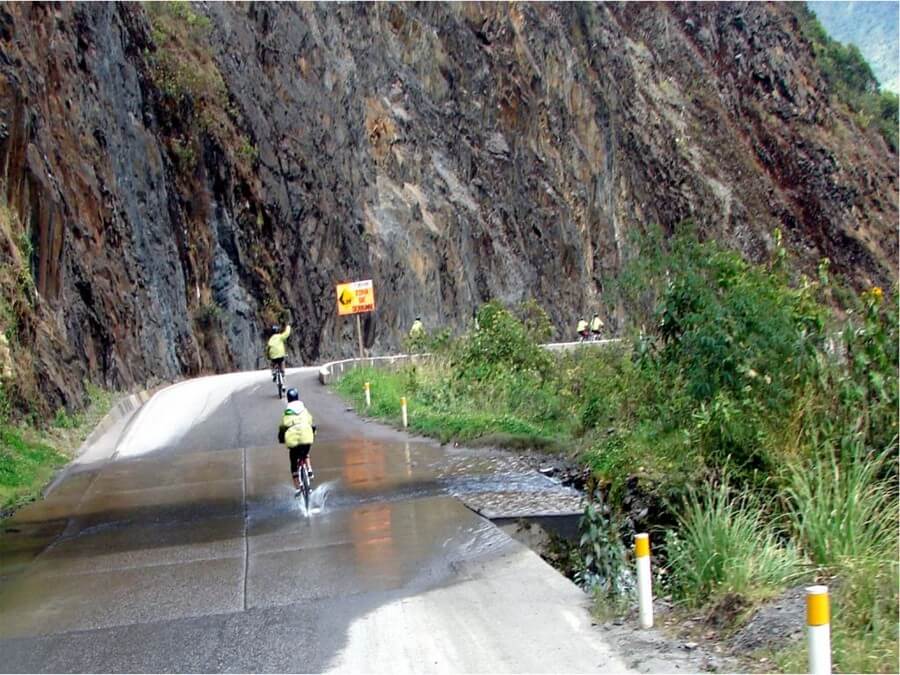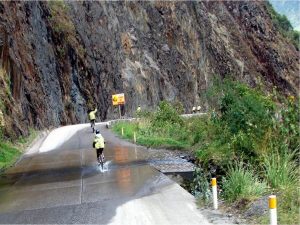 After picking travelers up from 6:30 to 7:00 am we leave to the sacred valley of the Incas, where we will go through picturesque villages and beautiful landscapes before we arrive at Ollantaytambo.  There we will have break and will continue traveling by bus for 1 hr. until reaching the mountain Abra Malaga (4350 mt) near 11 am. From this area we will departure with the bikes, descending 3 for hrs. We will go through rural villages, rivers, orchards and streams, reaching the area Huamanmarca at Aprox. 13:30 h.
From here we travel for about 30 min. by private bus towards the town of Santa Maria, where we will have a late lunch.
After lunch you can choose optional to go on a short but adventures rafting tour (
1h30 min. for around 35 US$ p.p.
), or to travel with the bus to the town of Santa Rosa.
From Santa Rosa it takes about 45 min. to an hour to walk to the ecological lodge La Choza, located in the village Pispitayoc.
Day 2: Pisitayoc – Santa Teresa (Trekking)
After enjoying an outdoor breakfast, we will walk along the riverbanks and start climbing for 30 min. On our way we will see small coffee plantations, fruit trees, etc. In this area it is possible to see many types of plants, orchids and birds. We will  bserve the beauties of the high forest which is a paradise of biodiversity in the Inca jungle route. After arriving to the top of the mountain we will see the whole valley of Urubamba. The group will descend for aprox. 2h30 min.  To arrive at the village Qellomayo, here the lunch will be served.
After a short break we will trek for 3 hrs. going through farms, rivers, waterfalls until arriving at the hot water springs in Santa Teresa. We will have a break and later the group will continue to walk for 40 min. until reaching the town Santa Teresa, where we will sleep a basic lodge.
Day 3: Santa Teresa – Aguas Calientes (Hiking and Zip-line option)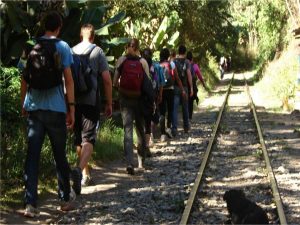 After a breakfast at 7 am we will continue to explore the roads less traveled. We will start from the town Santa Teresa. The passengers that reserved in advance (
around 35 US$
) will enjoy (hopefully) the zip-line (later they will be taken by bus to the hydroelectric plant),  the rest of the group will continue to hike for aprox. 3 hr.  until reaching the hydroelectric too, where the whole group will be rejoined. Here we will have an early lunch.
After a short break, the journey will continue for about 3 hrs.  through rainforest and past small farms. The group will be taken to the hostel around 4 pm. At night we all get together in a restaurant to have a great dinner and have a briefing about the trek to Machu Picchu.
Day 4: Aguas Calientes – Machu Picchu Cusco (Walking and visit to sanctuary)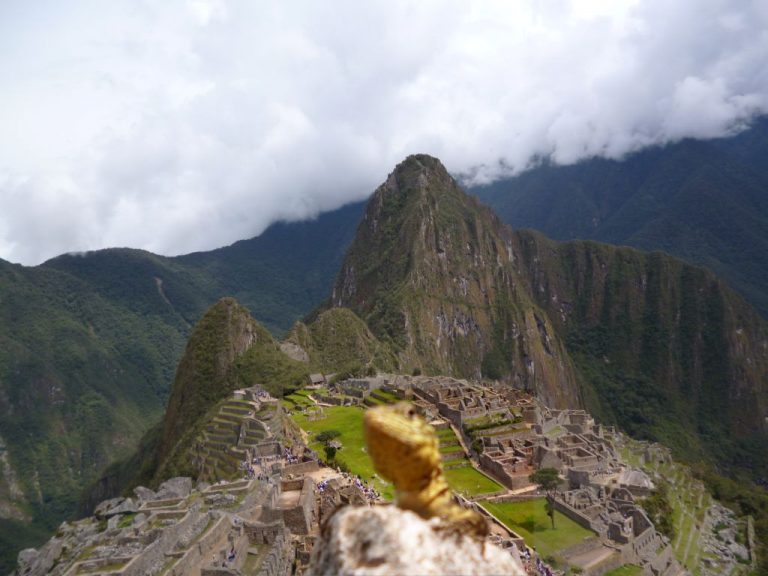 The group will get up around 4 am to go to Machu Picchu, following an ascending route through the high forest, we could have the chance to see the sunrise, after passing the control at the entrance around 6:00 am. The private guide will show us the sanctuary for aprox. 2 hrs, later the group will be free to enjoy Machu Picchu on their own. The passengers that reserved the hiking to Huayna Picchu will have their adventure for around 2.30  hrs. (including going up and down). The path is very steep at some points but it's worth it. This trek is not recommended for people that suffer from dizziness. In the afternoon the group sill descend walking to Aguas Calientes, to rest or to buy souvenirs until the hour of departure (9.30 pm.) of the train towards Ollantaytambo. You have to be 30 min. before departure where our private bus will be waiting for all the travellers to be transferred to Cusco. We will arrive late at night, around 12:30 am.
End of our tour in Cusco´s main square.
Note: the final day-to-day itinerary can be slightly different taht written above, depending on unpredictable weather conditions and other circumstances.

Inclusive and recommended to bring on this Inca Jungle Trail:
Included in this trek:
– transport from Cusco to San Luis
– professional bilingual guide
– bike with front suspension, gloves and helmet
– food, from lunch on the first day to breakfast on the last day
– accommodation for 3 nights, based on double rooms
– first Aid kit
– entrance fee to Machu Picchu
– train back to Ollantaytambo, then bus from Ollantaytambo to Cusco.
Not included:
– breakfast on the first day
– final lunch in Aguas Calientes
– bus between Aguas Calientes and Machu Picchu: US$ 24 for a return ticket
– entrance fees to the hot springs in Santa Teresa or Aguas Calientes
– entrance fee US$30 to Huayna Picchu or US$ 30 to Mount Machu Picchu. Please advise us with your reservation if you want to climb one of those mountains during your visit to Machu Picchu, while we've to buy this entrance as soon as possible.
What do you need to bring with you:
– wind jacket
– solar protection
– mosquito repellent
– swimming suit and towel
– sandals / flip flops
– hiking boots
– clean clothes
– small backpack
– about 150 soles of extra money
– your original passport
– ISIC student ID if applicable
In order to reserve the Inca Jungle Trek we need the following:
– Full names as it is written in your passport
– Passport number
– Nationality
– Date of birth
– Or just a digital (photo) copy of your passport
– Departure date for the trail
– copy/fax or scan from both sides of your ISIC student card (people under 30 with the official card get a US$ 20 discount. After the reservation it is not possible to receive this discount anymore!)