Cuyabeno, Jamu Amazon Lodge
The Jamu Lodge, offers a good value for money tour in the Cuyabeno National Reserve in Ecuador (optional to extend the tour with one day!)
The Jamu Lodge is located 15 min from the Laguna Grande, on the banks of the Cuyabeno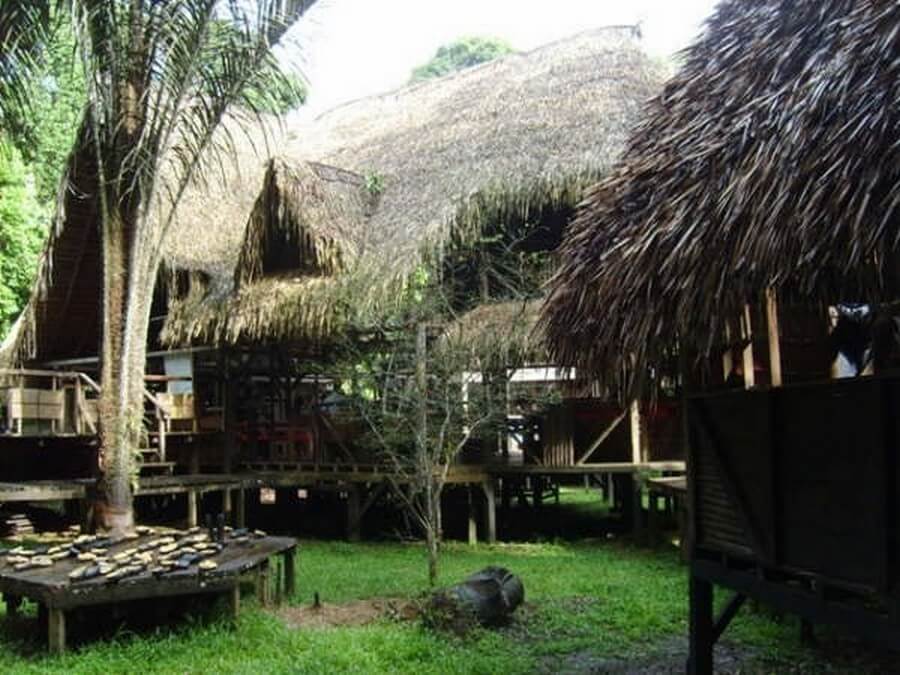 River, in the Cuyabeno Amazon Reserve. Jamu is in the perfect location to view the protected forest of Cuyabeno which is flooded with wildlife; you can also swim in the Laguna Grande. A stay at the Jamu Lodge offers a continuous possibility of activities. The lodge offers 5 cabañas that can accommodation up to 40 people, each cabaña is built in a traditional rustic style with thatched roofs, and is lit naturally with candles in order to maintain the experience of the jungle.
Short Amazon Tour itinerary:
Day 1: Lago Agrio – Cuyabeno Amazon Tour – Jamu Lodge
Day 2: Hike, piranha fishing, caiman spotting and swimming…
Day 3: Tarapuy – Sionas – night walk
Day 4: Canoeing through the flooded forest
Day 4/5: Cuyabeno/ Lago Agrio
For more information about the Amazon Rainforest and the different nature reserves in Ecuador, Peru and Bolivia you can visit our special website: Information about the Amazon rainforest reserves.
Full Itinerary of this Cuyabeno, Jamu Lodge, Amazon Tour
Details of the Jamu Amazon Lodge:
A stay at the Jamu Lodge offers an endless possibility of activities. From educational hiking to, trekking through the Terra Firme forest, experiencing the muddy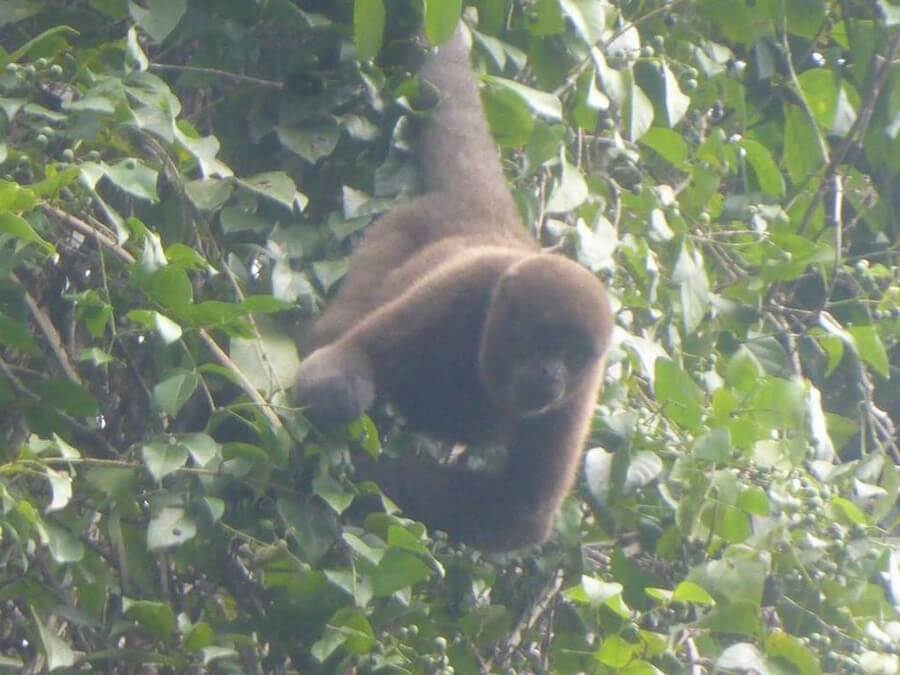 swamps of the Hormiga River, swimming in the lagoon, watching the pink river dolphins, birds and other wildlife, visiting the native community, the list goes on. A Bilingual guide is always along for the activities to answer all your questions. In addition, guests can relax at the hammock lounge, or enjoy a beer or cocktail at the bar. Jamu does not use electricity all the time; candles are use part of the time, in order to preserve energy and the jungle. There is a small plant in which batteries can be reloaded in the mornings.
Sample Itinerary: 4/5 Days – 3/4 Nights:
Day 1: Lago Agrio - Cuyabeno Amazon Tour - Jamu Lodge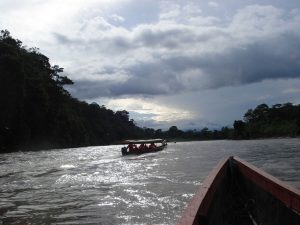 We meet in Lago Agrio 09:00am, from where we will take private transportation to the entrance of Cuyabeno. On our way we have lunch. Then you take a motorized canoe down the Cuyabeno River for two and a half hours. During the canoe ride you will get a first look at the jungle and will be able to observe different kind of birds like Caciques, Oropendolas, Greater Anis and the prehistoric bird "Hoatzin". You may also be able to see a variety of monkeys and other jungle animals, depending on the time and weather conditions. We will arrive at the "Cabañas JAMU" a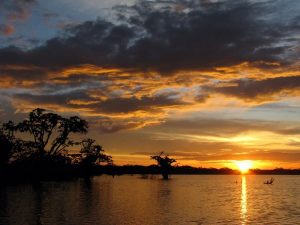 round 4:30pm. At that time you will be shown to your rooms and you can relax a little. After a siesta we will leave the camp for a swim in the lagoon and to watch a beautiful sunset in the middle of the Laguna Grande. You will then return to the camp for dinner, and can finish your first day in the jungle relaxing in a hammock or having a drink at the bar.
Day 2: Hiking, piranha fishing, caiman spotting and swimming...
After breakfast we will take a hike in the primary forest for 3 to 4 hours, where your guide will explain how a tropical rainforest works. You will be able to learn about medicinal plants and might be able to see some exotic birds or monkeys. We will then return to the camp for lunch and a siesta. In the afternoon you will go piranha fishing, have a swim in the lagoon and watch the sunset. With a little luck you can observe the pink river dolphins or an anaconda sunbathing in a tree. You will return to the camp for dinner, and take a night canoe ride to look for caimans.
Day 3: Tarapuy - Sionas - Evening walk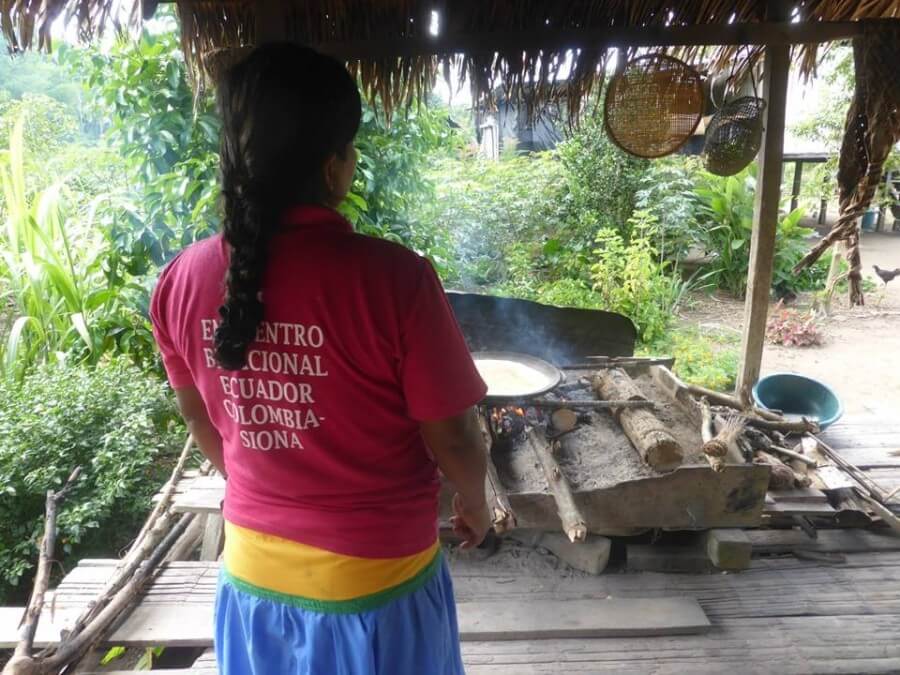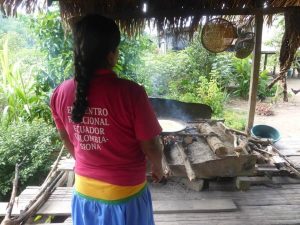 For For those of you who are willing to see the sun rise, you can go for an early morning bird watching canoe ride at around 6 o'clock. You will return to the camp for breakfast, then depart in native, dugout canoes to visit a family of the community of Tarapuy. You will see how Casabe is prepared, traditional bread made from Yucca (Manioc). You can help prepare the Casabe and see how only material from the jungle is used in making the bread. You will then visit the Sion
a community and your guide will explain the customs and traditions of the Sionas. You will be able to see what traditions have been lost and what has been maintained. After that we return to the lodge to have a late lunch. At night, you can go on a short nocturnal hike through the primary forest in search of insects, spiders, geckos or scorpions, and listen to the night sounds of the jungle.
Day 4: Canoe tour through the floating forest
We depart in native, dugout canoes, called "quilla", to visit smaller lagoons such as Pato Cocha, and Caimán Cocha. While paddling you have a better opportunity to see more fauna and flora, and you can get a good idea of what an igapo (flooded) forest looks like. You can observe a variety of different birds and monkeys. Because this activity is about 4 – 5 hours long, we take a box lunch with us and will have a picnic surrounded by beautiful nature!
Last night in the Jamu Lodge.
Day 4/5: Cuyabeno Amazon/ Lago Agrio
After breakfast we take the motorized canoes to head back to the entrance of Cuyabeno from where we take transportation to
Lago Agrio.
Note: For people who have less time, it is also possible to make this tour one day shorter.The itinerary from day 4 will then be taken out of the program. The price is then 40 US$ p.p. cheaper.
Inclusive and recommended to bring into the Amazon
Inclusive in this Jamu Amazon Tour:
– Transportation Lago Agrio – Cuyabeno – Lago Agrio
– Overnights in a double room in the Jamu Lodge. It is also possible to sleep in a small dorm with 5 beds. This will cost 35 US$ p.p. less
– Meals (breakfast, lunch, dinner)
– Coffee, tea, purified water
– River transportation
– Excursions and activities
– Bilingual guide (English and Spanish)
– Rain boots (please inform us when you need size bigger than 44) and poncho
Rates do not Include:
– Transportation UIO-Lago Agrio-UIO (bus 40 US$ return, or Airplane about 160 US$ for a return flight)
– Entrance fee to Cuyabeno Wildlife Reserve 2US$ p.p.
– 4US$ Community Visit
– International banking fees
– Single supplement: 50% extra
– Alcoholic beverages and soft drinks
– Things not mentioned in the tour above
– Personal expenses
– Tips
Items that you should bring into the Amazon:
• Comfortable loose Clothing
• Long-Sleeve shirt and pants for walking
• Warm jacket for the night
• Bathing Suit and towel
• Sun Glasses and a hat
• Sandals
• Personal things
• Sun Block
• Insect Repellent
• Head light/ flashlight with extra batteries
• Camera with film speed 200 or 400, and extra batteries
• Original Passport
• Towel