Climbing the Huayna Potosi Mountain
Join this trek in Bolivia, climb the Huayna Potosi Mountain and get till 6088 meters above sea level! The Huayna Potosi Mountain is declared a National Park and is located about 30 km north of La Paz, Bolivia.
Although good acclimatizing and a healthy physical condition are a must, it is one of the most accessible mountains to reach a summit above 6000 m.
Climbing the Huayna Potosi Mountain is popular and with reason. It offers adventure, great views, a bit of suffering and a good chance to reach a mountain top at 6088 m above sea level, for a very reasonable price!
Having said this, please do not underestimate the climb. Good acclimatizing (at least more than a week), a healthy physical condition and strong mentality will be needed to be able to climb for more than 7 hours with a backpack at high altitude and in a freezing cold environment. But the rewards for making the top are worth the challenges. The views are incredible and you will become part of a select group of people in the world who have been on a mountain top above 6000 m altitude…
Note: Depending on the weather, you can climb the Huayana Potosi Mountain from April till November, with in general the best weather between May and September.
Climbing the Huayna Potosi Mountain
Day 1: Practice Climbing and Acclimatization at Base Camp (4750 m)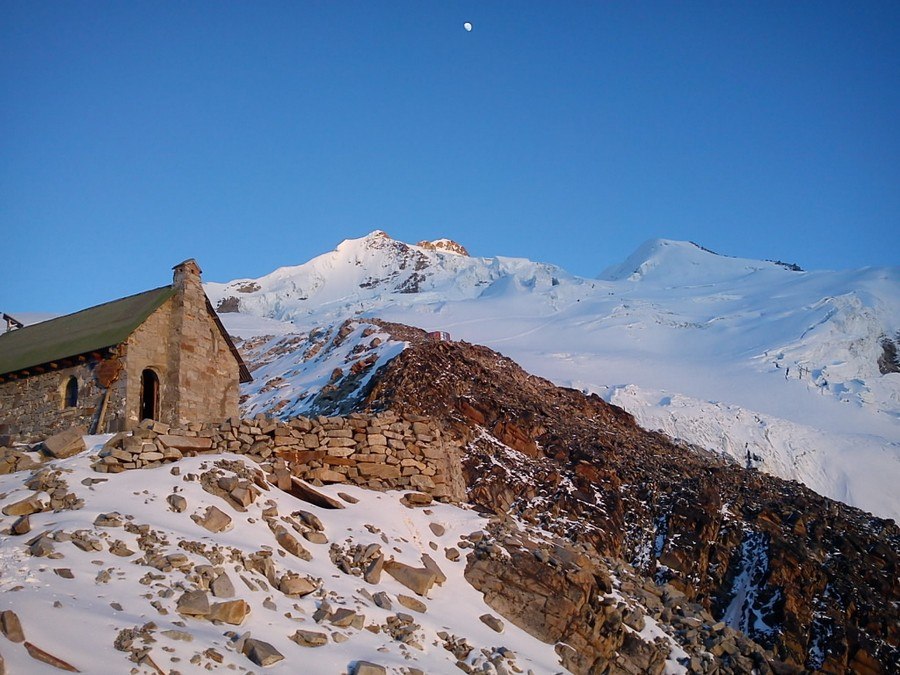 We leave La Paz around 9:00 am to the Huayna Potosí Base Camp (a 2 hour ride).
In the afternoon we hike for 40 minutes until we reach the glacier (70 /80 degrees), where we practice for about 2 hours in climbing (and even falling) with mountain gear. You will learn how to use an ice axe, crampons and several general safety rules for climbing on high altitude. Please note, most Bolivian mountain guides have years of experience in climbing, but don't speak much English.
Tonight we go to sleep early at Base Camp, in the basic refuge, or in high quality trekking tents.
Day 2: Base Camp to High Camp (5250 m)
Today is an easy day to prepare your body and mind for the climb of tomorrow.
In about 2 to 3 hours we will walk up to the refuge called High Camp, at an altitude of 5200 m. In the afternoon you have some free time to relax and/ or walk around a bit.
AT 17:00 h we will have an early dinner and then it is time to go to bed and try to get some sleep (not very easy at high altitude).
Day 3: High Camp – summit of Huayna Potosi Mountain (6088 m) – Back to La Paz
Today we get up VERY early (around 1:00 am) to start climbing while the snow and ice are still hard and offer more grip to our crampons and lose rocks that might start rolling when the snow melts…
You will climb slowly and it will be a very cold (-10 degrees C. are no exception) and touch experience on this high altitude. But on a clear night the suffering will be accompanied by the amazing views of the stars above you, the lights of El Alto far below and the reflection of the moonlight on the snow around you.
The last 200 meters are the hardest part of this trek. While you are at almost 6000 m, with a low oxygen level in the air, you will have to climb up a 45 degree wall of compressed snow. This climb will take most of the energy that's left in your body and mental strength is going to be important.
Then you reach the summit of the Huayna Potosi Mountain and will be rewarded with amazing views over the Cordillera Mountain Range and the unexplainable feeling of accomplishing a great achievement!
If you are well enough acclimatized and have climbing experience, you can also do this trek in only 2 days. In this option you skip the first day of acclimatizing and practice.

Important: For more information about Altitude sickness, we recommend you to check: Symptoms of altitude sickness
Inclusive in this tour and recommended to bring with:
Note: The price of this 3 days tour/ trek is in shared group service, with min. two participants. The prices for a private tour are higher.
The two days tour/ trek is 35,- US$ p.p. cheaper.

Trek includes:
Professional Guide (Spanish speaking)
Private transport from La Paz to Huayna Potosi and back to La Paz
Assistant guide (with 3 pers. or more)
Cook
Food
Refuge/ Tent, depending on availability
Climbing equipment, Boots, Crampons, Ice Axe, Harness, Headlamp, Gloves
Entrance fee
Not Included:
Water and snacks
Obligated travel insurance
(International) banking fees)
Tips
What to bring:
Thermal clothes
Trekking shoes
Sunglasses
Sun cream
Good sleeping bag (also for rent)
Passport and personal insurance documents
Water and snacks for on the way
A deck of cards