Climbing the Chimborazo Volcano
The impressive Chimborazo Volcano in Ecuador is often called "The Sultan of the Andes". Climbing towards the summit doesn't only provide amazing sceneries, it also gives you the chance to reach the highest point on earth!
CHIMBORAZO VOLCANO (6263 m./20548 ft. high)
The summit of Chimborazo is not only the highest of Ecuador but also, due to the earth's equatorial bulge, the farthest point on the earth's surface from the center of the earth. This massive mountain was formed by he remains of two ancient volcanoes and has five summits. On our climbing tour you can reach the Veintimilla summit (6227 m. / 20.429 ft. ) and the maximum Whymper summit (6263 m. / 20548 ft.). This climb is not apt for beginners; the route to the Whymper summit has some rocky and icy sections, which do require previous mountaineering experience. You also need a very good acclimatization plus an excellent physical condition. Tips about altitude sickness.
CHIMBORAZO VOLCANO (6263 m./20548 ft. high)
Day 1: Riobamba - Chimborazo refuge (5000 m)
Departure from Riobamba at 10:00 am and drive for 1 hour to the Chimborazo Reserve. We continue by car to the Carrel refuge, at 4800 m. / 15.749 ft. In the afternoon the guide will give a safety briefing. Rest in the refuge to improve the acclimatization. After dinner we will get a couple of hours sleep. Get up at 22.30 p.m. to prepare for the climb.
Day 2: Chimborazo refuge - Chimborazo summit - Riobamba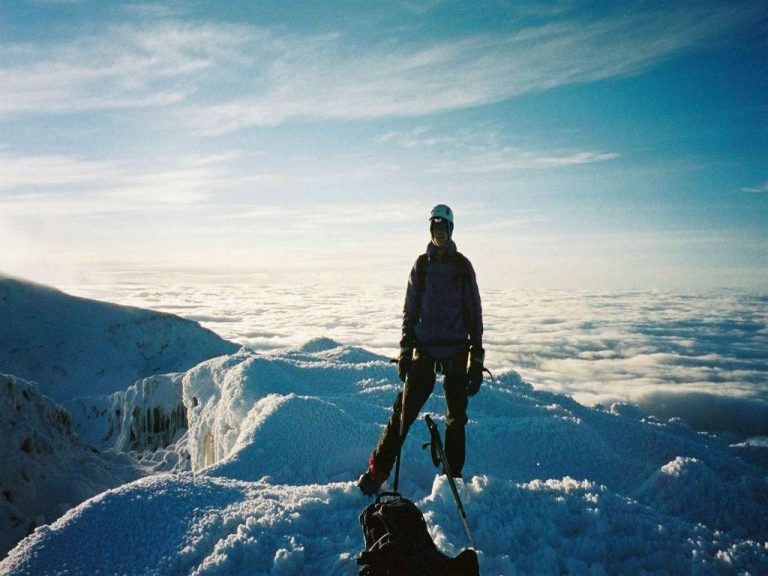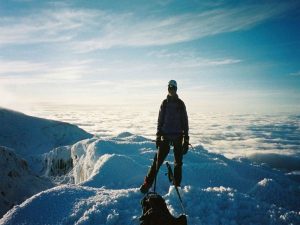 Start of the ascent before midnight. The first part of the climb is a mixture of boulders, rocks, snow and ice, until we reach the large rock formation of El Castillo (5350 m. / 17.553 ft.) From here we continue over the glaciated ridge. The slopes have an average steepness of 30 – 40 degrees, with some icy sections of 45 degrees. After 7 – 8 hours we reach the Veintimillia Summit (6227 m. / 20.429 ft.) With good snow conditions, sufficient time, and if you still have enough energy, you can continue for 1 more hour across a challenging field with penitents (ice towers) to the Whymper summit (6263 m. / 20.548 ft.) The descent will take 3 – 4 hours. From the Carrel refuge transfer back to Riobamba.
Arrival in Riobamba around noon.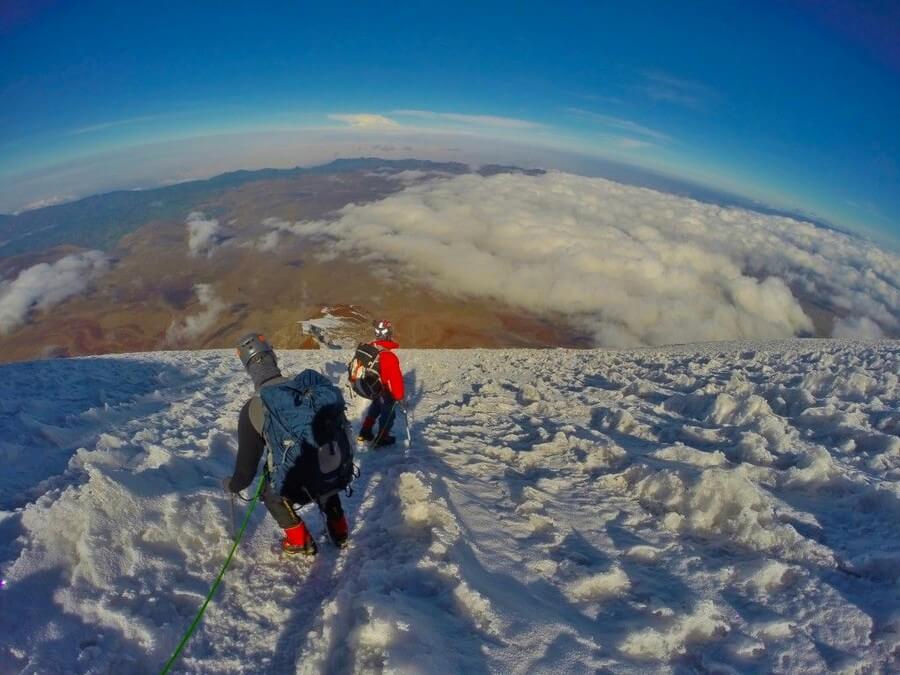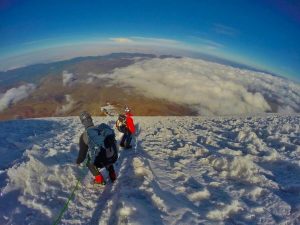 Difficulty: Difficult, previous climbing experience required
Departure: any day
Note: If you want to climb the Chimborazo alone with a guide, then this will cost: 600 US$.
This Chimborazo climbing tour includes:
– Private transfers from / to Riobamba (alternative pickup points such as Latacunga and Quito available upon request for Cayambe, Cotopaxi, Ilinizas and Antisana)
– ASEGUIM certified mountain guides (1 guide for maximum 2 clients)
– Accommodation in basic refuges (Cotopaxi, Chimborazo, Ilinizas, Cayambe, Carihuairazo) or 4-season tent (Antisana + Chimborazo High Camp program)
– Meals, coffee, tea, purified water
– First quality climbing equipment
– Entrance permits National Parks and Reserves
Not including:
– Insurance (this is mandatory and must cover glacier climbing)
– High camp option at 5.300 m. for 2-day Chimborazo climb: surcharge USD 175 for 1 single person / USD 90 per person for parties of 2 or more)
– Tips (optional)
– IVA 12% (does not apply to clients from outside Ecuador)