Classic 4 day Inca Trail to Machu Picchu
The Classic 4 day Inca Trail, probably – and with reason – worlds' most famous hiking trail, leads over high mountains and trough upper rainforest to Machu Picchu. This trail formed part of an extensive network of trails named Qhapaq Ñan, about 23.000 kilometers throughout Tahuantinsuyo, the Inca-empire covering most of Peru, Ecuador, Colombia and Bolivia; and parts of Brazil, Chile and Argentina. Chasquis, special runners using these trails, could deliver messages from Quito to Cu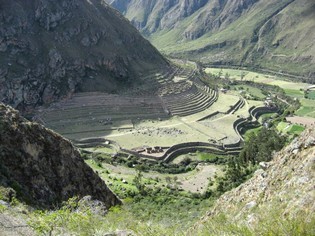 sco (a distance of more than 2000 kilometers) in 5 days!
Short description of the 4-days Inca Trail
A 43 kilometers adventure, following the old highway of the Inca's. On your way you visit stunning archeological sites, climb a 4200m pass, have brilliant views on snow covered mountains and descent into the upper rainforest. And finally you'll be rewarded with that awe-inspiring first view from the Inti Punku, the Sun gate: you made it to Machu Picchu!
Short itinerary of the Classic Inca Trail:
Day 1: Cusco – km82 – Wayllabamba (about 4h walking)
Day 2: Wayllabamba – Pacaymayu (about 7h walking)
Day 3: Pacaymayu – Wiñaywayna (about 7h walking)
Day 4: Wiñaywayna – Machu Picchu – Cusco
Note: it isn't possible anymore to include climbing the Huayna Picchu Mountain, or Machu Picchu Mountain within your entrance ticket to the Inca Trail.
Note 2: If you want to read more details about what to expect during the Inca Trail you can read on the website Mountain IQ.
Classic 4-day Inca Trail itinerary:
Day 1: Cusco – km82 – Wayllabamba (about 4h walking)
We pick you up from your hotel and drive to the village of Ollantaytambo (2 hours). Here you can have breakfast, and buy some coca leaves against the altitude or walking sticks. After that, we drive to the village of Piscacucho (2700), situated on kilometer 82 of the railway between Cusco and Machu Picchu.
This is the start of the Inca Trail and today we will walk 12 kilometers. We walk along the left side of the Urumbamba River on a relatively flat terrain until the village of Miskay, where we'll take a break. Here you can try some of the local chicha (corn beer) from the indigenous ladies we'll meet. Afterwards we continue our hike, following a steep path that leads to a high plateau. You'll be awarded with a fantastic view on the Inca-building Patallacta (2750 meter). After the explanation of our guide we continue to walk through a fabulous valley. We'll climb for about 2 hours, before arriving at our first camp site near Wayllabamba (3000 meters). During the whole first day you have spectacular views on the Vilcanota mountain range on the other side of the Urubamba River and on the snow-covered Mount Veronica (5832 meter).
Day 2: Wayllabamba – Pacaymayu (about 7h walking)
We will wake up early and after breakfast we start to climb up 9 km along a narrow valley full of vegetation and nice streams. It's a difficult hike, full of steps, so we advise you to take it easy and to stop to rest along the way at any time you wish.
Later on we will reach Lluluchapampa Village. At this point we will start the climb to the highest and most famous pass in the Inca Trail, the Abra Warmihuañusca (Dead Woman's Pass 4200 m).
It will take about 2 hours to get to the top and we recommend doing it slowly, without pushing yourself too much. Usually, the tour guide will walk with the slowest person and the group will wait for everyone at the top of the pass. Carry some chocolates, candies and coca leaves with you. This will help to keep your sugar level high and helps a bit against altitude sickness.
Once we reach the pass, we will descend along a winding path of steps, 2.5 km long. We cross a narrow valley, habitat of many different bird species like the humming bird, sparrow and also the Andean bear (Tremarctus Ornatus, also called Spectacled Bear). We will have a lunch break during our hike and have our campsite at the Pacaymayo Valley (3600 m).
Day 3: Pacaymayu – Wiñaywayna (about 7h walking)
This is the longest day in distance: 15 km. However, it's also the most impressive and interesting day, due to the number of archaeological sites we'll see.
After an early breakfast we will continue hiking, along a steep path that will lead us to the Runkurakay Pass (3970 m). Half way up, we will visit the archeological complex with the same name. It's very likely that this Inca building (3800 m) served as a watchtower.
After the pass we descend to Yanacocha and arrive at Sayacmarca (3624 m). After visiting this archeological site we enter the upper cloud forest. Walking up and down, we finally reach the last climb that will lead us to the third pass, the Abra de Phuyupatamarca (3700 m).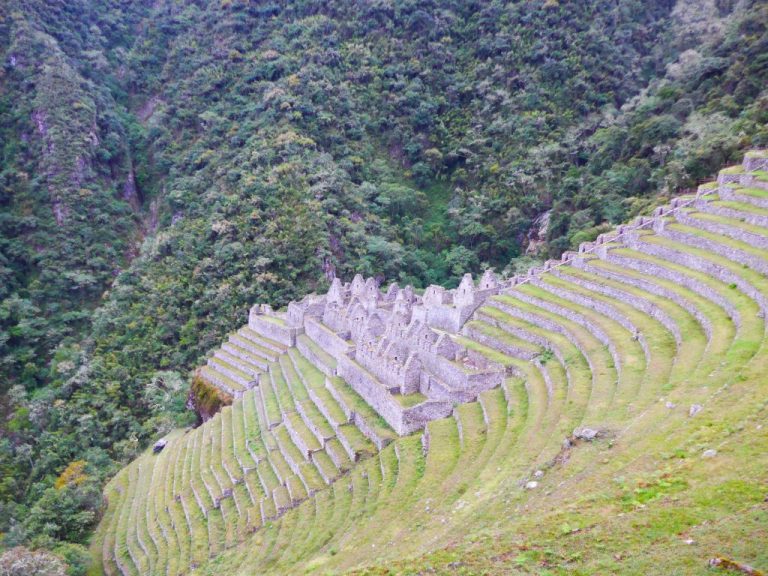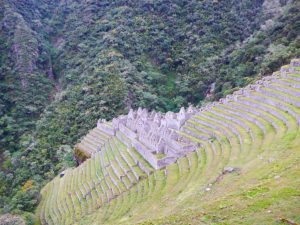 From this point the Inca Trail leads downhill. After descending for a while, we'll see the ruins of Phuyupatamarca. From above, we can observe a sophisticated complex with water fountains.
Afterwards, we continue the hike to Wiñaywayna. We spend the night in its camping zone, close to a restaurant where you usually can take a hot shower, as well as some cold beers in the evening. This night we say goodbye to our porters and cook, as they will leave very early the next day to take a local train back to Cusco.
Day 4: Wiñaywayna – Machu Picchu – Cusco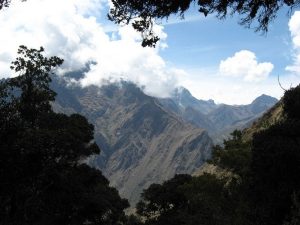 This day we will wake-up very early at 4 am, have breakfast at 4:30am and at 5:30 am we must be on the trail, walking towards the Sun Gate of Machu Picchu (Inti Punku). It will take us about an hour, hiking along a narrow trail in the cloud forest. At the Sun Gate, we will be able to see the sunrise above Machu Picchu Mountain.
Then, we descend to Machu Picchu. Our bilingual guide will take you throughout the vast ruins for about 2.5h.
Afterwards you have free time, to explore the ruins on yourself, and maybe climb up to the famous peak of Huayna Picchu or Machu Picchu Mountain.
Machu Picchu is the most known Inca ruin worldwide. However it is not mentioned in any of the Spanish Conquistadors writings. It is believed to have been constructed around the mid-15th century and was "rediscovered" by the American historian Hiram Bingham in 1911.
In the afternoon you'll take the bus to Aguas Calientes town, the village below the ruins. After an optional lunch, we'll take the train back to the city of Cusco, where we will arrive after night fall.
NOTES: Campsites can change, as the Inca Trail administration tells us where to sleep! Useful information about altitude sickness.
Included in the Classic 4-day Inca Trail:
Transportations as described above:
(bus to starting point of Inca Trail, bus from Machu Picchu to Aguas Calientes, train back to Ollantaytambo -> Train at …
Tourist bus back to Cusco
Transfers from and to your hotel
Entrance fee Inca Trail
Entrance fee Machu Picchu (worth 152 Soles)
Camping equipment including tents for 3 people (but you always sleep with just 2) and thin inflatable mattress
Porters for tents, food and cooking equipment
Cook, cooking equipment and meals (3 breakfasts, 3 lunches, 3 dinners; vegetarian food available upon request)
English-speaking guide
Kitchen tent and dinner tent, including tables and seats
Medical assistance: first aid kit and emergency oxygen bottles
Not included:
Breakfast day 1, lunch day 4
Extra porter to carry your personal belongings (with a official maximum of 12 kilogram, 180 US$ for four days. If you want to hire one, please tell us with your reservation, as he also needs a permit!)
Sleeping bag (we rent sleeping bags for 25 US$ for 4 days)
Professional walking sticks (for rent 20 US$) or you can just buy a wooden stick in Cusco or Ollantaytambo for 3 US$
Climbing the Huayna Picchu, or Machu Picchu mountain. NOTE: Due to new regulations it is not possible anymore to combine the Inca Trail with climbing these mountains. The only option is to buy an extra, complete new entrance ticket for 150 soles (around 50,- US$)
Private tent, when possible (60 US$ extra)
Optional entrance fee to the hot springs in Aguas Calientes
Tips for guide, porters and cook
NOTE: Please keep in mind that you have to reserve the Inca Trail a long time in advance, because of strict entrance regulations. To protect the ecosystem along the trail, Peruvian government only allows 500 persons per day (including porters and guides) to enter. We advice you to reserve the trail at least 4 months in advance, but preferably just as soon as possible!
In order to reserve the 4-days Inca Trail we need the following:
Full names as it is written in your passport
Passport number
A digital (photo)copy of your passport
Nationality
Date of birth
Departure date for the trail
We already need to know if you want to climb Huayana Picchu or Machu Picchu Mountain (54 US$ additional)
If you have: A copy/fax or scan from both sides of your ISIC student card (people under 30 with the official card get a $ 30 discount)
After the reservation it is not possible to receive this discount anymore!
NOTE: Because of very strict regulations the full names and the passport number you send us has to be the same as the number on the passport with which you enter the Inca Trail. Please inform us if you have to get a new passport in the meanwhile. Bring along your old passport; if you don't have one the INC and our operator charge $ 25 administration costs.
Permits are strictly personal because of the same regulations: it's not possible to change dates or give you permit to another person once we bought your permit and confirmed your reservations (even if you're sick for example). Even better, send us a digital copy of your (new) passport.
However, in a contradiction to the recommendation above, to keep it simple… Unfortunately it isn't possible to confirm any reservations on the Inca Trail for the next year. In the third week of January all reservations will be raffled and permits will be spread equally until available dates are full. If you're number 501, then you have bad luck, but will get another change. Therefore it's important to already give us an alternative date, while making your reservation with us.