Original Cotahuasi – Choquequirao Tour
During this adventures tour through Peru, you vary visits to less known and original destinations, with tours to typical touristic highlights.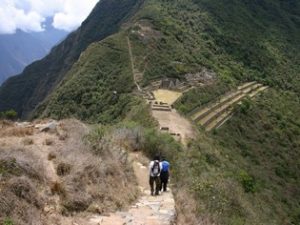 We have already included a special tour into the impressive Cotahuasi Canyon, where you will visit picturesque villages and can admire giant cacti at a depth of 3500 m.
From Cusco you will not only travel to the Sacred Valley and Machu Picchu, but you will also hike to the hidden Inca Ruins of Choquequirao. Choquequirao means "Cradle of Gold" and according to Hiram Bingham this must have been the last secret hiding place of the Inca Gold…
Short travel itinerary:
Day 1: Arrive in Lima
Day 2: Lima – Paracas – Islas Ballestas – Huacachina
Day 3: Huacachina – Nasca – Nasca Lines – overnight bus
Day 4: Arrive in Arequipa and free day
Day 5: Departure by public bus to Cotahuasi
Day 6: Visit Alca, Cahuana and Luicho
Day 7: Cotahuasi River, Sipia waterfall and giant cacti
Day 8: Quechualla and camping
Day 9: High suspension bridge  -> Arequipa
Day 10: Arrive in Arequipa, free day + overnight bus to Cusco
Day 11: Arrive in Cusco and free day
Day 12: Free day in Cusco
Day 13: Start of 4- days Choquequirao Trek
Day 14: Choquequirao Trek
Day 15: Choquequirao Trek
Day 16: Choquequirao Trek -> Cusco
Day 17: Cusco – Sacred Valley Tour – Aguas Calientes
Day 18: Machu Picchu -> Aguas Calientes – Ollantaytambo – Cusco
Day 19: Free day in Cusco
Day 20: Cusco – Lima ->
Original Cotahuasi – Choquequirao Tour
Day 1: Arriving in Lima
It is recommendable to arrive during the day in Lima, because tomorrow you will have to depart very early to catch the boat in Paracas.
After arrival in Lima our driver will be waiting for you to bring you to your hotel in Lima.
Free time and overnight in Hostel Mami Panchita
Het beste is om vandaag overdag in Lima aan te komen, want morgen reis je al vroeg. Na aankomst in Lima wordt je met privé transport naar je hotel gebracht
In overleg met de receptie op de avond van vertrek kan eventueel een klein pakketje worden samengesteld), het is echter aan te raden om zelf de avond ervoor iets in te kopen. Koffie en thee worden ook in de bus geserveerd (zit incl. In het ticket)
Overnachting met ontbijt in hostel Mami Panchita in Lima
Day 2: Lima – Paracas – Ballestas Islands – Huacachina
At 3:00 am – (no breakfast), you will be brought to the Cruz del Sur bus terminal.
At 3:45 am you will depart in a comfortable bus from Cruz del Sur towards Paracas (4 hours). Because of the favorable current and wind in the early morning, the standard tours to Islas Ballestas (Arch Islands) leave the harbor of Paracas around 8:00 am.
After arriving in Paracas you will participate in one of these standard tours and navigate for two hours to and around the Ballestas Islands. These islands are home to thousands of birds, many sea lions and even some penguins. Because of the abundance of wildlife, the Ballestas Islands are also called "Little Galapagos".
After the tour you will travel with private transport to a Pisco brewery, where a local guide will explain you more about the process of making Pisco and Pisco Sour, the most famous drink of Peru. Of course you will also have the option to taste different types of Pisco.
From the Pisco brewery you travel to Huacachina, where you have the option to participate in a Sunset Buggy Tour, through the famous sand dunes of Huacachina.
Overnight with breakfast in Huacachina, hotel Casa Suiza.
Day 3: Huacachina – Nasca – Nasca Lijnen – overnight bus
Around 8:30 am you departure from Huacachina to the bus terminal of Ica.
9:05 am – Departure by comfortable bus from Ica to Nasca (2h15 min.).
From the bus terminal in Nasca we will bring you to the small airport. Here they will check your weight and with this information, 'The Tower' will decide who enters which airplane and when. Optional it is also possible to fly over the nearby Palpa Lines. Both the Palpa and Nasca Lines are from around the same period, but that's about the only certain information that can be given about these mystique Lines in the desert between Nasca and Palpa. How and why the Nasca civilization made these lines, is still a huge Mystery!
For the afternoon it is optional possible to visit the interesting Chauhilla cemetery. At this cemetery you can still see real mummies looking up from their grave towards your camera!
Usually this tour is also combined with a visit to the local ceramic atelier and/ or a small gold atelier.
This evening at 22:00 h, you will travel with a very comfortable overnight bus (9 hours) from Nasca to Arequipa.
Day 4: Arequipa (2350 m)
Around 7:30 am you will arrive in Arequipa. After arriving at your hotel you have a free day to discover Arequipa and start acclimatizing. Arequipa is guarded by several impressive volcanoes, including Chanchani (6057 m), El Misty (5822 m) and Pichu Picchu (5634 m). Previous eruptions, thousands of years ago, have left the area surrounding Arequipa with white colored sillar. This relative soft, but strong type of rock, proved to be good building material. During colonial times the citizens of Arequipa started to cut big blocks out of this volcanic sillar to build their houses, churches, etc. in the center of Arequipa. Because of this Arequipa is of now often called "la Ciudad Blanca", or the White City. To most Peruvians their 'Ciudad Blanca' is the most beautiful city in Peru!
For today we can highly recommend to visit the impressive Santa Catalina Convent. Even nowadays a small part of this huge convent is still in use. Also the Santuarios Andinos Museum is very interesting. Their exposition includes more information about the discovery of the 'ice princes' Juanita.
Overnight with breakfast in hotel Casa de mi Abuela
Day 5: Arequipa – overnight bus to the Cotahuasi Canyon
On your free morning in Arequipa it is recommendable to stroll through the colonial center, visit the local market and the museum of La Recoleta.
At 15:15 h we will pick you up from your hotel and at 16:00 h you will take a local public bus towards the Cotahuasi Valley.
After about 3 hours of travelling you pass by Aplao (capital of the province of Castile). About an hour and a half later we stop for a moment in the small terminal of Chuquibamba (capital of the province of Condesuyos at 3000 meters altitude. From here the asphalt road ends and starts the dirt road. The highest point of the trip (4650 m) you will pass around 1:30 am, but you will probably be sleeping. You reach Cotahuasi around 4:00 am and will go directly to your hostel where you get a basic room with private bathroom.
Day 6: Visiting the towns of Alca and Cahuana and the hot springs of Luicho
We start our new day around 9:00 am after breakfast has been served.
After breakfast we take a local combi (public mini bus service) that will take us to the typical village of Alca (end point for the buses arriving from Arequipa). We walk around in this village and then go to the town of Cahuana. From here you have a spectacular view over the area of the Canyon!
We go down by another road that goes directly to the thermal baths of Luicho. After relaxing in these hot springs, we have lunch before returning to the town of Cotahuasi / hotel / dinner.
Day 7: Cotahuasi River, Waterfall of Sipia and giant cacti
We leave at 6 am with a combi (small local bus), down towards the waterfall of Sipia (cuttlefish) with a 150 m drop! From here we will start our hike of in total around 5 hours into the valley.
At the village of Chaupo we get extra water. Then we will cross a large ravine after which we will reach a pampas. We rest for a bit at the place of a friendly family.
After about an hour further on the way we reach an impressive forest of giant cactuses. We will pass through this beautiful landscape with great sceneries! Not much later we will reach the home of another very friendly family who grows grapes and will prepare our food. After lunch and relaxing, we will depart for another scenic hike towards the traditional village of Velinga.
Tonight we will sleep in the local village of Velinga.
Day 8: Village of Quechualla (deepest point) and thermal baths.
Around 8:30 am we start our hike to the village of Quechualla (the deepest point of the canyon). The hike will take around 7 hours round trip and on the way we will visit 2 archaeological sites that are remnants of the Huari culture. We will follow the banks of the river and pass 4 suspension (hanging) bridges. One is made of cement, one of thick tree branches and two are made with planks.
We have a picnic lunch (box lunch) on the way.
On our way back, just before arriving at the camp, we will take another relaxing bath in the natural hot springs.
Dinner and time to sleep, either in tents (please let us know before), or in the village of Velinga.
Day 9: High Suspension bridge - Cotahuasi - Arequipa
After breakfast at 8:00 am we will walk for about 25 minutes until the parking lot from where the combi's back to Cotahuasi leave. Upon arriving we visit the highest suspension bridge in the province. Then we have lunch in the village. After lunch we make a short 'city' tour through and around Cotahuasi.
At 5:00 pm leaves our bus back to Arequipa.
Note: The final itinerary of the tour towards Cotahuasi can be slightly different from what's written above, depending on (un-predictable) local circumstances.
Day 10: Arequipa - Overnight bus to Cusco
Around 4:00 am you will arrive back in Arequipa, where you will have a hotel room until 11:00 am. You can leave your luggage in the storage of the hotel and will have time to relax and have lunch in Arequipa before your transfer will pick you up from your hotel.
At 20:00/20:30 h you will take a very comfortable bus towards Cusco (10 h).
Day 11: Cusco (3450m)
Around 6:30 am you will arrive in Cusco, where our transfer will be waiting for you to bring you to your hotel.
The rest of the day you have time to discover Cusco, where its many historical sites and museums keep even the most experienced traveler busy. We highly recommend exploring the historical, small and steep streets around Plaza de Armas and the San Blas area, where you can admire combinations of Inca and Colonial architecture. Other options include a rafting tour, horseback riding, mountain biking, bungee jumping, parapenting, etc.
Overnight with breakfast in Cusco, Hosteria de Anita / Hostal Mallqui
Day 12: Free day in Cusco
For today we would like to recommend you to make a pretty and interesting hike passing by some of the most important archeological Inca sites around Cusco, including: Tambo Machay water temple, the Puca Pucara fortress, the Quenko sacrificial stone and the very impressive site of Sacsayhuamán!
Another option for today can be to join a full day tour to the Rainbow Mountains (departure 3:00 am in the morning!).
Overnight with breakfast in Cusco, Hosteria de Anita / Hostal Mallqui
Day 13: Start of the 4-days Choquequirao Trek – Cachora – Playa Rosalina
We will leave from Cusco approximately at 5:30 am. Our first day starts out from the village of Cachora, here we meet our horsemen and the mules to arrange all the equipment during the trek, and then we continue our journey for two hours to the pass of Capuliyoc (2800m/9186f). The trek offers a beautiful view of the mythical mountain Padriyoc, and wayna cachora of the deep canyon and of the river Apurímac, meaning "speaking river"then we will descend towards Coca Masana 2335m. Where the climate becomes noticeably warmer and the flora and fauna begin to change. Finally we will arrive at Playa Rosalina at 1540 m altitude.
Dinner and overnight at our campsite
Day 14: Playa Rosalina – Choquequirao
After breakfast we will hike for about 5 hours along a steep trail, following the Chunchullymayu River. Along the way you will observe many orchids, wild flowers, special plants and different bird species. Our destination is Rayanpata where we will have our lunch and a good rest.
It take about two hours to hike from Rayanpata to Choquequirao (3033m/9951f).
After arriving at the archaeological site of Choquequirao, our guide will explain you more about this impressive archeological Inca Site. Choquequirao means "cradle of gold" in Quechua, the language of the Inca's and the indigenous people of Cusco…
Then it is time to enjoy the sunset from the campsite, have dinner and overnight in tents.
Day 15: Choquequirao – Rayanpata – Capuliyoc
At sunrise we have an early breakfast before visiting the archeological site of Choquequirao. So far it is estimated that only 30% has been exposed.
Your guide will explain the history and importance of this Inca site.
After the tour you will have free time to visit some other sectors of the complex. Then we start the return trek to our campsite in Capuliyoc.
Day 16: Capuliyoc – Cachora – Cusco
Today is already the last day of this beautiful trekking. Along the way we will first appreciate the canyon that forms the Apurimac River (God talker), before we will take a trail that crosses the throat of the canyon, with an impressive view of Waynaqalli!
This view is considered one of the most spectacular in South America.
After we arrive in Cachora, we will return to Cusco by (public) bus.
Arrival in Cusco, early in the evening.
Overnight with breakfast in Cusco, Hosteria de Anita / Hostal Mallqui
Note: The Choquequirao Trek already departs with a min. of two participants, but with small groups, you will be traveling with public transport instead of private.
Day 17: Cusco – Sacred Valley Tour – Pisac – Salineras – Ollantaytambo - Aguas Calientes
For today we included a beautiful private tour through the Sacred Valley with a visit to the archeological site of Pisac. Passing along the ruins and enjoying the great views over the valley, your guide will explain you most of the impressive Inca history. Because of this, you will not really need to hire an expensive guide anymore to visit Machu Picchu the next day. A small book with info about the buildings is mostly enough.
After visiting the archeological site of Pisac, you will have time to stroll around on the colorful market of the village of Pisac and or have lunch.
On the way to the village of Ollantaytambo, you will also bring a visit to Salineras. This is a pre-Inca salt winning place from the Maras culture. Hundreds of years ago they started to collect the water from a mountain in small shallow pools. The sun would dry the water and what was left was salt. Even now this system is still working and the white 'salt pans' provide a great view in the green valley. From Salineras you drive further to the village of Ollantaytambo.
After a short walk through the village, your guide will lead you around the ancient Inca fortress of this village. The fortress of Ollantaytambo is one of the very few places where the Inca's won a big battle against the Spanish conquistadors.
After visiting this interesting site you will say goodbye to your guide and take the train to Aguas Calientes (now officially called Machu Picchu Pueblo).
Optional: Those who booked the famous Classic 4-days Inca Trail, will stay tonight in Ollantaytambo, so tomorrow they don't have to get up as early as their companions who leave from Cusco.
Day 18: Aguas Calientes - Machu Picchu - Cusco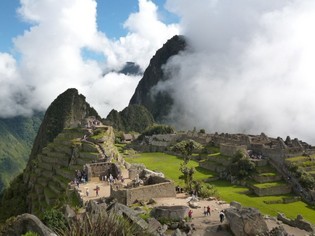 Today you can choose to get up early as 5:00 am to leave with the first bus at 5:30 am towards Machu Picchu,  so you will have the whole morning to visit the most famous Inca -, or maybe even the most famous archeological site in the world.
Today also start the different optional hikes towards Machu Picchu from Ollantaytambo (or Cusco). These hikes include the famous Inca Trail, the impressive 4-day Salkantay Trek and the Inca Jungle Tour.
Although the site of Machu Picchu is famous, it is also still covered with mysteries about its original purpose, how the Inca's could build this city on and between the mountain tops and even about its original name. More information: 
About Machu Picchu
.
After your guided tour in Machu Picchu, you will have free time to explore this impressive Inca site by yourself. We recommend you to bring at least a visit to the viewpunt at the Care Takers Hut. Your train and bus back to Ollantaytambo and Cusco will leave late afternoon/ evening, to give you time to have lunch and relax in the tropical tourist town of Aguas Calientes.
Overnight with breakfast in Cusco, Hosteria de Anita / Hostal Mallqui
Day 19: Free day in Cusco
For your last day in Cusco we recommend to visit the interesting Inca Museum and Museo Pre Columbino. And/ or you can just choose to relax and enjoy a cup of coffee or tea on one of the balconies around Plaza del Armas. Can you think of a better way to end this interesting journey.
Overnight with breakfast in Cusco, Hosteria de Anita / Hostal Mallqui
Day 20: Cusco – Lima
At a convenient hour we will pick you up from your hotel to bring you to the airport of Cusco, for your flight back to Lima (1h15 min.)
End of our services.

Inclusive and recommended to bring with this original tour:
11 nights with breakfast (unless your departure that day is before breakfast) in the hotels mentioned in the itinerary, or similar
Early check-in + breakfast and room until 11:00 am on day 10 in Arequipa
Early check-in + breakfast on day 11 in Cusco
Two nights in first class public busses
Two nights in basic public busses (Arequipa – Cotahuasi – Arequipa)
Four nights in tents
All transfers mentioned in the itinerary with private transport
All transport over longer distances with the best public bus option available on this route
A tour in shared pool service, incl. English speaking guide to Islas Ballestas
Private transport from Paracas to Huacachina, incl. visiting a Pisco Brewery (exclusive guide)
A flight over the Nasca Lines, incl. airport tax (25 soles/ around 8 US$), which has to be paid locally
A basic tour through the Cotahuasi Valley incl.:

Basic public transport
2 Nights in basic hotels + 1 night in a tent
An English speaking local guide from picking up in Cotahuasi, until bringing you back to the bus terminal
Camping equipment for 1 night, incl.: tent, matrass and cooking equipment. No sleeping bag
Lunch, dinner and breakfast (included in the final price, but partly to be paid locally, which makes the itinerary more flexible)
1x Entrance fee for the hot springs of Luicho

The trekking to Choquequirao is incl.:

(Private) Transport from Cusco to Cachora and back
A professional English speaking guide
The use of cooking equipment and assistance of a cook
The use of a private 2-person tent
Sleeping mats
Horses to carry the camping equipment and max. 5 kg of personal luggage
The entrance fee of Choquequirao
Breakfast, lunch and dinner during the trek, except. dinner on day 4
The use of a First Aid Box (if needed)

A private tour through the Sacred Valley, incl.: private transport, an English speaking guide, visiting the ruins of Pisac, the village of Pisac, Salineras de Maras, Urubamba and the fortress of Ollantaytambo (the entrance fees are incl. but to be paid locally). Excl. lunch
A visit to the archeological site of Machu Picchu, incl.: train from Ollantaytambo to Aguas Calientes and back, the bus from Aguas Calientes to Machu Picchu and back + the entrance fee of Machu Picchu. No guide (not really needed after yesterday).
Private transfer from Ollantaytambo to your hotel in Cusco
Flight from Cusco to Lima
Exclusive in this tour:
International flights
Everything that isn't clearly mentioned in the itinerary and the 'inclusive part'
Optional excursions
Sleeping bag, which can be rented for around 20 US$ each trekking
A guide on Machu Picchu
Mineral water, soft drinks and alcohol
Meals (unless clearly described in the itinerary, for example when camping)
Optional tips
Personal spendings
International banking costs
Recommended to bring with during this tour in Peru:
A passport which is valid until at least 6 months after your return date
A Visa (if necessary)
Valid vaccinations
A big and comfortable backpack for trekking
A small day-backpack
A sleeping bag (which you can also rent)
Good/ comfortable walking shoes
Sandals
A warm wind proof jacket
A rain jacket or rain poncho
Two warm sweaters/ fleece
Three light trousers
Four T-shirts
Two long sleeve shirts
Three shorts
Swimming clothes
A headlight/ flashlight with extra batteries
Something to make a back-up for your pictures
Protection against sun and mosquitos