Climbing Cotopaxi Volcano
Climbing the impressive cone-shaped Cotopaxi Volcano is a popular activity for those who travel to Ecuador. However, this doesn't mean that's an easy climb. Only about 60% make it to the top. Therefore it's important to travel well prepared and and take time to acclimatize.
COTOPAXI (5897 m./19357 ft. high)
Cotopaxi is one of the highest active volcanoes in the world. It has a perfect cone-shaped peak and snow-covered crater, and it is the main attraction of the Cotopaxi National Park. The ascent is not technically difficult, but a sufficient acclimatization and good physical condition are essential for this climb. Tips about altitude sickness.
COTOPAXI (5897 m./19357 ft. high)
Day 1: Riobamba - Cotopaxi refuge (4800 m)
We leave Riobamba at 9:00 am by car and drive for 2,5 hours north on the Panamerican Highway to the entrance of the Cotopaxi National Park. Continue for another 30 kilometers up to the parking place (4600 m. / 15.092 ft.). After a 50-minute hike we arrive at the refuge (4800 m. / 15.748 ft.) In the afternoon the guide will teach you how to use the equipment in a climbing practice on the glacier. Dinner and rest in the refuge.
Day 2: Cotopaxi refuge summit - Riobamba
At around midnight, when the snow is still hard, we start the ascent. Even though Cotopaxi is not considered a technical climb, the route does have several crevasses, and some steep sections between 35 and 45 degrees. After about 6 – 7 hours we will reach the summit at sunrise. On clear days you will have amazing views of the crater of Cotopaxi, and the Volcano Avenue with other snowcapped peaks. The descent to the refuge takes about 3 hours. On the way back to Riobamba we will have lunch in a restaurant.
Arrival in Riobamba at about 14:00 h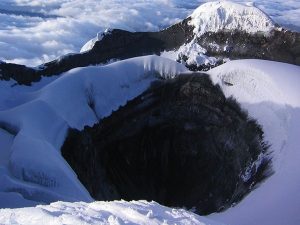 Difficulty: medium/ advanced
Departure: any day
Note: If you want to climb the Cotopaxi Volcano alone with your own guide the price will be 600 US$.
This Cotopaxi climbing tour includes:
– Private transfers from / to Riobamba (alternative pickup points such as Latacunga and Quito available upon request for Cayambe, Cotopaxi, Ilinizas and Antisana)
– ASEGUIM certified mountain guides (1 guide for maximum 2 clients)
– Accommodation in basic refuges (Cotopaxi, Chimborazo, Ilinizas, Cayambe, Carihuairazo) or 4-season tent (Antisana + Chimborazo High Camp program)
– Meals, coffee, tea, purified water
– First quality climbing equipment
– Entrance permits National Parks and Reserves
Not including:
– Insurance (this is mandatory and must cover glacier climbing)
– High camp option at 5.300 m. for 2-day Chimborazo climb: surcharge USD 175 for 1 single person / USD 90 per person for parties of 2 or more)
– Tips (optional)
– IVA 12% (does not apply to clients from outside Ecuador)